Highlights

Mercury aims to contribute to the decarbonisation of NZ through better use of homegrown renewable energy sources to generate electricity.
Mercury notified on 17 November that it had issued an inaugural green bond in Australia.
The Group has obtained a funding of AU$200 million.
Electricity producer and retailer Mercury NZ Limited (NZX:MCY) (ASX:MCY) is committed to playing a major role in the decarbonisation of New Zealand. The Company has spent more than AU$1.4 billion on its geothermal assets over the past 20 years and invested AU$300 million in its Waikato hydro assets in the past decade.
Mercury has identified climate change as a major issue and plans to help NZ in lowering its GHG emissions.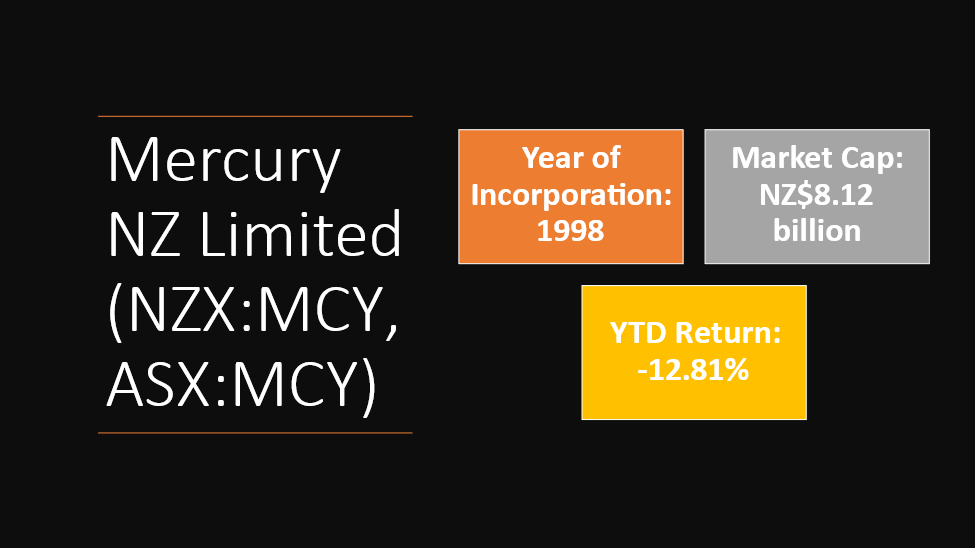 Image source: © 2021 Kalkine Media, Data source- Refinitiv
On 17 November, Mercury notified that it had issued an inaugural green bond in the Australian debt market through which it obtained AU$200 million of funding.
The bond was acknowledged as an ICMA GBP-aligned/CBI-certified green bond. The funds will be used to fund or refinance fresh and current projects and expenses related to renewable energy.
What is a green bond?
Green bonds help in raising capital and investment for the new and present projects that have environmental advantages or climate benefits.
Mercury's green bond financing
Mercury's Chief Financial Officer, William Meek, stated that sustainable financing is vital to support NZ's decarbonisation. Mercury has raised over AU$750 million through green bonds issued domestically and now abroad, he added.
ALSO READ: Genesis (NZX:GNE): What steps has it taken towards solar development?
As per Meek, the green bond is new and the first of its type that is issued by an NZ corporate in the offshore market. It offers a unique chance for investors to encourage renewable generation assets which are not easily available in the Australian market.
Australia's electricity system is 25% renewable, while NZ's system is already 80% renewable. Subsequently, the electricity sector has a wide scope to market its renewable certifications to the Australian market, and eventually backing continued green growth.
ALSO READ: Contact (NZX:CEN): How would NZ become a 100% renewable electricity market?
On 25 November, MCY ended the trading session at AU$6.07, up 2.02% from its previous close.
Who are lead managers for the green bond issue?
Mercury has appointed Westpac Banking Corporation as Arranger, while MUFG Securities Asia Limited and Westpac as Joint Lead Managers for the green bond issue.
RELATED READ: Do these 5 Renewable Energy stocks have potential to grow in 2022?
Bottom Line
Green bonds promote sustainability and help climate-related or other types of special environmental projects.
(NOTE: Currency is reported in NZ Dollar unless stated otherwise)