Highlights

The RBNZ released a climate change report on Tuesday, laying down its plans and risks related to the climate.
Contact Energy announced an offer of up to $200 million of green capital bonds.
Trustpower will announce its half-year results in a live webinar on 8 November 2021.
On 26 October, the RBNZ released a report that summarised its actions to diminish and manage the risks related to climate change.
Managing its own operational emissions, working directly with RBNZ-regulated entities on climate-related risk management and leading the Council of Financial Regulators' climate workstreams are some of the plans included in the RBNZ's climate change strategy.
The bank recognises the need to understand the importance of climate change and climate risks to achieve financial stability.
Amid this backdrop, let's have a look at how these 5 NZX energy stocks are doing.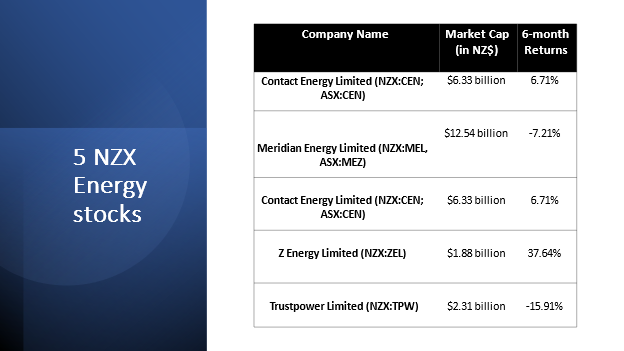 Image source: © 2021 Kalkine Media, Data source- Refinitiv
Mercury NZ Limited (NZX:MCY)
Electricity producer and retailer Mercury NZ provided an operational update for the September quarter. The group's hydro generation stayed low and below average at 953GWh as Waikato catchment inflows remained below average.
Geothermal generation fell by 80GWh to 607GWh due to a 44-day unplanned outage at the Kawerau power station which ended on 20 July. This quarter also saw the completed acquisition of Tilt Renewables NZ wind farms on 3 August.
Related article' Is New Zealand on the right path to become a zero-carbon country?
MCY ended the day 1.48% in green to close at $6.19.
Meridian Energy Limited (NZX:MEL; ASX:MEZ)
Leading electricity producer across NZ, Meridian released its operating report for September on 20 October. The Group's national hydro storage rose from 126% to 134% of the historical average in the month to 12 October 2021. Water storage in the Waiau catchment stayed well above the average at September end.
GOOD READ: What was New Zealand's ranking in KPMG's latest survey?
The Group recorded the second-highest total inflows in Q1 at 163% of the historical average. Meridian's sales increased in most regions during the quarter.
MEL ended the day 1% in red to close at $4.97.
ALSO READ: Genesis (NZX:GNE): How did the Company perform in Q1 FY22?
Contact Energy Limited (NZX:CEN; ASX:CEN)
Contact energy announced on Tuesday that it was considering making an offer of up to $200 million of green capital bonds to NZ investors. The proceeds will be used to fund and refund renewable generation and other eligible assets as per CEN's green borrowing programme framework.
Further details related to the offer will be announced later this week.
CEN ended the day 0.86% in green to close at $8.18.
Z Energy Limited (NZX:ZEL)
Z Energy, a New Zealand transport fuel firm, notified on 14 October that the last day of trade in ZEL040 was 20 October 2021, before the bonds were terminated at the end of the day.
RELATED READ: How are 5 NZX energy stocks aiding clean projects in 2021?
The business's final quotation date will be 1 November 2021. David Binnie, ZEL's General Manager of Supply, will depart the company in the fourth quarter of FY22.
ZEL ended the day flat to close at $3.62.
Trustpower Limited (NZX:TPW)
Eletricity generator and retailer, Trustpower invited its shareholders to a webinar that will be conducted on 8 November 2021. The live webinar event will have the Group's CEO David Prentice and CFO Kevin Palmer reflect on the Group's half-year results from the 6 months to 30 September 2021.
TPW also announced recently that Catherine Thompson would join as General Manager in the Regulatory and Risk department of the Company in early 2022.
TPW ended the day flat to close at $7.4.
Bottom Line
Climate change is the most pressing issue faced by the world. The issue needs coordinated efforts at all levels by all countries.
(NOTE: Currency is reported in NZ Dollar unless stated otherwise)