Summary

Musgrave's Starlight link lode delivered high-grade gold results in near surface drilling, including 85m @ 11.6g/t gold intersection.
Further assays of follow-up RC drilling is anticipated in 2-3 weeks, while White Light drilling will begin next week.
To test depth extensions to the mineralisation, Musgrave is also progressing with the diamond drilling program at Starlight, first assays of which are expected in three-four weeks.
The latest robust drilling results from Starlight along with the recent discovery of new lode White Light would underpin the Break of Day's resource update, planned in late Q3 2020.
In a significant update, Australian yellow metal explorer Musgrave Minerals Limited (ASX: MGV) reported a new set of robust gold intersections at Starlight, which seem to stimulate exploration goals of the company concerning the Break of Day's deposit.
Triggered by the significant update, MGV stock edged up by 24% to close the day's trade at $0.595 on 6 July 2020. The successive exploration success has driven Musgrave shares to ride up by a whopping 380% in 3 months.
The Break of Day, stationed at Musgrave's wholly-owned Cue Gold Project grounds in Murchison district, has recently reckoned notable accomplishments. The advanced progress is inclusive of the discovery of new gold lode called White Light, running parallel to 75 metres south of Starlight. Following its discovery, the company plans on continuing the drilling for testing new lodes within the Break of Day and Lena System.
The ongoing drilling at Starlight, targeted at infilling and extending the high-grade gold mineralisation intersection, continues to confirm the Starlight discovery along with multiple individual lodes delivering outstanding near-surface high grades.
Commenting on the stunning gold results in near-surface drilling, Musgrave Managing Director Rob Waugh indicated that the company, targeting a JORC resource update completion in late Q3 2020, is carrying out RC drilling for infilling and extending the Starlight mineralisation.
He further stated that the drilling continues to progress with two rigs on-site, while the company is poised to extend Starlight and the new White Light lode with the aim to make significant discoveries in the belt.
Glimpse at Recent Results
From the RC holes in the current program, the company has analysed a combination of six-metre composites and one-metre individual samples. The company would re-submit all six-metre samples above one-metre g/t AU for individual one- metre sample analysis.
Significant Intercepts from Starlight include:
20MORC058 - 85m @ 11.6g/t Au from 7m, including

8m @ 99.0g/t Au from 7m, including 3m @ 254.2g/t Au from 8m
4m @ 45.5g/t Au from 38m
6m @ 9.4g/t Au from 86m

20MORC057- 68m @ 5.9g/t Au from 21m, including

8m @ 48.5g/t Au from 21m, including 1m @ 300.4g/t Au from 22m

20MORC055- 6m @ 15.7g/t Au from 52m
20MORC061- 6m @ 32.3g/t Au from 61m

1m @ 163.3g/t Au from 62m

20MORC054- 32m @ 1.2g/t Au from 0m
Hole 20MORC054 would require further drilling, and it is collared too far north to intersect main high-grade Starlight lode.
White Light lode significant new results include:
20MORC048 - 1m @ 22.6g/t Au from 115m
Recent Exploration Progress at Break of Day
The ongoing RC Drilling at the new Starlight discovery, which has consistently supplemented encouraging gold results at Musgrave, has added distinctive achievement to the Break of Day's deposit with the near-surface high-grade gold results. Starlight stays open to the south-east and down dip where Musgrave is carrying out drilling.
Meanwhile, the new White Light discovery could be another jewel in the crown for the deposit, opening avenues for further gold resource exploration.
Significantly, the mineralised gold lodes including the Starlight and White Light lie in proximity to Break of Day's existing resource and all the intersections returned from them remain outside the current resource at Break of Day.
Out of the 59 planned holes, the company has completed 45 RC holes, while assays for 39 holes have been received so far. Furthermore, the company is awaiting the assays for the three diamond drill hole tails and one twin hole completed till date.
The mineralisation is inclusive of quartz lodes hosted within a foliated and altered basaltic stratigraphic sequence, typically dipping steeply to the south. Both lodes, having a strike extent of above 100 metres, are open to the south-east and down plunge.
Moving Forward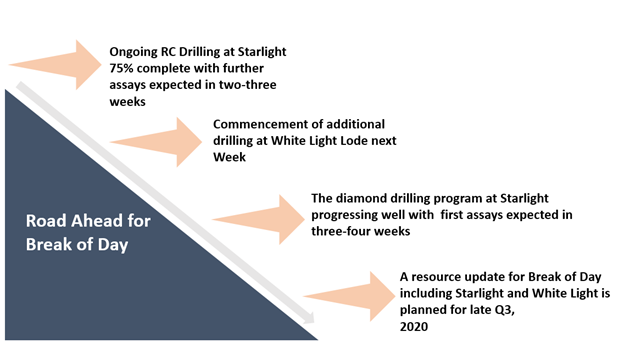 Besides, Musgrave has planned Phase 2 follow-up air core drilling of high-priority gold targets over the Lake Austin portion slated to commence in late July 2020, following the FY20-21 budget approval by Evolution Mining Ltd.