Canadian company Suncor Energy Inc (TSX:SU) posted higher first-quarter 2021 net income on Monday, May 3, led by higher oil prices, robust production and lower expenses. This reflected a rebound for the company from its massive net operating loss a year ago.
Ahead of its earnings announcement, Suncor stock rose as much as 2.43 per cent to C$ 26.93 on the Toronto Stock Exchange (TSX) on Monday, while gathering a trading volume of 4.65 million shares.
Following the Q1 2021 results' release, Suncor's New York Stock Exchange (NYSE)-listed scrips climbed by 1.41 per cent in aftermarket hours.
Suncor Energy Latest Financials
The Calgary-based oil driller and refiner reported a profit of C$ 821 million in the first quarter of 2021, as against a net operating loss of C$ 3.5 billion a year ago.
Suncor Energy outperformed analyst estimates, which had projected a first-quarter 2021 profit of C$ 232 million, by over three times, as per Refinitiv data.
©Kalkine Group 2021
Suncor reported total oil equivalent production of 785,900 barrels per day in the latest quarter, as against 739,800 barrels a day in the same period of 2020, by extensively using its oilsands mines approximately 97 per cent.
Suncor CEO Mark Little stated that in situ production hit a record high and witnessed lower performance expenses in the upstream.
Let us check out mega-market cap stock's price performance and the company's guidance.
Suncor Energy Inc (TSX:SU)
Suncor stock has surged over 73 per cent in the last six months and delivered 26 percent growth this year. It surpassed the S&P/TSX Integrated Oil & Gas Index and increased by 11.6 per cent in the past one year.
It could set a new 52-week high price this week, following its earnings report, against its current 52-week high of C$ 29.55 apiece (March 15, 2021).
At the previous close price of C$ 26.93 apiece, the energy stock was up 22.23 per cent against its 200-day simple moving average, representing a long-term bullish momentum, as per Refinitiv data.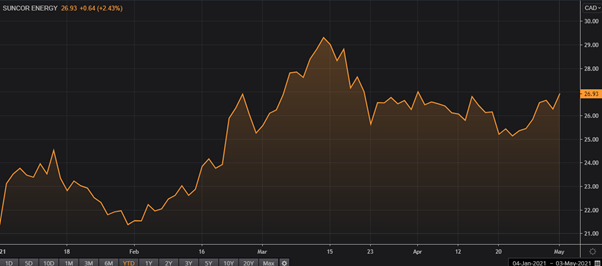 Suncor's Year-To-Date Stock Performance Chart. (Source: Refinitiv/TR)
The company held a cash flow of C$ 2.345 billion from the operating activities at the end of Q1 2021, against C$ 1.384 billion in Q1 2020.
Suncor and oil producer Syncrude has agreed to form a joint venture (JV), with Suncor performing as an operator of Syncrude's assets, from September 2021. Both parties anticipate yearly earnings of nearly C$ 300 million from the JV.
In its updated guidance for 2021, the full-year current income tax costs are expected to be in the range of C$ 300 million-C$ 600 million to C$ 1 billion-C$ 1.3 billion.
The above constitutes a preliminary view and any interest in stocks should be evaluated further from investment point of view.