Highlights






Radiopharm received IND approval for the Phase 1 trial of its αVβ6 Integrin (RAD301) technology


Two agreements -- with NorthStar Medical Radioisotopes and ANSTO -- were also entered into during the December quarter


Radiopharm also achieved successful completion of institutional and retail entitlement offers




                              
Radiopharm Theranostics (ASX: RAD) -- which is focused on developing radiopharmaceutical products for diagnostic and therapeutic uses -- has released its quarterly activities (December 2022) report. The update highlights Investigational New Drug Application (IND) approval for RAD's αVβ6 Integrin technology, besides agreements reached by the company with NorthStar Medical Radioisotopes and ANSTO. Read more.
Additionally, Radiopharm Theranostics has informed about the uptick in cash and equivalents at the end of December quarter -- from AU$21.3 million (at the beginning of quarter) to AU$24.2 million.
The above-mentioned and more highlights from the report have been discussed below.
αVβ6 Integrin (RAD301) phase 1 imaging trial
In the December 2022 quarter, the company received the US Food and Drug Administration's IND approval for the technology. The approval means Radiopharm can now commence the Phase 1 imaging trial with respect to patients with pancreatic cancer. This commencement, Radiopharm says, is expected in Q1 of calendar year 2023, with completion by Q3 CY23.
Pivalate phase 2a study
In October 2022, the company unveiled the presentation of interim data related to Imperial College London's F-18 Pivalate phase 2a imaging trial in brain metastases at the EORTC/AACR/NCI symposium (Barcelona). The result showed the use case for F-18 pivalate in the monitoring of brain metastases.
Image source: RAD AGM, November 2022
Additional data related to the trial, with high contrast images, was released the following month. The calculated Tumour-to-Background ratio was found in the range of 1.73 to 6.07 (Mean ± SEM of 3.85 ± 0.33). This backs the assertion of high contrast images irrespective of the origins of primary cancer in concerned patients.
Agreement with NorthStar Medical Radioisotopes
Radiopharm entered into a clinical supply agreement with NorthStar Medical Radioisotopes, LLC. Under this agreement, NorthStar -- which is into development, production, and commercialisation of radiopharmaceuticals -- would supply Actinium-225, for an initial period of ten years, to Radiopharm. The agreement may be extended with the consent of both the parties beyond this period.
Agreement with ANSTO
A second agreement, effective 1 December 2022, was signed by the company with Australia's Nuclear Science and Technology Organisation (ANSTO). It relates to the supply of isotope non-carrier-added lutetium-177 (Lu-177), which would support Radiopharm's trials in Australia.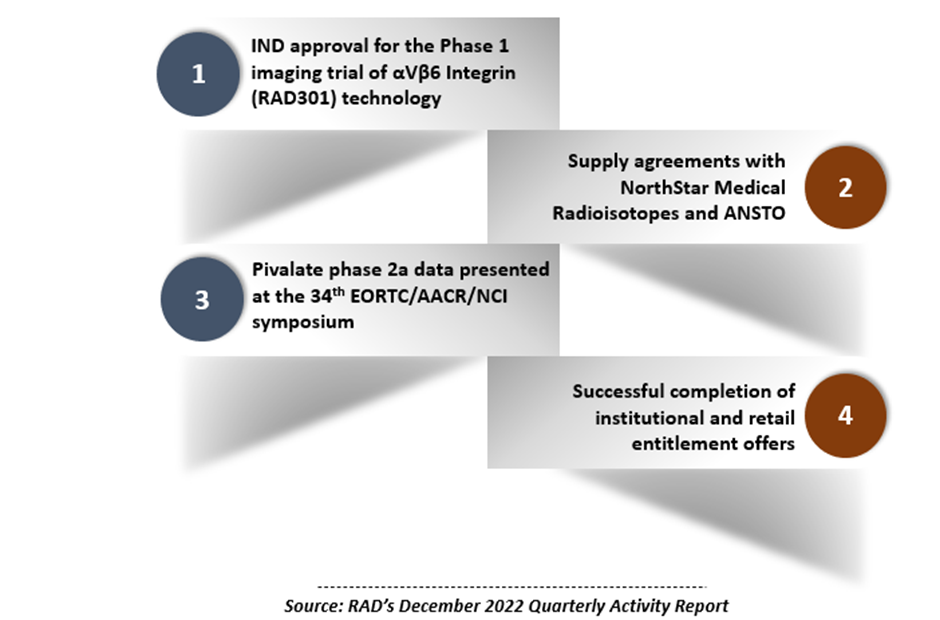 HER2 nanobody (RAD201)
The European Journal of Nuclear Medicine & Molecular Imaging published positive imaging data in this respect in December 2022. The publication stressed upon RAD201's 'promising non-invasive tool' feature. The highlight was RAD201's ability to discriminate 'HER2 status in metastatic (breast) cancer, regardless of ongoing HER2-targeted antibody treatment'.
Further, the publication suggested RAD201's high accumulation in all active HER2 positive tumour sites, with a high target-to-background ratio, favourable targeting and quick blood clearance. Data on safety profile of RAD201 in humans was also supported.
Publication in Nature
Nature, the well-known scientific journal, published an article in October 2022, which demonstrated TGFβ-dependent LRRC15+ role in cancer growth. The authoritative analysis by Dr. Shannon J. Turley and her team showed how LRRC15 proteins on cancer associated fibroblasts are essential to protect tumour cells from the immune system.
Institutional and retail entitlement offers
Radiopharm's capital raising of AU$10 million comprised an institutional and retail entitlement offer. With subscription to the offer also coming from the company's Chairman Paul Hopper and CEO Riccardo Canevari, the funds provide a runway to the company at least until the end of this year, the quarterly report says.
In October, Radiopharm confirmed the successful completion of the offer with institutional component (approximately AU$5.5 million). In November, the retail component (AU$1.2 million) completion was announced. Bell Potter Securities Limited committed to underwrite the retail component of the offer (approximately AU$4.5 million), which provided certainty to the approximately AU$10 million offer.
The company's AGM was held on 16 November 2022 and all resolutions were carried on a poll.
RAD shares traded at AU$0.135 on 7 February 2023.