US Markets: Broader indices in the United States traded in green - particularly, the S&P 500 index traded 13.98 points or 0.39 per cent higher at 3,643.63, Dow Jones Industrial Average Index increased by 52.05 points or 0.17 per cent higher at 29,924.52, and the technology benchmark index Nasdaq Composite traded higher at 12,226.84, up by 132.44 points or 1.10 per cent against the previous day close (at the time of writing, before the US market close at 10:50 AM ET).
US Market News: The key indices of Wall Street traded in the green amid the holiday shopping. As per the industry expert's data, the Thanksgiving Day online sales hit USD 5.1 billion, which was up by 21.5% year on year. Among the gaining stocks, BBVA was up by close to 4.2% after merger talks with Banco de Sabadell ended. Baidu rose by approximately 2.1% after the reports that it tried to sell a stake in iQIYI. Amazon moved up by about 0.8% after the company plans to spend USD 500 million on holiday bonuses. AstraZeneca gained around 0.1% after the company is expected to start a global trial for its covid-19 vaccine. Among the decliners, Walt Disney slipped by nearly 0.6% after it increased the number of planned layoffs.
US Stocks Performance*
European News: The London market traded in the red, whereas the European market traded in the green as the big difference remains on Brexit. The UK's prime minister Boris Johnson states that a substantial difference on the Brexit trade deal continues to loom. Among the gaining stocks, Immunodiagnostic Systems Holdings surged nearly 27.0% after it announced the launch of SARS-CoV-2 antigen rapid tests. Rolls Royce was up by close to 2.7% on the FTSE-100 index. Among the decliners, LoopUp plunged by nearly 49.6% after it stated that it is challenging to provide specific guidance on near-term expectations. Cairn Energy slipped by around 0.6% after it appointed Nicoletta Giadrossi as the Chairman of the Company from 1 January 2021. JD Wetherspoon was down by close to 0.5% after the company announced the classification of pubs.
European Indices Performance (at the time of writing):
FTSE 100 Index One Year Performance (as on 27 November 2020)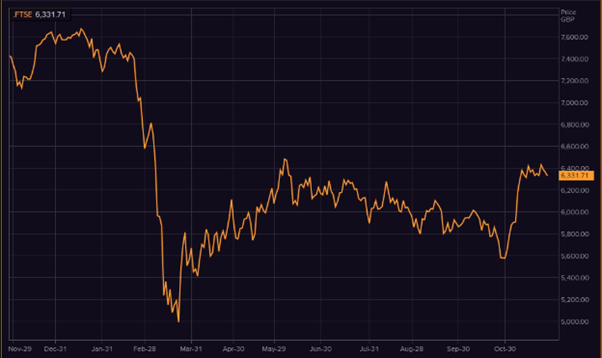 1 Year FTSE 100 Chart (Source: Refinitiv, Thomson Reuters)
Top 3 Volume Stocks in FTSE 100*: Lloyds Banking Group Plc (LLOY); Rolls-Royce Holdings Plc (RR.); HSBC Holdings Plc (HSBA).
Top 3 Sectors traded in red*: Real Estate (-1.52%), Industrials (-1.06%) and Healthcare (-0.96%).
London Stock Exchange: Stocks Performance (at the time of writing)
Crude Oil Future Prices*: Brent future crude oil (future) price and WTI crude oil (future) price were hovering at $48.17/barrel and $45.48/barrel, respectively.
Gold Price*: Gold price was quoting at US$1,784.10 per ounce, down by 1.19% against the prior day closing.
Currency Rates*: GBP to USD: 1.3296; EUR to GBP: 0.8988.
Bond Yields*: US 10-Year Treasury yield: 0.844%; UK 10-Year Government Bond yield: 0.284%.
*At the time of writing