Source: Copyright © 2021 Kalkine Media Pty Ltd.
US Markets: Broader indices in the United States traded in green - particularly, the S&P 500 index traded 35.93 points or 0.90 per cent higher at 4,008.82, Dow Jones Industrial Average Index surged by 130.61 points or 0.40 per cent higher at 33,112.16, and the technology benchmark index Nasdaq Composite traded higher at 13,450.75, up by 203.88 points or 1.54 per cent against the previous day close (at the time of writing - 11:30 AM ET).
US Market News: The major indices of Wall Street traded in a green zone amid investor's optimism regarding a pickup in the economic activity. Among the gaining stocks, Guess shares went up by approximately 10.13% after the Company had reported fourth-quarter profit more than the expectations. Wingstop shares jumped by around 6.46% after the Company had posted strong first-quarter sales. Micron Technology shares went up by approximately 4.31% after the chipmaker had forecasted strong third-quarter revenue. Among the declining stocks, CarMax shares fell by about 9.62% after the auto retailer would acquire the remaining part of Edmunds.
US Stocks Performance*
UK Market News: The London markets traded in a green zone illustrating strong investor sentiments regarding US President Joe Biden's USD 2 trillion infrastructure plan. FTSE 100 traded higher by around 0.35% before traders going on a long Easter break. The IHS Markit manufacturing Purchasing Managers' Index ("PMI") for UK manufacturing remained 58.9 during March 2021, its highest level since February 2011.
Travel shares such as Rolls-Royce Holdings and International Consolidated Airlines Group climbed by about 3.44% and approximately 5.67%, respectively, driven by media reports that UK ministers plan traffic light system to unlock foreign travel.
FTSE 100 listed Next had lifted the financial guidance for this year. Moreover, it now expected a profit of 700 million pounds driven by a boom in sales during February 2021 and March 2021. Thus, the shares went up by around 2.59%.
Wealth Management giant Quilter had agreed to sell the international business to Utmost for around 483 million pounds as it would focus upon higher growth UK wealth management business. Furthermore, the shares surged by around 4.25%.
Airtel Africa shares jumped by around 1.96% after the Company said that Mastercard would invest USD 100 million in the mobile money business, Airtel Mobile Commerce.
European Indices Performance (at the time of writing):
FTSE 100 Index One Year Performance (as on 1 April 2021)
1 Year FTSE 100 Chart (Source: Refinitiv, Thomson Reuters)
Top 3 Volume Stocks in FTSE 100*: Lloyds Banking Group Plc (LLOY); Barclays Plc (BARC); Rolls-Royce Holdings Plc (RR.).
Top 3 Sectors traded in green*: Industrials (+1.86%), Consumer Cyclicals (+1.50%) and Technology (+1.35%).
Top 3 Sectors traded in red*: Healthcare (-0.85%), Basic Materials (-0.32%) and Consumer Non-Cyclicals (-0.19%).
London Stock Exchange: Stocks Performance (at the time of writing)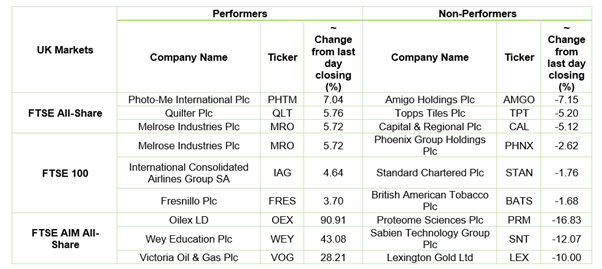 Crude Oil Future Prices*: Brent future crude oil (future) price and WTI crude oil (future) price were hovering at $64.98/barrel and $61.56/barrel, respectively.
Gold Price*: Gold price was quoting at US$1,728.45 per ounce, up by 0.75% against the prior day closing.
Currency Rates*: GBP to USD: 1.3828; EUR to GBP: 0.8513.
Bond Yields*: US 10-Year Treasury yield: 1.681%; UK 10-Year Government Bond yield: 0.806%.
*At the time of writing