Summary

Parts of Toronto and the Peel Region are going under lockdown again due to increasing number of COVID-19 cases.
The lockdown protocols will see non-essential local businesses shut down once again.
At least 31 per cent of medium- and small-scale business owners feel they may not have the capital to survive a second pandemic-triggered economy crash, found a KPMG report.
With the number of COVID-19 cases surging, hot spots in Ontario's Toronto and the neighboring Peel Region are being sent under lockdown once again. The two regions have reported the greatest number of infections on a daily basis over the last few weeks, and will be facing stringent COVID-related protocols from Monday, November 23, onwards.
Apart from the existing rules, the list of lockdown measures will include:
Ban on social gatherings or events at home including people from outside the immediate household
Leaving the house only for essential purposes
Ban on indoor dining at bars, cafes, restaurants, etc.
Limit non-essential business to run on curbside pickup system
Ban on personal care services such as salons, gyms, etc. and indoor sports centers/activities.
Ontario reported some 1,418 new COVID-19 cases and eight deaths on Friday, November 20. As of Friday, the province of Ontario has crossed the 100,000 mark with its total number of infections.
What Does The Government Say?
Speaking on the matter, Ontario Premier Doug Ford said reports show the outbreak could escalate to 6,000 cases per day if steps are not taken immediately.
Prime Minister Justin Trudeau's Throne Speech in September had stressed on plans for reviving the economy and helping business struggling under the pandemic impact. With the Canada Emergency Response Benefit (CERB) and the Canada Emergency Wage Subsidy (CEWS) in place, Trudeau listed other support initiatives such as: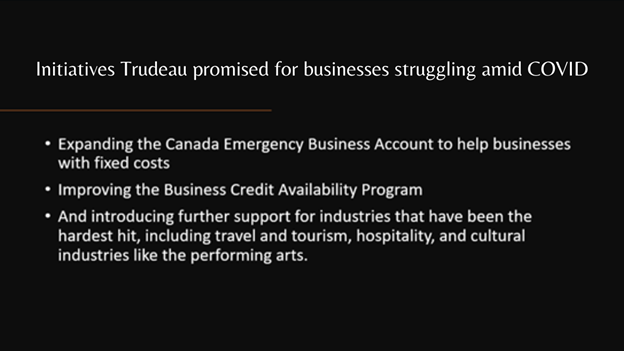 Impact Of First Lockdown On Businesses
Medical professionals and experts are in agreement that the lockdown was necessary in the hotspot areas in order to slow down community spread of the virus, reduce pressure on hospitals and protect the residents. However, a second round of lockdown restrictions will leave local businesses tackling with a crippling impact.
The S&P/TSX Composite Index, which was starting to recover from the pandemic blows, is now 0.26 per cent down year to date (YTD). The S&P/TSX energy index is down 43.76 YTD, while the S&P/TSX Capped REIT record a drop of 15.67 this year.
When the pandemic first kicked in around March this year, the first lockdown forced large through small-sized businesses to shut shop for at least four to five months. While many large enterprises managed to keep their businesses going via online platforms, smaller stores suffered massive setbacks.
The Canadian economy contracted by 7.5 per cent in March 2020, followed by a larger 11.6 per cent in April, found a recent report by Statistics Canada. The same report said that more than 50 per cent of businesses in the country saw a sharp year-over-year (YoY) decline in their revenue for August.
Nearly 24 per cent businesses with one to four employees recorded a drop of at least 40 per cent in their annual revenue. About 47.2 per cent of these businesses also said they were unable to take on more debt. As against that, about 16.8 per cent of businesses with 100 or more employees had similar difficulties with taking more loans.
Deeply affected by the pandemic, about six per cent of Canadian businesses with less than four employees that were operational later in the year said they were considering filing for bankruptcy or closing down permanently.
At least 24.6 per cent businesses that have less than four employees laid off at least one of them since the beginning of the pandemic. In most large-scale businesses, the reduction of workforce was much higher.
How Will Second Round Of Lockdown Impact Businesses?
Small-scale businesses which scraped through the first round of lockdown may not be as lucky the second time around.
A study conducted by KPMG in Canada found that at least 31 per cent of business owners of medium- and small-scale enterprises feel they may not have the capital to survive a second pandemic-triggered economy crash. About 78 per cent of Canadian entrepreneurs who participated in this research believe their businesses will only make it if they go digital.
Suppressed by increasing costs and pandemic-related challenges, some 24 per cent of businesses owners are looking into selling their businesses, said the study.
Black Friday, one of the biggest shopping days of the year, will be falling during the lockdown period this year. Increased sales of Christmas and New Year shopping will also hit the brakes. In other words, the holiday season which brings in impressive sales margins for local businesses will come during a time when their shops will not be open.
The Trudeau government has assured support for businesses struggling due to the COVID-19 pandemic. This would be the time to see how much people benefit from the programs.
There is no investor left unperturbed with the ongoing trade conflicts between US-China and the devastating bushfire in Australia.
Are you wondering if the year 2020 might not have taken the right start? Dividend stocks could be the answer to that question.
As interest rates in Australia are already at record low levels, find out which dividend stocks are viewed as the most attractive investment opportunity in the current scenario in our report Top Dividend Stocks to Consider in 2020
CLICK HERE FOR YOUR FREE REPORT!