Summary

Emerging lockdowns and business uncertainty stands as a risk in the Australian economic outlook.
If incomes remain low, the risk of insolvencies rises.
Banks such as CBA, ANZ, NAB, WBC, and BOQ are in focus again.
The new surge in cases from the Delta variant has pushed Australia into a new series of lockdowns. The September quarter has begun with the gloominess of restrictions, predicted to stay till December. While the government is trying its best to pace up vaccination and reduce extended lockdown, the possibility of a diminished GDP & activity contraction is undeniable.
Lockdowns offset Australian Economic growth
According to RBA, economic growth and inflation both stand at 1.1 per cent as of 21 July 2021. The consumer price index has also climbed 0.8 per cent for the June quarter, taking annual inflation for the June quarter to 3.8 per cent, as per the Australian Bureau of Statistics (ABS) latest reports.
Buzzing Trends || How Are Australian Banks Positioned Amid Current Economic Milieu?
Recent COVID-19 outbreaks have also weighed on household consumption right in the middle of the year.
The Australian dollar correspondingly had also declined below its level at the start of 2021. The depreciation occurred despite rising commodity prices.
If the economic recovery gets delayed by the resurging pandemic, it will raise insolvencies among vulnerable households and businesses.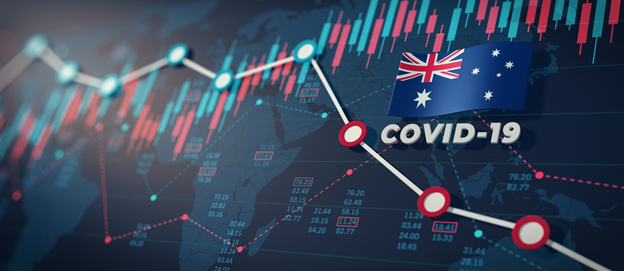 Image Source: © Ffikretow | Megapixl.com
How are mainstream banks performing in this uncertain economic milieu?
Due to the emerging lockdowns and business uncertainty, the financial sector has been in red in the last month. On 28 July 2021, the Financial Sector has been down 0.86%, contributing to the 0.70% fall of the S&P/ASX200 Index.
At present, all Aussie banks are currently prioritizing credit risk and capital management. They are also focusing on digitization strategies to boost efficiency.
The aggregate cash earnings of Banking majors, ANZ, NAB, and WBC, have improved, underpinned by significant credit provisioning in H1-2020. However, profitability remains under pressure in an environment of ultra-low interest rates. Low asset quality is a significant concern.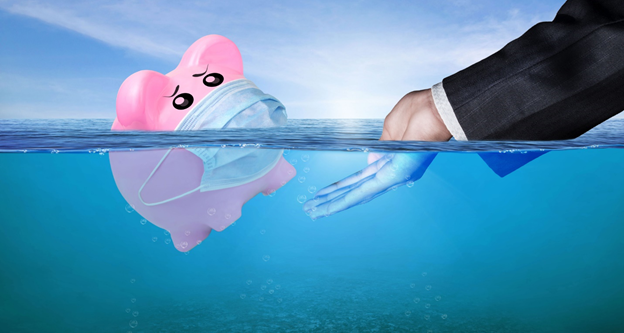 Image Source: © Ganchaonan2518 | Megapixl.com
Australia's largest Bank, Commonwealth Bank of Australia (ASX:CBA), reflected strong its Q3-21 March quarter operations. It was majorly backed by strong home lending, up 5.3% pcp, and business lending up 8.1% pcp. CBA had then reported 95% of business customers returning to regular repayments after concluding their deferral arrangements. It is now nearing the declaration of its full-year result in August. Shares have moved up 18% since March and closed at AU$ 99.300 on 28 July 2021, reflecting positive market sentiments.
Also Read: Can the CBA share price hit AU$100 mark again? What would it mean for investors?
Bank of Queensland Limited (ASX:BOQ) has also been on investor radar in the recent past. On 16 June 2021, it announced reducing its collective provisioning of AU$75 million. It stated strong housing growth, lower unemployment rates, and increasing business investment as the reason. Shares had reached their 52-week high at AU$9.26 the next day.
BOQ full-year results are also lined up at August end. Its shares closed at AU$9.010 on ASX.
On 1 July 2021, it completed the acquisition of Members Equity Bank Limited (ME Bank). The acquisition was a crucial step towards bringing out a common digital Retail Bank technology platform.
How does the future look?
Slow global growth could impede the performance of banks that are already experiencing low profitability. Many banks have used up their before pandemic capacities as protection against losses. The Bank's policy measures have continued to underpin meagre interest rates and support credit availability in Australia. Yields on longer-term AGS (Australian Government Securities) also declined in June, reflecting lower longer-term inflation expectations.
As per the Monetary policy commission, banks need to monitor trends in housing borrowing as housing prices rise and low-interest rates persist. It is said that maintaining lending standards is essential.
The RBA, till now, has been committed and highly supportive to drive economic recovery. It expects to reduce actual inflation sustainably by not increasing the cash rate. However, the Central Bank's outlook is not that optimistic. It does consider the implications of the lockdowns and restrictions on the economy.
Also Read: How have the Big Four Banks performed year-to-date?