Hedge Funds
January 03, 2020
Team Kalkine
What are Hedge Funds?
A hedge fund is a managed pooled fund for alternative investment method which employs trading into complex products including equities, derivatives, real estate, currencies and many others. The performance of the fund is measured in absolute return units.
As the name suggests, hedge fund tries to "hedge" the risk associated with a particular investment choice based on the price relevant information. Hedge fund managers choose from the variety of options from stocks to bonds and commodities to currencies. Sometimes they may invest their own money to a fund to leverage the magnifying effect of the investment.
How did it start?
Alfred Winslow Jones is regarded as a pioneer in the field of hedge fund management, and he launched the first hedge fund in 1949. Alfred structured the funds by finding the loopholes in the regulations and reaping benefits from them. Alfred formed an investment partnership and committed his own money in the partnership. He fixed his remuneration in the form of performance incentive, which was 20% of profits.
Alfred, in his endeavour, combined shorting and leverage, and hedged them against the market movements and reduced the risk exposure. He chose equal short and long positions for his portfolio. The overall impact of the combination of long and short positions, his portfolio became more stable with lower risks.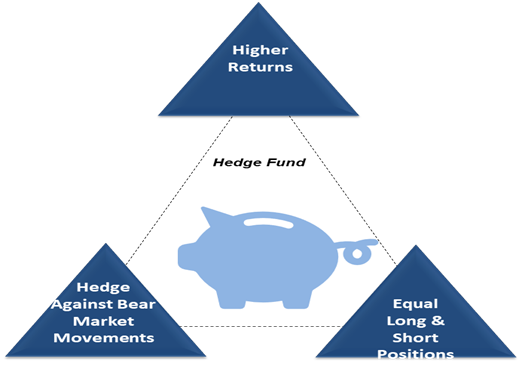 Why opt for Hedge Funds Image source - © Kalkine Group 2020
Many fund managers joined Alfred to gain fame and fortune. Some of them even went to start their own fund houses and an SEC report of 1968 reported 140 hedge funds in the United States of America.
During the stock market boom of the late 1960s led to a belief that Hedge Funds underperformed than the overall market. Many hedge fund managers dropped the idea of long term and short term positions and did not feel the need for risk hedging.
To take the benefits of the market boom, many fund managers moved out from the Alfred technique of lowering market movement risks. The fund managers moved boldly to the riskier strategies, which led to heavy losses in 1969-70. The bear market of 1973-74 drove a massive plunge in hedge funds and saw closure of many such funds due to heavy losses.
During the mid-80s, hedge funds again became centre of attraction for large investors due to the Julian Robertson's Tiger Fund. The fund was one of the many global macro funds that used leveraged investments in securities and currencies after careful assessments of global macroeconomic and political situations.
Tiger Fund, in 1985, correctly forecasted the end of the four-year trend of the US dollar appreciation against currencies of Europe and Japan and speculated in non-US currency call options. A report in the year 1986, reveals that since its inception, Tiger Fund gave an average of 43% return to its investors.
During the late 1990s, hedge fund suffered one of the largest losses. Quantum Fund lost US$2 billion in 1998 during the Russian debt crisis. Tiger Fund lost more than US$2 billion in trading of Japanese Yen with respect to the US dollar. The losses and redemption of money by the investors led to the closure of the Tiger Fund in 2000.
What are the different types of hedge funds?
Hedge funds can differ based on the strategy chosen by the manager after consulting the investors. The strategy is laid out to the investors through a prospectus before going forward with it. This makes a hedge fund more flexible as investors are always aware of about where the funds are going.
Thus, hedge funds can be of the following types:
Macro: These hedge funds aim to profit through macroeconomic trends. These macro parameters may include global trade, interest rates, forex policies, etc.
Equity: These hedge funds involve investments into stocks nationally and internationally, both. This is accompanied by a hedging position against stock market downfalls by shorting overvalued stocks. However, the striking feature of this type of hedge fund is that managers pick up undervalued stocks and split the investment between going long in stocks and shorting others.
Relative-Value: This type of hedge fund takes advantage of inefficiencies existing in the spread. A Spread is the difference between bid price and ask price of a security.
Event-based: These involve those funds that seek to gain from inefficiencies brought on by corporate events, corporate restructurings, mergers, and takeovers, etc.
How is a hedge fund different from a mutual fund?
In operation, hedge funds and mutual funds may sound the same as they both involve a pooled sum of funds being invested. However, there are some fundamental differences between both. These include:
The need for accredited investors: Hedge funds are only open to certain accredited wealthy investors holding high level of capital. However, mutual funds are open to non-accredited investors as well.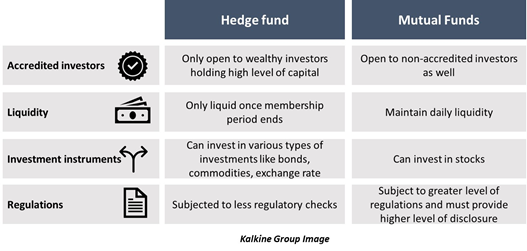 Liquidity: Hedge funds do not maintain daily liquidity, whereas mutual funds are much more liquid. Hedge fund investors may only liquidate after the specified subscription period is over. This period may be a quarter long or a month long depending on the type of fund.
Investment instruments: Hedge funds investors can invest in various types of investments other than stocks. These include bonds, commodities, exchange rate, etc. However, mutual funds invest in stocks. This makes hedge funds much riskier than mutual funds.
Regulations: Hedge funds are subjected to less regulatory checks are compared to mutual funds. Some hedge fund managers may not even be required to register the fund with the Security Exchange Authority. However, mutual funds are subject to greater level of regulations and must provide higher level of disclosure than that required by hedge funds.
How is it doing now?
The hedge fund industry has evolved substantially, and their numbers are in thousands and managing trillion dollars of investment around the globe. Their Modulus Operandi has also evolved over the year. They ask their investors to put the money in locking period of a minimum of 1 year.
Hedge funds are usually open to qualified investors. The fees charged by the fund managers are also generally on the higher side, around 2% of the underline asset value plus the performance fee on gains generated.
The basic principle of hedging the investment has now changed, and the key focus is to maximise profits or to give higher returns on the investments. To achieve higher returns, fund managers often put their money on higher risk elements.
Fund managers use leverage to increase the spread of profit, but at the same time, leveraging can incur more loss than the actual investment would have made. Speculative investment has the potential of higher risk and huge losses.
Being said that, the past financial blunders of hedge fund have also provided expensive learning and experience to the fund managers. Building upon the legacy, hedge funds have given higher returns over the years.
The average rate of returns of hedge funds attracts most of the wealthy investors towards them. They invest in anything from bonds to securities to currencies and even real estate. There is no fixed rule of investment or instrument for investment, and no definition could cover the entire system of hedge funds.
What are the two sides of investing in Hedge Funds?
Image source: ©Kalkine Group