Definition
Related Definitions
GAFAM Stocks
What are GAFAM Stocks?
GAFAM Stocks are perhaps the most famous and sought-after stocks of the last decade. The dominance of these companies during the 2010s in the stock market will be remembered in the books and adages.
It is the creation of market participants that develop acronyms like GAFAM, which include five large American companies having dominance across most jurisdictions. GAFAM stands for Google, Apple, Facebook, Amazon, and Microsoft.
Over time these companies have gained dominance in their primary business. In addition, GAFAM stocks have been aggressive in expansion and entering new verticals.
Although there have been considerable acquisitions along the way, the investments in research & development and innovation have been at the forefront of the capital expenditure plans.
Google
Officially known as Alphabet Inc., 'Google is not a conventional company' is a statement made by its founders in their early letters. It has not been a conventional company, indeed. Google has developed significant networking within its products.
As a dominant search engine of the world, Alphabet reaps large revenue through advertisements through its flagship search engine and other products. Over the years, the company has been able to expand in other verticals such as mobile phone operating system – Android, web browser through Google Chrome.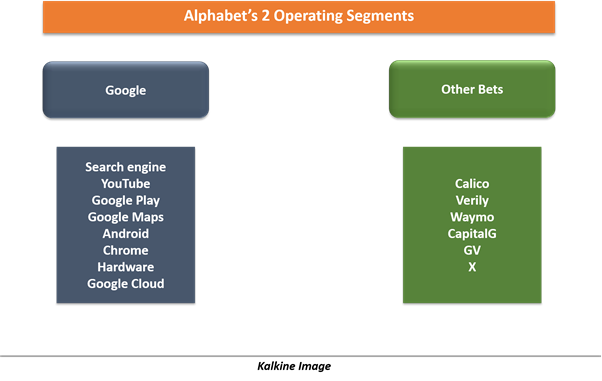 Alphabet has two operating segments. Under Google, the company houses Search engine, YouTube, Search, Google Play, Google Maps, Android, Chrome, hardware, Google Cloud.
In other bets, the company includes businesses that are not material individually. These businesses include Calico, Verily, Waymo, CapitalG, GV, X and more. Almost all revenue of Alphabet is derived by Google segment.
In 2019, Alphabet recorded revenue of $162 billion, and around $161 billion was derived from Google segment. Operating income of the company was $34.2 billion, while net income of the company was $34.3 billion.
Read: Unboxing Revenue Growth Streak of Google and Microsoft
Apple
Established in 1977, Apple Inc. is a consumer electronic company engaged in manufacturing of various consumer products. Apple mobile phones are renowned across the world, and it also makes personal computers, wearables, tablets, and accessories.
iPhone is the flagship mobile operates on an in-house developed iOS operating system. Mac is a brand for its personal computers that are also used extensively across the professional domain. iPad is a line of tablets, which run on iPadOS.
Apple also sells other wearables and accessories that include Apple Watch, Apple TV, Beats products, iPod Touch, Airpods. The core strength of the company has been its capability to innovate and launch products continuously.
iCloud is its cloud service, and data of its products can be stored in the cloud. As a consumer business, it markets are focused small individual customers that do not constitute a material portion of revenue individually.
In 2019, Apple recorded revenue of $260.2 billion. Its operating income for the period was $64 billion, while net income was $55.25 billion.
Facebook
Facebook Inc. was established as a social networking website and has grown tremendously due to its strong networking effects. It enables people to connect with each other or in groups. Facebook is used in mobile phones, personal computers, handsets etc.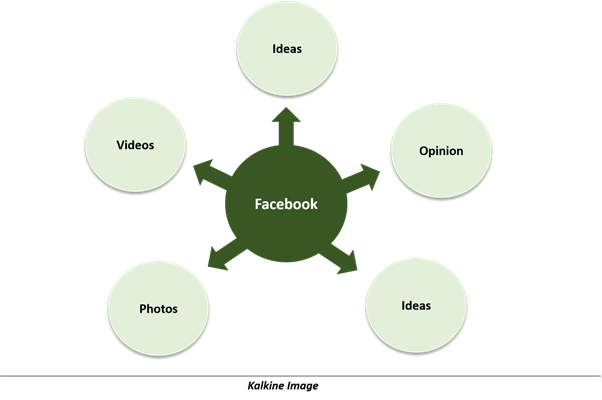 It has been a great place to share opinion, ideas, videos and photos. With its large user base, Facebook and its products are used for advertisements. The traditional modes of advertisements have lost significant market share to companies like Facebook.
Instagram is also a part of Facebook. It is used by people across the world to share photos and videos. It also offers a similar type of services like Facebook and has emerged as a networking platform for digital creators and influencers.
WhatsApp is a messaging mobile phone application. It allows people to connect privately and is extensively used by people. Messenger is another application by Facebook that enables people to connect with family, friends, groups and businesses.
Oculus is the hardware business of Facebook that helps to connect people through its virtual reality products. A major portion of revenue is generated by marketing and advertisement through its products that are used by large scale potential consumers.
Watch: Facebook launching 'Shops' on its social Media Platform | Market Update
Amazon
Amazon.com, Inc. was established as e-commerce in 1994. The company serves consumers, sellers, developers, enterprises, and content creators. Amazon also provides advertising services to publishers, sellers, vendors, publishers, and authors.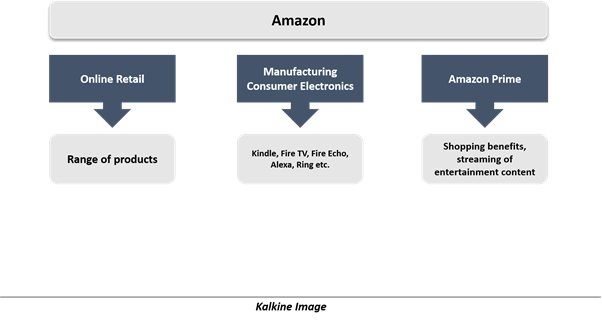 It serves consumers through its online and physical stores. Amazon offers a range of categories and is has a strong online retail presence. It has been engaged in manufacturing consumer electronics such as Kindle, Fire TV, Fire Echo, Alexa, Ring etc.
Amazon Prime is a membership of the company that provides shopping benefits, streaming of entertainment content, including movies, original content. It intends to provide customers with low prices and home delivery of goods.
It also enables sellers to access Amazon marketplace, which includes stores and online website. Amazon earns through a percentage of sales, fixed fee, combinations etc. Amazon Web Services offers cloud service to a range of public and private enterprises to store data.
Kindle allows content creators to publish and sell content/books on Kindle and earn a royalty on sales. In 2019, the company recorded net sales of $280.5 billion. Operating income for the year was $14.54 billion, and net income was $11.59 billion.
Microsoft
Microsoft Corporation is a technology company that develops software, services, devices and solutions. Its products are extensively used by businesses and individual customers to operate personal computers.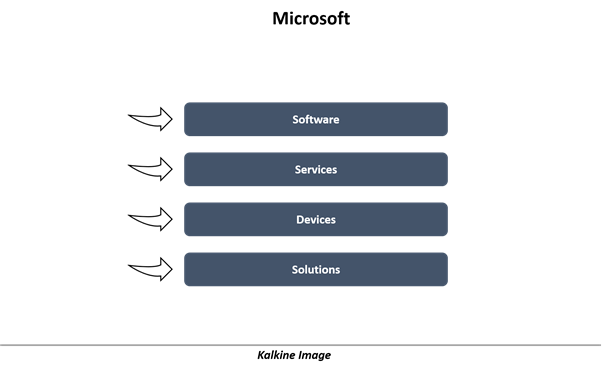 Microsoft's platforms allow improving small-businesses productivity, educational outcomes, driving competitiveness of large businesses. As a platform and tools provider, the company empowers enterprise and organisations of all sizes.
Now it is emphasising on innovation for the next phase of computing stage. Other than its legacy operating system, Microsoft provides cloud-based solutions, services, software, platforms, content, server applications, desktop management tools, software development tools etc.
It also designs and manufactures and sell devices, including gaming consoles, PCs, tablets, entertainment consoles, and related accessories. In 2020, the company recorded revenue of $143 billion. Operating income for the year was $53 billion, and net income was $44.3 billion.