Definition
Corporate Culture
What is corporate culture?
Corporate culture also referred to as company culture, is the culture that incorporates a corporation's concept, beliefs, activities, and practices. A positive corporate culture leads to happy workers, who in turn ensure happy consumers. Simply put, if employees are satisfied, customers will be satisfied as well.
For workers, consumers, investors, and the larger community, corporate culture is strongly ingrained in the company's objectives, policies, structure, and approaches. It is a critical component in deciding whether a company will prosper or fail over time.
Employee benefits, clothing style, client treatment, office hours, office installation, client happiness, staff turnover, employment decisions, and any other facet of operations will portray an organisation's image. It has the potential to have a significant impact on the fate of a company and its employees.
On the other hand, some businesses see their culture expand through time because of coincidences and circumstances. Because they didn't pay much attention to nurturing a healthier environment, such firms could wind up with an impoverished or even tainted culture.
The way workers behave and what they think about effective strategies of cooperating, as well as clients and business partners, is highly influenced by the culture of the firm.
The firm culture also has a significant impact on how it addresses change, growth, and calamities. It does have a massive effect on the firm's ability to innovate and flourish in the long and short term.
Summary

Corporate culture incorporates a corporation's concept, beliefs, activities, and practices.
A positive corporate culture leads to happy workers, who in turn ensure happy consumers.
Corporate culture has a massive effect on the firm's ability to innovate and flourish in the long and short term.
Frequently Asked Questions (FAQs)

What are traits of corporate culture?
There are numerous factors to consider when attempting to describe business culture. These essential components of corporate culture define a firm's ethos and assist to shape its persona.
The level of focus that workers bring to the job is critical since it influences a company's growth. Therefore, the administration must specify the amount of detail that must be paid to achieve the common vision.
One of the most important characteristics of the company's culture is teamwork. Individual efforts, rather than synergised teams, are more likely to yield higher results. Leaders must ensure that their teams' complementary abilities let them work together harmoniously.
Source: © Teravector | Megapixl.com
Someone who motivates others to follow in their footsteps is referred to as a leader. People will follow a leader if he or she can inspire them to work together for a common goal. To provide honest communication, kindness, aid, and support to their subordinates, excellent leadership will be required. A leader's gesture assists to gain workers' trust.
To make a positive workplace environment, corporate culture should emphasise on people. A good corporate culture should be able to adapt to change, guaranteeing that changes can be made to address ever-changing challenges and deliver good outcomes for consumers.
What are various types of corporate culture?
Market culture – The market culture emphasises getting down to business, finishing the work, and achieving the desired results. The culture is competitive, people are committed to achieve their goals, and the organisation is results-driven. The culture emphasises success and sees market penetration and stock as indicators of success.
Clan culture – A welcoming, cooperative working environment is referred to as clan culture. The firm's leaders are seen as mentors, and the firm is bound together by loyalty and tradition, much more like a larger family. Taking care of people and responding to clients' needs play a significant role in success. The firm intends to attain this by fostering compromise, participation, and collaboration.
Hierarchy culture – This culture is built on procedure and process, with operations carried out in a structured and formalised work environment. Leaders keep an eye on and support adherence to tried and true business practices while limiting costs and errors to a minimum. Success is defined by low costs, smooth planning and execution, and dependable delivery.
Adhocracy culture – Employees and leaders are both innovators and risk-takers in this vibrant and innovative work environment. The essential ideas are transformation and speed, and success has been determined by the development of new commodities and services. The organisation promotes individual autonomy and initiative in this culture.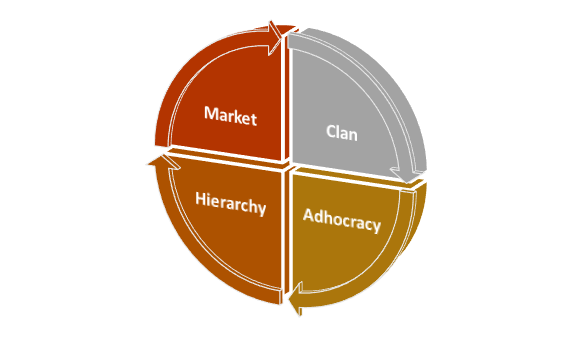 Source: Copyright © 2021 Kalkine Media
What are some examples of corporate culture?
The following companies' operations provide valuable lessons and have a variety of corporate cultures, yet they had to rely on their values and ideas to achieve the tremendous success they cherish now.
Google
Google is one of the biggest names in the business sector when it comes to corporate culture. It establishes the competitive landscape that promotes a healthy work-life balance as a firm. The culture is outstanding since the firm provides benefits like bonuses, staff excursions, free food, parties, and a pleasant work atmosphere.
Source: Copyright © 2021 Kalkine Media
Facebook
Stress harms a firm's growth. Facebook endeavours to serve the best for its workers in a highly competitive industry which might rapidly lead to a high-stress atmosphere. Food, equity options, on-site laundry, and open office space are all available, just like they are at Google. personal development, open communication, teamwork, and education are all highly valued by Facebook.
Twitter
Twitter promotes a positive work environment, amicable co-workers, and a collaborative environment. The firm promotes rooftop meetings, free food for staff, and endless vacations for certain staff, among many other benefits. The most valuable notion that distinguishes Twitter from any other company is that they focus on hiring the best possible workers who are excellent at and passionate about what they do. As a result, employees are happy and believe that what they're doing matters.