Highlights

One of the midcap stocks listed here posted a price-to-earnings ratio of 68.40.
A forest midcap stock among the below recorded a return on equity of 69.59 per cent.
One of the stocks mentioned here soared by more than 92 per cent in the past year.
Investment in midcap stocks is a sweet spot that combines the benefits of largecap and smallcap stocks. To be more specific, the market capitalization of these stocks ranges between C$ 2 billion to C$ 10 billion and provides good growth potential to investors with lower volatility and risks factors.
Some midcap stocks offer a better risk-return ratio than many smallcaps, or even penny stocks. These are generally well-known stocks with more liquidity and hence, investors put their money in midcap stocks.
However, all investments contain some or the other kind of risks and that's why investors should do their own homework and invest accordingly in midcap stocks as per their risk appetite and other factors.
Also read: Informatica IPO: How much will the software developer's stock cost?
On that note, let us see three midcap companies listed on the Toronto Stock Exchange (TSX).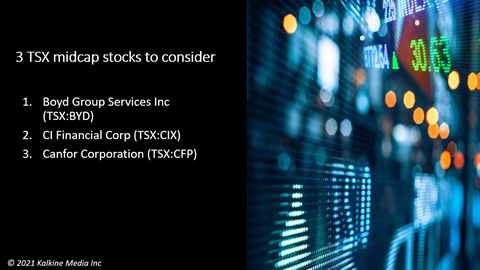 1. Boyd Group Services Inc (TSX:BYD)
The Winnipeg-based personal service firm Boyd Group Services Inc witnessed its stock wrapping up trade at C$ 258.90, on Friday, October 15, up 1.085 per cent. It jumped by roughly 24 per cent in the past year and climbed more than six per cent in the last one month.
The auto body and auto glass repair service provider reported a year-over-year (YoY) sales growth of 44.4 per cent to C$ 444.6 million in the second quarter of 2021. It posted an increase of 62.7 per cent in adjusted EBITDA to C$ 58 million in Q2 2021, up from that of C$ 35.6 million in the same quarter a year ago.
Boyd recorded increased net earnings to C$ 10.5 million in this quarter as compared to a net loss of C$ 5 million incurred in the previous year of the same quarter.
The firm also expanded its business to 39 locations, which includes 32 additions through acquisitions, two start-ups and five intake centers across Canada and the United States.
The C$ 5.5 million market cap firm holds an earning per share (EPS) of 3.78, a price-to-earnings (P/E) ratio of 68.40, a price-to-book (P/B) ratio of 6.153, a price-to-cash flow (P/CF) ratio of 18 and a debt-to-equity (D/E) ratio of 0.97, on Monday, October 18.
It stood at a return on equity (ROE) of 7.18 per cent, a return on assets (ROA) of 2.40 per cent and a dividend yield of 0.218 per cent, this day.
The company is expected to roll out a quarterly dividend of C$ 0.141 per share to its shareholders, which is payable on October 27.
2. CI Financial Corp (TSX:CIX)
The Canadian asset management company CI Financial Corp saw its scrip priced at C$ 26.75 apiece at the market close on October 15, up by 0.943 per cent. The scrip soared by more almost 51 per cent in the past year and expanded by 2.5 per cent in the last one month.
The financial services provider, in its latest quarter, posted a 39 per cent YoY growth in revenue to C$ 662.4 million. This increase was the outcome of higher average core assets under management and recent acquisitions, which was partly offset by lower foreign exchange rates.
In addition, the company also recorded a 25 per cent YoY increase in its adjusted net income attributable to shareholders to C$ 153 million in Q2 2021.
CI Financial held a P/E ratio of 11.60, a P/B ratio of 3.429, a P/CF ratio of 10.40, a D/E ratio of 2.20, an ROE of 31.54 per cent, an ROA of 7.70 per cent and a dividend yield of 2.692 per cent, at the time of writing.
CI Financial expected to roll out a quarterly dividend of C$ 0.18 per share to its shareholders on January 14, 2022.
Also read: Top 5 TSX value stocks to buy
3. Canfor Corporation (TSX:CFP)
The Vancouver-based forest company Canfor Corporation noted its stock closing at C$ 29.47, down by 1.273 per cent, on October 15. Its stock soared by more than 92 per cent in the last year and grew by about 12 per cent in the past month.
Canfor, in the second quarter of 2021, posted sales of C$ 2.5 billion and an operating income of C$ 1.04 billion due to unpredicted high lumber prices and a strong operating performance throughout North America.
The forest products provider reported a net income of C$ 727 million in Q2 2021.
At the time of writing, Canfor stood at an EPS of 13.65, a P/B ratio of 1.122, an ROE of 69.59 per cent, and an ROA of 32.76 per cent.
Bottom line
Investors should research midcap stocks and their fundamentals, measure financial soundness, keep up with the business operations and outlook of the companies so as to maintain a high margin of safety and earn higher returns from investments.
Also read: Top 3 Canadian smallcap stocks to buy this fall
At the same time, investors should keep in mind their risk capacity, investment goals and financial needs before investing in midcap stocks to ensure a proper alignment among all the investment factors and the stock market environment to fetch higher returns on the invested money.