Summary

Plant-based elixirs developer Rritual Superfoods has surpassed its retail distribution targets for CY2021 within the first six months.
The Company has now revised its target to 6000 stores and 20,000 points of distribution by the end of 2021.
The superfood company has received retailer commitments to carry the Rritual brand. Rite Aid has suggested that additional 20% stores will now carry Rritual's product.
Rritual shares soared following the announcement, ending the trading session 16.92% higher at CA$0.76 on 8 June.
In a significant announcement, functional superfood player Rritual Superfoods Inc (RSF:CSE) stated that it has surpassed its US retail distribution targets for the full year 2021 in less than half the time. The Company has already crossed 2400 retail locations and 10,000 points of distribution. As a result, Rritual's leadership plans to revise the targets, aiming for 6000 stores and 20,000 points of distribution by the end of CY2021.
Following the favourable update, Rritual's stock received a significant boost, with the shares surging 16.92% to close at CA$0.76 on 8 June.
Mr David Kerbel, CEO of Rritual, commented-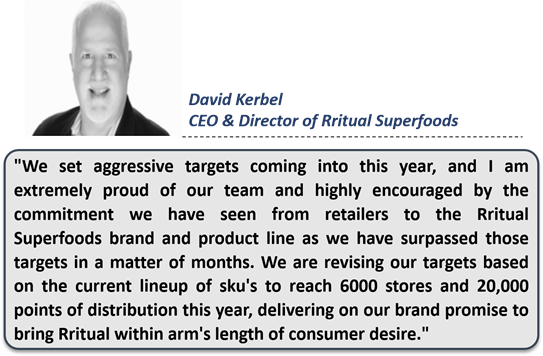 DO READ: Rritual Superfoods teams up with Ultimate Sales to make inroads into Canadian market
Rite Aid committed to carrying the Rritual brand
Rritual has revised the targets based on retailer commitments to carry the Rritual brand. For instance, Rite Aid has indicated that an additional 20% of its stores will carry Reishi Relax, Chaga Immune, and Lion's Mane Focus – which are Rritual's three mushroom adaptogen formulations. Also, the Rite Aid locations offering Rritual's Variety Pack would also double in number.
Rritual's product line is being welcomed by consumers, with an initial sell-through with major retail partners generating new purchase orders (POs) and expansion of retail locations.
In the first week of July, the Company anticipates that its products would be available across 3000 retail locations with over 10,000 points of distribution. Additionally, as Rritual's innovation pipeline provides new product offerings, there would be further growth in the distribution of its products.
Last week, the Company rolled out its superfood product line at Rite Aid's e-commerce platform. The move will expand the distribution of Rritual's plant-based products and boost consumer awareness across the US.
READ MORE: Rritual makes deeper inroads in the US with product launch on Rite Aid e-commerce platform
Plant-based food industry poised for significant growth
The plant-based food industry is anticipated to grow significantly in the coming decades providing further impetus for Rritual to expand its reach in the US and beyond. According to a research conducted by investment bank Credit Suisse, the plant-based food industry is projected for a monumental growth – it is set to grow 100 times by 2050.
The global food industry estimates that sales of plant-based food products will increase from US$14 billion to approximately US$1.4 trillion within next 30 years.
ALSO READ: Rritual Superfoods (RSF:CSE) in a sweet spot to excel in functional superfood market
What makes Rritual's product more appealing is that they are all USDA-certified organic. They provide a caffeine-free product option and can be served in combination with other beverages or enjoyed by themselves. Furthermore, the proprietary Immune-Synergy Six Mushroom Blend is the only functional health formulation in the market that comprises a daily prebiotic blend to nourish a healthy gut microbiome.
MUST READ: A look at Rritual Superfoods' lineup of natural elixirs