Summary

Rritual Superfoods remains at the forefront of the revolution in the superfood space with its plant-based elixirs.
The Company's natural elixirs are developed to support the physical as well as mental wellbeing of people.
The superfoods company is focused on expanding its offerings to meet and exceed its customers' requirements.
Rritual's products have distinctive properties to enhance immunity, improve brain function, and reduce stress.
Rritual Superfoods Inc (RSF:CSE) offers a variety of natural plant-based products to enhance everyday lifestyle. The natural elixirs developed by the Company are enriched with super ingredients that support navigating the modern lifestyle challenges related to mental, emotional, and physical health.
More than a functional mushroom group, Rritual is a 'Superfood Platform'. At the forefront of the revolution in the superfood space, the Company has stepped into the market with plant-based elixirs.
Rritual Superfoods products are simple mushroom adaptogen products with limited but purposeful and organic components. The adaptogens used by RSF are non-toxic fungi, herbs, and roots that improve the human body's ability to withstand stressors, restoring optimal body functioning.
ALSO READ: How is Rritual Superfoods progressing with US retail roll-out of its plant-based superfood elixirs?
Rritual - Committed to wellbeing of people
Rritual's products are vegan, gluten-free, certified organic, and made with only non-GMO (genetically modified organism) ingredients. The plant-based products are pure, efficacious, and sustainable and do not comprise any sweeteners or artificial flavours of any kind.
The natural elixirs of Rritual are developed to bolster the physical as well as mental wellbeing of people. The products have unique properties to enhance immunity, improve brain function, adapt to stress, among others.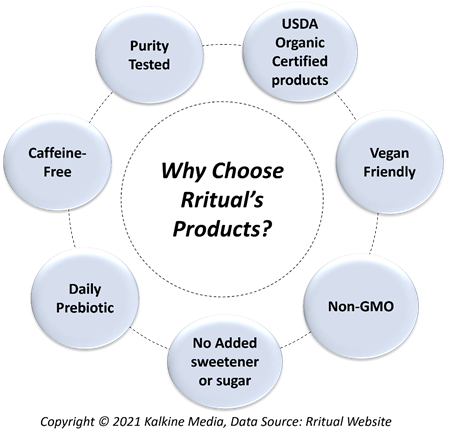 Key benefits of Rritual's plant-based elixirs:
The small-batch elixirs are prepared with meticulously chosen superfood mushrooms and herbal adaptogens, which support healthy cognitive function.
The natural plant-based elixirs are known to help keep the immune system optimally functioning.
The superfood products are also helpful in managing day-to-day stress in a balanced manner.
The natural elixirs also comprise superfoods and spices such as cacao, cinnamon, and ginger, resulting in delicious and beneficial blends.
MUST READ: Rritual Superfoods' (RSF:CSE) Chief Innovation Officer Rolls Out R&D Division
Now, let us discuss the products of the Rritual Superfoods: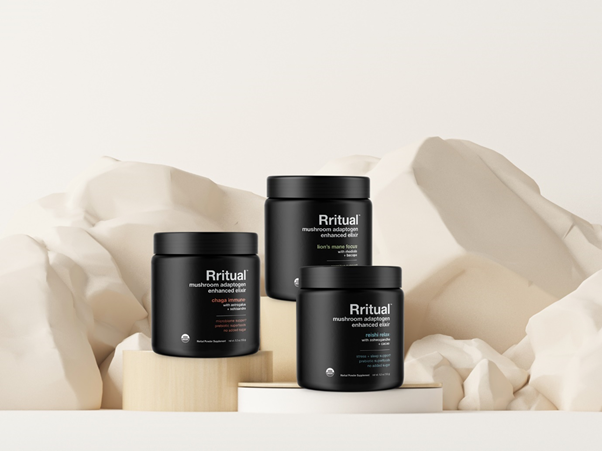 Source: Rritual Website
Chaga Immune
Chaga is an immunity booster, and its use has been revered in Eastern and Western herbalism for healthy immune functioning. Chaga Immune is a mixture of Astragalus root, Eleuthero root, and Schisandra berry.
The product contains bioactive polysaccharides. Besides, it combines Chaga mushroom and Eleuthero root to offer benefits related to the immune system.
Rritual has carefully chosen a pure, US-grown Chaga mushroom mycelia powder cultivated on organic whole oats to offer a full spectrum of antioxidants and other health-boosting compounds to Chaga.
DID YOU KNOW: Rritual Superfoods (RSF:CSE) teams up with CROSSMARK Inc. to rev up its brand growth
Lion's Mane Focus
Lion's Mane Focus is a distinctive combination of Rhodiola root and mushroom that improves cognitive function as well as supports brain health. Recently, the product has been recognised as a nootropic, which suggests that it supports the activation and liberation of the mind for superior cognitive functioning. Lion's Mane also improves the body's ability to adapt to stress.
A functional mushroom, Lion's Mane is usually consumed as food or dietary supplement for its capability to boost long-term cognitive health. Several investigations have reported that Lion's Mane is beneficial for brain health as it targets and delivers beneficial compounds that maintain a healthy inflammatory response.
Reishi Relax
Reishi provides stress support and comprises abundant amino acids, fatty acids, polysaccharides, and triterpenes.
The Reishi blend contains Ashwagandha root, which helps the mind and body to combat anxiety. Reishi's long-term use can also improve restless minds' sleep quality and support the body to reduce stress. Reishi Relax is enriched with a mixture of cinnamon and cacao, which give a soothing effect.
With its adaptogenic properties, Reishi mushroom is admired for its ability to have a calming effect on the nerves and mind. For excellent results, it is recommended to take Reishi mushroom a few hours before going to bed, as its calming effects are great for a good sleep.
Variety Pack: 15 Stick Pack
Interestingly, Rritual also offers a combined pack of all three blends in one convenient pack. The variety pack of RSF comprises 15 packs, including five packs each for Reishi Relax, Chaga Immune and Lion's Mane focus. Variety Pack is for immune, brain, and stress support.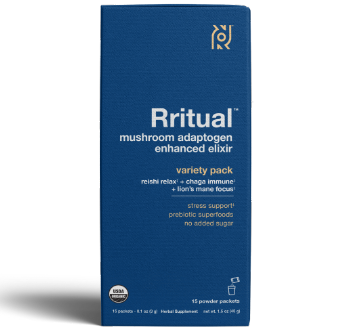 Source: Rritual Website
DO READ: Rritual Superfoods (RSF:CSE) scales up 3rd manufacturing run to meet rising retail demand
The way forward: upcoming product pipeline
Rritual is progressively moving on the path to success with its core value of innovation and superior product quality. Notably, the Company is focused on expanding its offerings and services to meet the requirements of its customers.
On 17 May 2021, RSF shares closed the day's trade at CA$0.70.