Summary

Rritual Superfoods has appointed Tinuiti as its Digital Advertising Agency to augment the Rritual brand awareness.
The functional superfood player is confident it will benefit significantly from Tinuiti's proprietary technology and vast experience.
The digital advertising agency will also strategically work in growing Rritual's subscribers, thus increasing recurring revenues.
The announcement was well received by the market participants, with Rritual shares closing 12.5% higher.
In a positive development that will further strengthen its e-commerce strategy, Rritual Superfoods Inc (RSF:CSE) has appointed Tinuiti as its Digital Advertising Agency to boost the Company's brand awareness. Buoyed up by this significant update, Rritual's shares shot up 12.5%, closing at CA$0.63 on 7 July 2021.
The Canada-based functional superfood firm has clearly highlighted that prioritising e-commerce is key to its growth strategy.
Through its proprietary technology, Tinuiti possesses the expertise to develop a highly responsive approach to enhancing the Rritual brand. Besides, the digital advertising agency will help Rritual utilise the resources aimed at boosting its sales results.
ALSO READ: Rritual Superfoods enhances its visibility via OTCQB market listing
Interestingly, the US-based agency's proprietary Ad Tech will drive traction for Rritual products through an integrated eCommerce brand-building program.
DO READ: Rritual Superfoods moves closer to the launch of e-commerce store on Amazon
Rritual also disclosed that Tinuiti would be responsible for coordinating search engine marketing, conversion rate optimisation, managing purchase of AdWords, remarketing, paid social media, as well as media advertising.
The agency will be involved in reducing the acquisition cost per customer for Rritual. Furthermore, it will also strategically work in growing RSF's subscriber base, and thus, increasing recurring revenues.
ALSO READ: Rritual Superfoods makes further inroads in the US market with CVS deal
Commenting on this, David Kerbel, CEO and Director of Rritual, said-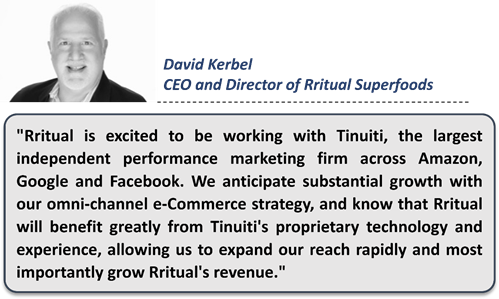 Rritual's growth on eCommerce platforms
Rritual is engaged in implementing strategies to accelerate the growth of its products across all eCommerce platforms, including the Company's own direct to consumer shop, Amazon.com, Riteaid.com, Kroger-owned Vitacost.com, and TheGoodTrends.com. It is worth noting that RSF's strategies would boost the new listings that it obtains on major health and wellness platforms in the future.
Source: Copyright © 2021 Kalkine Media
MUST READ: Rritual Superfoods continues to boost its brand, secures 'Tested to Be Trusted' certification
Rritual Superfoods expects significant growth with its omni-channel e-commerce strategy and is confident that it will benefit significantly from Tinuiti's proprietary technology and capabilities.
DO READ: Rritual Superfoods widens its US presence with The Good Trends listing
Tinuiti in a nutshell
An award-winning agency, Tinuiti is the largest independent performance marketing firm that accelerates brand growth across the triopoly of Amazon, Google, Facebook and beyond.
The marketing firm has more than US$2 billion in digital media under management and employs 700 people.
With expertise in Amazon & marketplaces, CRM & email marketing, mobile apps, search, social, and more, Tinuiti realises that success requires channel specialisation and strategy.
Tinuiti delivers solutions by leveraging its performance planning framework, GAMMA. The solutions are enabled by Mobius, a propriety collection of marketing intelligence and media activation technologies.
ALSO READ: Rritual Superfoods amplifies its customer reach in the US with Vitacost.com listing