Summary

Rritual Superfoods has announced that its premium brand functional superfoods will be rolled out in CVS stores.
The product launch across the largest drug chain in the US is a significant milestone for the Company's retail rollout.
CVS will offer Rritual's entire product line, including Chaga IMMUNE, Lion's Mane FOCUS and Reishi RELAX.
In a significant move that bodes well for its US market expansion strategy, Rritual Superfoods Inc (RSF:CSE) disclosed that its premium brand of functional superfoods would be rolled out across CVS stores. The deal with USA's largest drugstore chain is a strategic move by RSF to deepen its footprint in the US market.
ALSO READ: Rritual Superfoods continues to boost its brand, secures 'Tested to Be Trusted' certification
The Company highlighted that its phase one placement is significant, especially because Rritual's products have been selected for the new HealthHUB sites of CVS, which intends to transform the 'consumer health experience'.
DO READ: Rritual Superfoods widens its US presence with The Good Trends listing
The deal will see CVS offering RSF's full individual product line, including: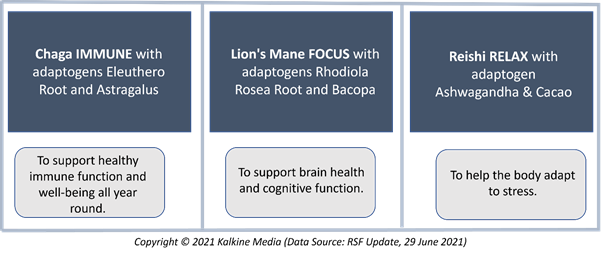 Commenting on the key announcement, David Kerbel, CEO of Rritual Superfoods, said-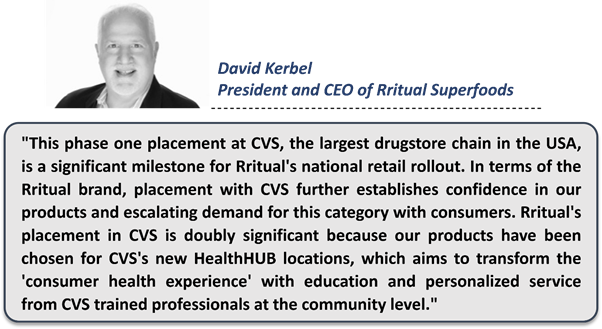 ALSO READ: Rritual Superfoods amplifies its customer reach in the US with Vitacost.com listing
Rritual to develop in-store education program with CVS
The superfoods company also disclosed that it would work with CVS to develop an in-store education program for CVS-trained professionals. The program would assist CVS consumers on their "path to better health."
Furthermore, the Company has increased manufacturing activities to meet the mounting demand, with a strategic sales and marketing focus targeted at major retailers across the US in 2021.
As previously highlighted, Rritual is working with a disruptive retail strategy, intensifying it focus on national retailers instead of regional rollouts to win market share as well as establish category-defining leadership.
READ MORE: Milestone on the cards for Rritual Superfoods (RSF:CSE) as it readies to go live on Amazon in US
CVS in a nutshell
A healthcare innovation firm, CVS' objective is to support people on their path to attain better health.
The US-based drugstore chain aims to become the most consumer-centric health player.
CVS is evolving in line with the changing needs of consumers and meeting people wherever they are.
The Company opened 650 HealthHUB locations in 2020 and plans to open another 1,500 by 2021 end. These locations would offer online streams of wellness and nutrition content.
HealthHUB also offers care concierges with a focus on reaching out to patients via telephones.
On 29 June 2021, RSF shares closed at CA$0.74.
MUST READ: Rritual Superfoods moves closer to the launch of e-commerce store on Amazon