Highlights

Multi-centre trial of CHM 1101 (CLXT CAR T) is activated at Sarah Cannon Research Institute in the US
Enrolment for Chimeric's trial is open for people suffering from recurrent and/ or progressive glioblastoma multiforme (GBM)
GBM is stated to be the most common and also the deadliest primary brain cancer
ASX-listed Chimeric Therapeutics Limited (ASX: CHM) -- a developer of cellular therapies for treatment of cancer -- has announced the activation of CHM 1101 (CLXT CAR T) clinical trial (Phase 1B). The multi-centre trial (conducted under a US IND) of the cell therapy will evaluate the safety and efficacy of CHM 1101 in patients with recurrent and/ or progressive GBM.
Jason B Litten MD, Chief Medical Officer of CHM, has lauded the development and commented that the early clinical results of the therapy from the City of Hope trial were able to demonstrate that CHM 1101 may "improve outcomes" in glioblastoma multiforme.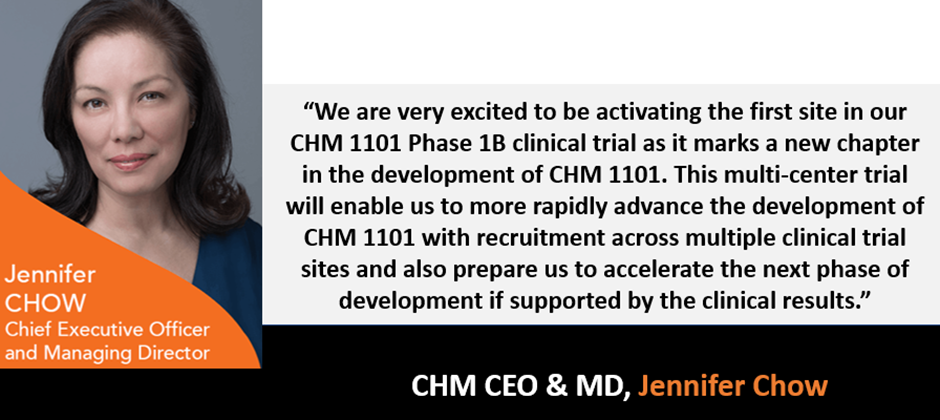 Source: Company update
More
Australia's listed cellular therapy company Chimeric Therapeutics has informed about the launch of Phase 1B clinical trial for its CLTX CAR T therapy CHM 1101. The enrolment of patients, CHM states, is open at the Texas (US) located St. David's South Austin Medical Center.
The trial involves people suffering from recurrent and/ or progressive glioblastoma (GBM). It is pertinent to note that GBM is considered the most common and also the most deadly primary brain cancer. Notably, the CHM 1101 trial is being undertaken under a US IND. It is a two-part process, in which Chimeric would establish a recommended Phase 2 dose and administration schedule.
The part A of CHM 1101 trial would involve up to six patients at the highest dose tested in the already ongoing trial being undertaken at the City of Hope Cancer Centre. Part B will follow the assessment of clinical safety and activity from the CHM 1101 trial (expected later this year). Part B is a dose expansion cohort, and it will involve enrolment of 12 to 26 additional patients.
Chimeric has also stated that once Part B is successfully completed, it intends to design and begin a registration trial, which will be in collaboration with global regulatory feedback.
Comments
Jennifer Chow, the CEO and Managing Director of the company, states that Phase 1B marks a "new chapter" in the progress of Chimeric's cell therapy CHM 1101. This is set to speed up the next phase of advancement if backed by positive outcomes.
CHM shares were trading over 2.6% higher at AU$0.038 at the time of writing (market cap over AU$17 million) at the time of writing on 8 June 2023.