Summary

SPZ, SCU, ESE and VRS announced their recent updates to which the market reacted positively. The four stocks closed at least 20% higher on 28 May.
Smart Parking announced a three-year contract with Wyndham City to reinvent parking experience at Werribee City Centre.
Stemcell entered an agreement on plant stem cell technology with Singapore's Temasek Polytechnic to study the technology's application in cultivation and farming of seagrapes.
ESE has signed an LoI for a JV with SeLaria Ltd to develop new products.
VRS' subsidiary, Aqura secured contracts with BHP, Oz Minerals, and Cubic Corporation.
While the impact of the coronavirus pandemic on human health and the economy has been significant, things are improving with the number of new cases drastically reduced, and businesses are restarting their operations across different states.
The markets have also reciprocated with the S&P/ASX 200 generating 5.95% return on an MTD basis and an impressive 15.25% return on a QTD basis.
A few small-cap companies have been quite active in the market with recent contracts, and partnerships/collaborations to boost their financial performance, aiming to improve their top-line and the bottom-line with improved cost-containment measures.
In this context, let us have a look at four small-cap companies that are actively expanding their business activities and have had decent 1-month returns.
Smart Parking Limited (ASX:SPZ)
Smart Parking Limited is into the business of reinventing the experience of parking. The Company aims to produce an integrated smart parking and intelligent parking sensors services to the world. SmartPark is an advanced real-time vehicle parking sensor solution of the Company and has been accepted in 17 countries. SPZ has been listed on ASX since 2011 and presently, has offices in Australia, the UK, and New Zealand.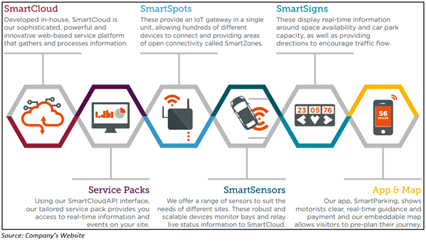 Wyndham City and Smart Parking sign a three-year smart city tech contract
On 27 May 2020, SPZ notified the market that it had signed a three-year contract to work with Wyndham city to supply and fix its SmartPark technology solution in more than 2,000 parking bays in the city. The objective of Wyndham city is to reinvent the parking experience and bring smart city initiatives at the Werribee City Centre and the surrounding locations of Wyndham. Under this contract, the Company will deliver SmartCloud platform and hardware, including vehicle detection sensors and SmartSpot gateways. SmartCloud will allow Wyndham City to examine the real-time activity of the site remotely. Also, it will authorise them to produce reports for a large cross-section of data.
Smart Parking had teamed with Maia Financial, which will offer an asset finance-based solution that can be meet the requirements of its customers while being fiscally and logistically optimising the parking footprint.
The market responded positively to the SPZ contract with the stock closing 21.739% higher on 28 May 2020 at AUD 0.14. The stock was trading at AUD 0.135 on 29 May (at 03:28 PM AEST). Smart Parking has generated a positive return of 41.41% in the last one month.
Stemcell United Limited (ASX:SCU)
Stemcell United Limited is a biotechnology and pharmaceutical Company which use the environmental-friendly patented technology. It develops, reproduces, culture and extracts the plant stem cells for TCM medicinal, beauty, anti-ageing, and health applications.
Stemcell and Temasek Polytechnic collaborate on Seagrape project
On 27 May 2020, Stemcell United updated the market that it had entered in 2 years collaboration agreement with Temasek Polytechnic of Singapore. The deal aims to perform joint research on the use of plant stem cell technology to the commercial farming and cultivation of Caulerpa Lentillifera (sea grapes) in Singapore.
The effect of COVID-19 is seen in the third quarter results for the period ended 31 March 2020. For the period, receipts from customers were AUD 95,000, which marks a 33% dip on the previous quarter of FY 2020. This decrease in revenue was mainly because of the COVID-19 effects in key operating markets (China, Malaysia, and Singapore). As on 31 March 2020, the Company maintained a cash balance of nearly AUD 1.23 million.



During this period, SCU appointed Mr Paul Stephenson as a non-executive Director in place of Ms Ee Ting Ng.
The market responded favourably to the SCU agreement with the stock closing 33.333% higher on 28 May 2020 at AUD 0.016. The stock was trading at AUD 0.014 on 29 May (at 03:28 PM AEST). Stemcell has generated a positive return of 23.08% in the last one month.
eSense-Lab Limited (ASX:ESE)
A life sciences company and headquartered in Israel, eSense-Lab produces virtual plant-based products for recreational and medicinal consumption. The Company combines mRNA expression, phytochemical characterisation, genetics, and unique formulations to create complete models of high value or rare plants.
ESE and SeLaria sign LoI for a JV to develop new products
On 28 May 2020, ESE notified the market that it had signed a Letter of Intent with Israel-based, a private Marine Biotechnology Company named SeaLaria Ltd. As per the signed LOI, the joint venture will utilise the unique gelatinised red algae of SeaLaria and terpene strains of ESE, to create new products as a synergistic effect. The preliminary aim of the JV will be on developing anti-viral hand sanitisers for consumers. Dr Eyal Kalo, CTO of ESE, mentioned that the lab teams had been involved in preparing the first experimental batch of sanitiser, which is a gel-based and alcohol-free.
At quarter ending 31 March 2020, the cash on hand with ESE was nearly USD 164,000. ESE had the appointment of Mr Itzik Mizrahi as the Company's CEO to strengthen its management.
Capital Raising
Subsequently, eSense-Lab had notified the market about the capital raising of AUD 1,145,000 via the issue of loan notes to raise AUD 250,000 (before costs) and a further of AUD 895,000 through commitments (before costs). The proceeds from the Placement and the Loan Notes will be utilised to in business development, to fund R&D, for general working capital purposes, and scope further opportunities for ESE.
The LoI seemed to have an optimistic effect on the market participants with the ESE stock closing 60.0% higher on 28 May 2020 at AUD 0.016. The stock was trading at AUD 0.015 on 29 May (at 03:28 PM AEST). eSense-Lab has generated a positive return of 25.00% in the last one month.
Veris Limited (ASX:VRS)
Veris Limited delivers an integrated approach to the full project life cycle by providing surveying experience to its customers. The Company offers a wide range of services, including, Communications Technology, Digital & Spatial, Geospatial Data Management, Surveying, Town Planning, and Urban Design.
VRS wins multiple contracts worth AUD 4.3 million
On 28 May 2020, VRS had notified the market that Aqura Technologies (VRS's wholly-owned subsidiary) had secured contracts of AUD 4.3 million with its existing and new clients. The current clients include BHP Western Australian Iron Ore and Oz Minerals. The first new contract was signed with US-based Cubic Defence Australia Pty Ltd, a defence training system Company. Aqura is likely to start the engineering works for all its three projects and plans to ramp up site activity after the travel restrictions are removed.
VRS contracts with Sydney and Melbourne Metros
Recently in May, Veris updated the market that it had secured contracts with Sydney Metro and Melbourne Metro.
On 21 May 2020, VRS was awarded a contract for the requirement of survey assistance to John Holland Pty Ltd. This contract is for the new integrated Sydney Metro station development at Waterloo.

Project is expected to generate more than 2,000 jobs.
Expected year of completion of the project is 2024.
The works are likely to produce AUD 1 million in total revenue for VRS Australia in the next three years.

On 18 May 2020, a contract was secured by Veris to deliver additional monitoring surveys on the Melbourne Metro Tunnel Project.

Total value of additional survey works is more than AUD 900,000
Additionally, the accumulated contract value is AUD 22.5 million for the present survey works.
The contract wins and renewals helped the VRS stock close 20.69% higher on 28 May 2020 at AUD 0.035. The stock was trading at AUD 0.34 on 29 May (at 03:28 PM AEST). eSense-Lab has generated an impressive return of 75.00% in the last one month.