US Markets: Broader indices in the United States traded in red - particularly, the S&P 500 index traded 22.35 points or 0.51 per cent lower at 4,396.80, Dow Jones Industrial Average Index dipped by 117.25 points or 0.33 per cent lower at 34,967.28, and the technology benchmark index Nasdaq Composite traded lower at 14,675.00, down by 103.30 points or 0.70 per cent against the previous day close (at the time of writing – 12:15 PM ET).
US Market News: The major indices of Wall Street traded in a red zone following a disappointing quarterly result announced by Amazon. Among the gaining stocks, Procter & Gamble (PG) shares grew by about 2.47% after the Company posted impressive quarterly figures. Chevron (CVX) shares went up by around 0.12% after the Company had reported quarterly adjusted earnings more than the consensus estimates. Among the declining stocks, Amazon.com (AMZN) shares fell by about 6.89% after the Company's quarterly revenue had missed the Wall Street forecasts. Caterpillar (CAT) shares dropped by about 3.25%, despite the Company reported second-quarter revenue and earnings more than the expectations.
UK Market News: The London markets traded in a red zone after the weak performance of the mining and airlines stocks.
FTSE 100 listed mining stocks such as Anglo American, Rio Tinto, and Antofagasta shares went down by around 3.11%, about 2.94%, and around 2.48%, respectively.
Babcock International Group shares plunged by about 16.02% after the Company had widened the full-year loss because of the impairment charge of 2 billion pounds.
Natwest Group shares dropped by around 1.22%, even after the Company resumed dividend payments and announced a share buyback programme.
Intertek Group had shown a decent increase in the first-half profits. However, the shares fell by around 7.29%.
International Consolidated Airlines Group shares plunged by around 7.56%, even after the Company narrowed down the operating loss for the first half of the current fiscal year. However, it remained cautious regarding the Covid-19 uncertainty.
European Indices Performance (at the time of writing):

FTSE 100 Index One Year Performance (as on 30 July 2021)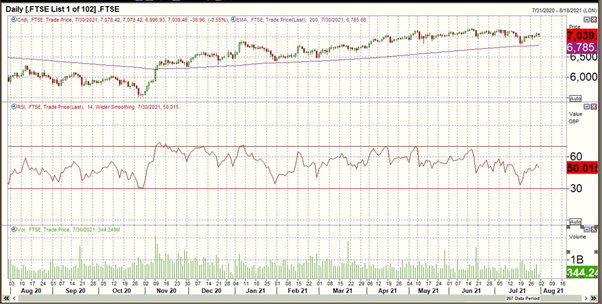 1 Year FTSE 100 Chart (Source: Refinitiv)
Top 3 Volume Stocks in FTSE 100*: Lloyds Banking Group Plc (LLOY); International Consolidated Airlines Group S.A. (IAG); Vodafone Group Plc (VOD).
Top 3 Sectors traded in green*: Real Estate (+1.35%), Technology (+0.66%) and Consumer Non-Cyclicals (+0.08%).
Top 3 Sectors traded in red*: Basic Materials (-1.78%), Energy (-1.43%) and Consumer Cyclicals (-0.68%).
London Stock Exchange: Stocks Performance (at the time of writing)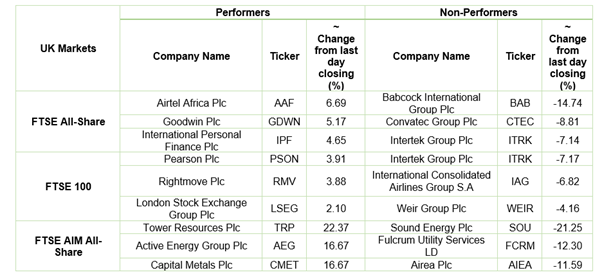 Crude Oil Future Prices*: Brent future crude oil (future) price and WTI crude oil (future) price were hovering at $75.50/barrel and $74.03/barrel, respectively.
Gold Price*: Gold price was quoting at US$ 1,811.05 per ounce, down by 1.10% against the prior day closing.
Currency Rates*: GBP to USD: 1.3894; EUR to GBP: 0.8534.
Bond Yields*: US 10-Year Treasury yield: 1.231%; UK 10-Year Government Bond yield: 0.5615%.
*At the time of writing