US Markets: Broader indices in the United States traded in green - particularly, the S&P 500 index traded 12.20 points or 0.32 per cent higher at 3,822.04, Dow Jones Industrial Average Index expanded by 142.21 points or 0.46 per cent higher at 31,202.68, and the technology benchmark index Nasdaq Composite traded higher at 13,201.25, up by 72.30 points or 0.55 per cent against the previous day close (at the time of writing, before the US market close at 10:30 AM ET).
US Market News: The major indices of Wall Street traded in the green as the investors were keenly anticipating Joe Biden's speech on the stimulus package. The initial jobless claims had increased to 965,000 for the week ended 09 January 2021, while it was 784,000 for the prior week. Among the gaining stocks, Shares of Ethan Allen grew by about 9.30% after it had expected second-quarter earnings more than the consensus estimate. Signet Jewelers shares gained about 2.54%. Shares of PayPal Holdings went up by 1.02% after the company became the first foreign firm in China with 100% ownership of a payment platform. Among the declining stocks, Nordstrom shares fell by about 6.41% after it had reported a 22% decline in its holiday season sales. Shares of Blackrock slipped by around 3.05% although it had reported quarterly profit more than the consensus estimate.
US Stocks Performance*

European News: The London and European markets traded in the green territory reflecting strong investor confidence regarding stimulus announcement by Joe Biden. The RICS monthly house price balance remained at 65% for December 2020 compared to 66% during November 2020. Among the gaining stocks, Shares of Just Group had increased by 15.95% after it had reported an increase in retirement income sales. Whitbread shares went up by 5.07% although it had warned of a challenging trading environment. Taylor Wimpey shares grew by 1.43% after it said that 2020 results would be in line with the expectations. Among the decliners, shares of Dunelm Group went down by 7.41% after the company had warned of restrictions and an uncertain outlook. Tesco shares dropped by 0.91% after the company reported an £85 million increase in Covid-19 related cost. Shares of B&M European Value Retail had fallen the most on FTSE 100.
European Indices Performance (at the time of writing):

FTSE 100 Index One Year Performance (as on 14 January 2021)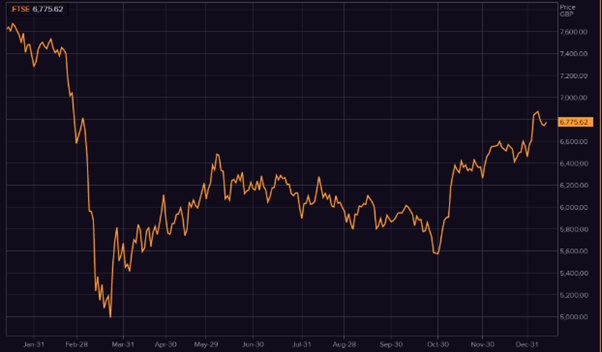 1 Year FTSE 100 Chart (Source: Refinitiv, Thomson Reuters)
Top 3 Volume Stocks in FTSE 100*: Lloyds Banking Group Plc (LLOY); International Consolidated Airlines Group SA (IAG); Glencore Plc (GLEN).
Top 3 Sectors traded in green*: Real Estate (+1.90%), Basic Materials (+1.36%) and Healthcare (+0.83%).
Top 2 Sectors traded in red*: Utilities (-0.80%) and Technology (-0.45%).
London Stock Exchange: Stocks Performance (at the time of writing)
Crude Oil Future Prices*: Brent future crude oil (future) price and WTI crude oil (future) price were hovering at $56.25/barrel and $53.36/barrel, respectively.
Gold Price*: Gold price was quoting at US$1,853.50 per ounce, down by 0.08% against the prior day closing.
Currency Rates*: GBP to USD: 1.3686; EUR to GBP: 0.8886.
Bond Yields*: US 10-Year Treasury yield: 1.092%; UK 10-Year Government Bond yield: 0.291%.
*At the time of writing