Highlights

Huel, a British plant-based meal replacement firm, has hired Goldman Sachs and JP Morgan to help advise on a potential London based IPO in 2022.
The group is said to be pursuing a dual-track sale, including a potential sale of its business along with an IPO.
The group had last raised about £20 million in 2018, giving it a market valuation of about £220 million.
Plant-based meal replacement company, Huel, is said to be in discussions with investment banks to advise on a potential public listing on the London Stock Exchange (LSE), according to some media reports.
Huel's potential initial public offering (IPO) plans come as the pandemic drove many to focus on fitness, thereby boosting the popularity of its products. The company's IPO may take place in 2022.
Huel's potential IPO details
The company has appointed investment banking majors Goldman Sachs and JP Morgan for its potential float, according to a Financial Times report.
The report stated that the company is also considering a dual-track sale as an option. However, Huel considers that a public listing could be a more favoured choice to help fund the company's growth plans.
A dual-track sale process is when a company considers two potential exit transactions, one being an IPO and the second being a potential M&A exit, pursued at the same time.
Huel's capital raise and financial performance
In 2018, the company had a market valuation of about £220 million, which was based on its last capital raise of about £20 million.
Huel's turnover stood at £71.6 million in the year to July 2020, compared to £50.2 million from the previous year.
Its sales jumped to £99 million for the 18 months to July 2020, compared to £39.8 million in the previous twelve months.
The UK based company, which was founded in 2015 by Julian Hearn, makes drinks, powders, snacks and other types of products. The company aims to replace an average diet with an all-in-one powder-based or liquid meal, which is 'nutritionally complete'.
It now sells its products across various regions, including the US, Europe and Japan.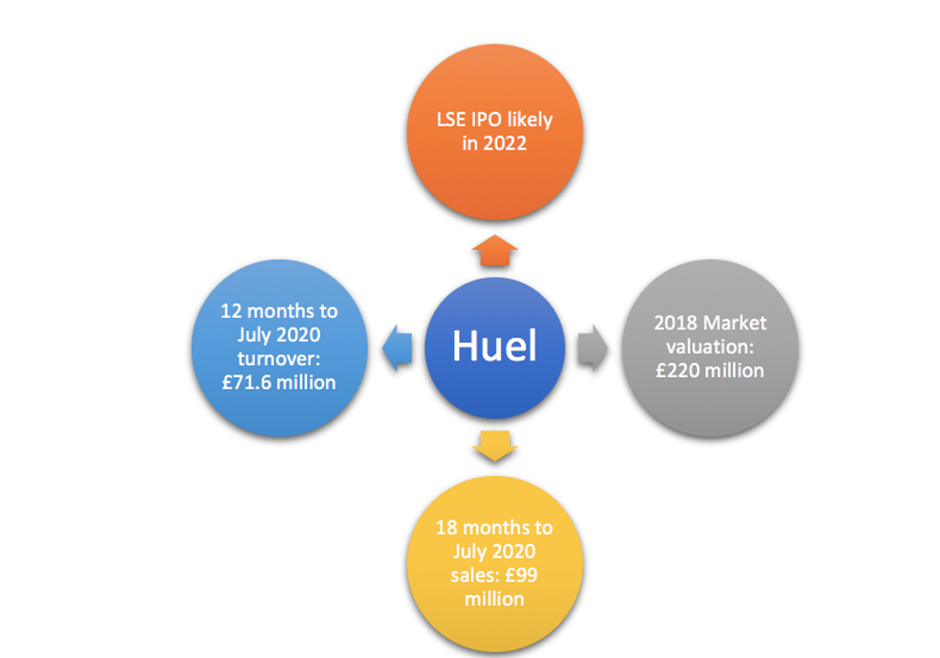 © 2021 Kalkine Media
Bottom Line
According to data compiled by media and data firm Bloomberg, global IPOs have raised over US$ 600 billion so far from about 2,850 companies and SPACs, crossing its previous record in deal count and proceeds, last seen in 2007. The global IPO boom has been supported by high valuations, economic recovery from the pandemic and other factors.
The LSE has been going through an IPO boom since the pandemic; although it has slowed down a little in recent months but the listing intent of companies like Huel indicates that the momentum will continue next year as well.