Highlights

The economic outlook of Britain is darkening amid a full-blown fuel crisis, labour shortage, as well as clogged ports.
A Christmas catastrophe is being anticipated with empty supermarket shelves amid a full-blown fuel crisis, labour shortage, as well as clogged ports.
Labour shortages, especially HGV driver shortfall, has impacted the economic recovery significantly by creating bottlenecks in the supply chain.
Ahead of Christmas, the economic outlook of Britain is darkening amid a full-blown fuel crisis, labour shortage, as well as clogged ports. Factories are closing, ports are having troubles, and there's a severe scarcity of truck drivers, which has raised concerns related to a potential disruption of the global economic recovery.
The consequent supply chain crisis will most definitely lead to a Christmas catastrophe with customers stressing out about empty supermarket shelves. The country has been taking steps to overcome the fuel and driver shortages, but there's still a long way to go.
The country witnessed a lot of panic recently when shipping bosses turned away cargo vessels from the UK's biggest container port, Felixstowe, after days of the vessels left stranding offshore due to lorry driver shortage. British Ports Association Chief Executive Richard Ballantyne said that Britain wasn't the only country in the world suffering from these problems and it wasn't an issue of red tape related to Brexit.
RELATED READ: PM warns supply shortages to Christmas. Stocks to avoid for short term
Logistical problems
Container ports have been under a lot of pressure since the lockdown ended and cargo storage has been suffering due to a sudden surge in global activities after economies started reopening. As a result, logistical problems are being faced not only by Britain, but also by continental Europe and North America. In its latest World Economic Outlook, the IMF blames the economic chaos on the pandemic which slashed the trade volumes worldwide.
Source: Copyright © 2021 Kalkine Media

When demand gradually started normalising, production levels couldn't match it due to the restrictions, which in turn left ships and containers in the wrong place. There was a plethora of containers in the UK and Europe as the Chinese economy ended its lockdown, but there was no demand for goods as the storage and warehouse spaces were full.
REALTED READ: Uncertainty around economic recovery deepens amidst the global supply chain crisis
Due to containers being in the wrong place and Chinese ports in a relatively dormant state, the freight rates have surged significantly. The supply chain is thus broken for manufacturers who rely on globally traded components for producing their goods and services and they are stuck waiting for the parts. For example, there has been a 27% reduction in Britain's car production in August due to this.
Apart from the issue of global container congestion, shortfall of haulage drivers to offload freight is another major problem faced by Britain's ports. This has been aggravated at present with Christmas upcoming in the peak season of the freight calendar.
Record-high job vacancies
The number of job vacancies have touched a record-high level in the UK, reaching 1.2 million in September. There are labour shortages in a wide range of sectors, including retail, manufacturing, professional activities, accommodation, and so on. The supply chain constraints have further strengthened due to the labour market shortage in the UK. While temporary visas are being granted to overseas workers to ease the shortage, the entire need for more drivers may not be met.
RELATED READ: What happens when an energy supplier goes bust
Role of energy crisis
Last month, two of the main carbon dioxide factories in the UK were shut down due to a surge in gas prices which led to significantly huge losses for these businesses. Shutting down of key businesses creates a domino effect in the economy and in turn harms more businesses which are a part of the wider supply chain. Several parts of the food supply chain, particularly packaging, suffered due to this.
The health sector was also impacted due to it as apart from being used for activities like preserving the packaged fruits and vegetables and sedating animals while they're getting slaughtered, CO2 also plays a vital role in the medical industry as the gas is used by surgeons to stabilise body cavities while carrying out operations, and also to freeze off warts and moles.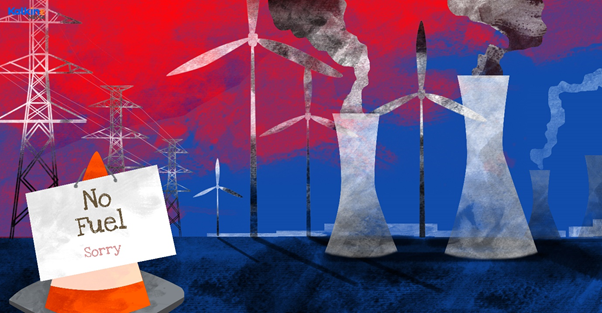 The demand for natural gas in the UK is way more than the supply, resulting in a 700% price surge over the last one year. The upcoming winter will be very hard, especially for the poor who will fall into the trap of fuel poverty amid soaring prices and increasing number of energy suppliers going bust every day.
RELATED READ: Why CO2 supply is so crucial for UK
Bottom line
Supply chain disruptions are bound to hinder economic recovery. UK PM Boris Johnson has claimed that Brexit can't be blamed for the current economic chaos, but Brexit may have played a role in the issues being faced by the country. However, the supply chain bottlenecks are not just Britain's problem, but the rest of the world is facing it too.