Highlights

Matt Damon has starred in an ad for exchange Crypto.com, which is based in Singapore
Damon's crypto commercial does not endorse any specific crypto asset, but implicitly promotes investing in cryptos
The ad has earned the wrath of many experts, who say it is misleading for amateur investors
Cryptos and controversies is not a new union. In 2021, a crypto asset termed 'Squid Games crypto' rose exponentially before collapsing to zero. From China's crackdown on mining and trading of cryptos to unjustifiable power use by the crypto industry, last year was as much about crypto controversies as it was about the new Covid variants or climate change summits.
Just a few days into 2022, and new controversies have erupted again. On one front, Bitcoin and Ether are losing value, with no respite in sight. On the other, Hollywood actor Matt Damon has courted controversy by starring in a crypto commercial.
Also read: 5 golden rules to being a successful ecopreneur
Matt Damon crypto ad
No, the Bourne movie franchise star has not promoted any particular cryptocurrency in his ad that was a part of NFL games and Spider Man's new outing's screenings in theatres.
Matt Damon's cryptocurrency commercial is about a Singapore-headquartered exchange, Crypto.com. In the commercial, Damon invokes the popular phrase 'Fortune favors the brave'. In fact, the ad is also available for view on YouTube, where the company has titled it 'Fortune Favours the Brave'.
Also read: Crypto crash 2022: Is it all bearish in cryptocurrencies?
What is Damon's crypto commercial about?
Damon's crypto commercial does not expressly promote crypto investments using an exchange, but the message is pretty clear. Damon invokes historical achievements like climbing a mountain summit in his monologue that implicitly endorses crypto investments.
In one of the scenes, a team of astronauts is seen led by a woman, which can be assumed as the maker's intent to make cryptos popular among women.
Matt Damon crypto commercial payment
It is unclear how much Crypto.com spent to bring on board one of the biggest and most bankable stars of Hollywood according to Forbes, to promote the platform.
The multi-millionaire star must have charged a high amount considering cryptos are a riskier asset and endorsing a platform that provides exchange services is a risky deal for any celebrity endorser. Damon is an Academy Award winner, a critically acclaimed actor, and hence, may make for an expensive endorser.
Also read: What to do when debt feels unmanageable?
Matt Damon criticism
Most media outlets and even users on social media platforms have called out Damon for his appearance in the ad.
Many believe that a star like Damon may tilt sentiments of amateur and young investors toward a risky asset class, more so at a time when most of the big cryptos are on a downward slide. The use of the phrase 'Fortune favors the brave' has also been panned, as many believe it incites ad viewers to invest using Crypto.com services.
Crypto performance
Though many cryptos returned well in full year 2021, with Bitcoin ending the year at 100 per cent gain and Solana giving more than 10,000 per cent return, cryptos have remained dull so far in 2022.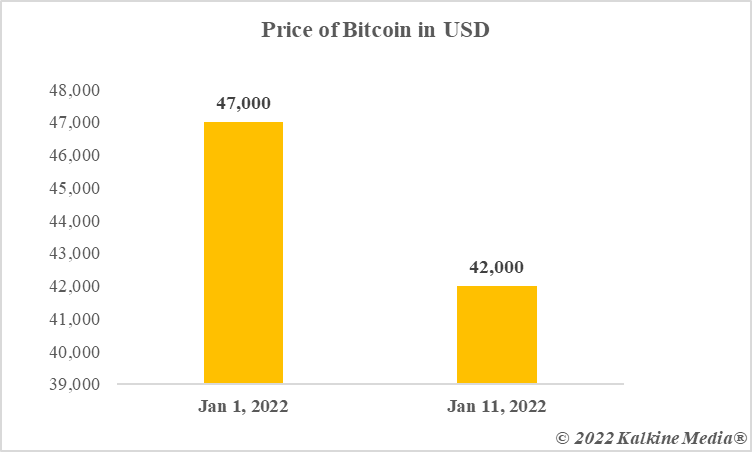 Image description: Bitcoin price in 2022
Data provided by CoinMarketCap.com
A divided world
It is quite apparent that the world is divided over cryptos. A few prominent investors like Warren Buffett criticize them, while others like Elon Musk endorse them. Matt Damon's ad will be similarly reviewed by experts – a few may pan it, while others may find value in it.