Summary

Tyme Technology's stocks zoomed over 62 per cent (1.24PM EST) on Monday, July 26.
The surge came after it announced receiving a patent for its cancer-related therapeutics.
The stock has completely recovered from its bearish price movement, up against its multiple moving averages.
Stocks of Tyme Technology Inc. (TYME:US, NASDAQ:TYME), a biotech firm, skyrocketed by 62 per cent (1.24PM EST) on Monday, July 26. The surge came after the company announced that its metabolomic platform has bagged a patent from the US Patent and Trademark Office.
The firm saw around 122 million of its shares change hands within two hours of Monday's trading session in the wake of this development.
Tyme Technology said that this patent is expected to help deliver therapeutics to cancer patients. Chief Scientific Officer Steve Hoffman stated that Tyme Tech expects to expand its current cancer-metabolism operations with the help of metabolomic technology and offer more effective Tyrosine-based anticancer drugs.
Let us delve into this biotech firm's stock performance and financials.
Tyme technology Inc. (TYME:US, NASDAQ:TYME)
The medical research firm's stock was trading at US$ 1.7 apiece at the time of writing this. It has gained over 832 per cent in the last nine months.
However, the biotech stock has tumbled nearly 67 per cent against its one-year high of US$ 4.99 apiece (February 9). Its market cap is currently US$ 300 million.
At the previous close, the stock was 11 per cent down year-to-date (YTD). It declined more than 12 per cent in the past one year. The current bullish movement may improve its price in the upcoming trading sessions.
Earlier, the stock's 10-day volume was 893,180 shares, down against the 50-day volume of 2.74 million shares.
The US-based clinical-stage firm reported nearly US$ 13.5 million in cash liquidity in the third quarter of fiscal 2021, down against that of US$ 19.4 million at end of the second quarter of fiscal 2021. This decline came on the back of rising expenses in the research activities.
The biotech company's operational cash burn rate was nearly US$ 6 million in Q3 FY21, as compared to US$ 6.6 million in Q2 FY21 and US$ 4.5 million in Q2 FY20.
The company expects that its cash burn rate is likely to be in the range of US$ 6 million to 6.5 million for the complete fiscal 2021.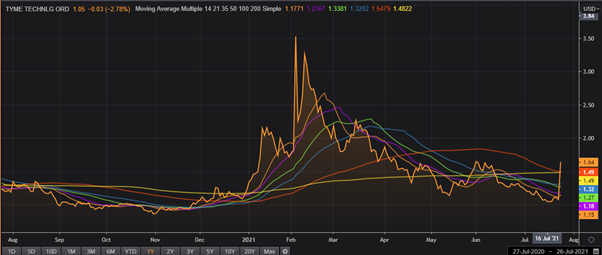 TYME's one-year price trajectory against moving average multiple. (Source: Refinitiv)
The stock's latest price rally has helped it surpass its multiple moving averages, showing a remarkable bull run. It may achieve a new 52-week high by the end of the current quarter. However, investors should also consider that trading in penny stocks is risky and sentiment-driven.