Highlights

Hive Blockchain Technologies has announced record results for the period ended March 31.
HIVE's stock was trending in Canada amid a global market crash due to China's announcement that it is banning cryptocurrency transactions.
The People's Bank of China (PBOC) said on its website that crypto trading activities will be considered illegal.
Further intensifying its crackdown on cryptocurrencies, China's central bank announced on Friday, September 24, that it is banning all crypto transactions in the country. The People's Bank of China (PBOC) said on its website that crypto trading activities will be considered illegal.
The central bank has also banned overseas cryptocurrency exchanges from providing crypto-related services in mainland China. Earlier this year, China had launched a crackdown on crypto mining and that had led to a market crash.
The latest move by the Chinese central bank is expected to put the cryptocurrency market in a bearish zone and prices of cryptocurrencies could decline sharply in the coming days. At the time of writing, the market was trading in the red and even crypto-related stocks were under pressure during the premarket hours.
Also read: China's crypto crackdown intensifies. Here's why you should worry
In Canada, Hive Blockchain Technologies Limited (TSXV:HIVE) caught investors' attention before the market open on September 24 and it was one of the top trending stocks in the country. As the name suggests, Hive is involved in providing infrastructure solutions to the blockchain networks and is also involved in crypto mining.
Although Hive's stock has declined at market open like most of the cryptocurrencies and stocks on the back of China's development, the financial performance of the company has been stellar.
Should you buy the Hive (TSX:HIVE) stock?

There's no denying that China's move will impact the market negatively, however, companies in Canada and the US have a chance of benefiting from the move. Earlier, when China had adopted strict measures for crypto miners, most of them had shifted their operations to North America.
It is nearly impossible to assume that the cryptocurrency market's game is over as its acceptance is also rising across the world. Canada seems to have an opportunity to emerge as a crypto mining hub and companies like Hive could benefit from it.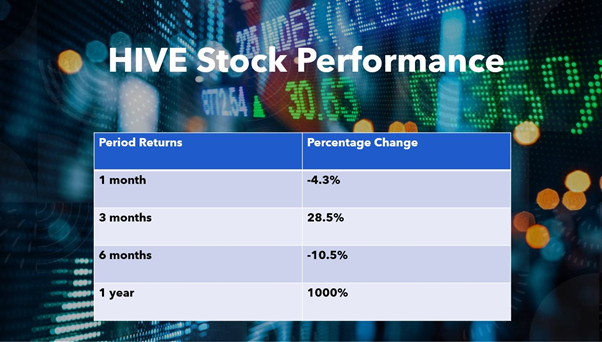 © 2021 Kalkine Media Inc.
In the fiscal year 2021, Hive mined 595 Bitcoin and over 96,300 Ether tokens. At the time of writing, Bitcoin was trading at US$ 41,210 per token and Ether was trading at US$ 2,804 apiece, according to CoinMarketCap data.
Also read: YGG volume up 643% amid China crypto ban. What's its price prediction?
On September 24, Hive Blockchain Technologies announced a record annual revenue for the year that ended March 31, 2021, of US$ 66.7 million. Meanwhile, the net income was US$ 42.5 million.
The HIVE stock has expanded by 1,000 per cent in the last 12 months and outperformed the Toronto Stock Exchange 300 Composite Index.
Bottom line
If you are looking for a crypto stock, you could consider HIVE as its performance is stellar and financial results are indicating that it is a growing company. However, it is important to research before making investments.