Highlights

Canadian bank stocks are known to give significant returns to their shareholders.
Stocks of the big six banks in Canada are quite popular among investors.
Investors are commonly looking to diversify their investment portfolio, and Canadian bank stocks could be a notable option.
Ever since the US Federal Reserve said that a slowdown in the asset-purchase program could be witnessed soon, banks in the US have been noting a rise in demand. Major Canadian banks, meanwhile, have reportedly not been performing just as well.
Due to this relative underperformance, some market experts believe that investing in the big Canadian banks could be beneficial in the long run.
The big six banks in Canada are reportedly trading at a price-to-earnings (P/E) multiple of 10.7x. In comparison, the big banks in the US are trading at a P/E multiple of 13.6x.
1 TSX bank stock to add to your portfolio now
That said, Canadian banks have provided significant total returns over time. So, in this article, we are exploring the stock of Bank of Montreal (TSX:BMO) to see if you could consider BMO for a diversified investment portfolio.
Also Read: 5 Canadian bank stocks to buy amid dividend expectations
Bank of Montreal (TSX:BMO) stock performance

From a fundamentals point of view, Bank of Montreal has consistently reported robust quarterly financial results. In the third quarter of 2021, the Canadian bank beat analysts estimate to achieve a net income of C$ 2.275 billion, representing an increase of 85 per cent year-over-year (YoY).
In Q3 2021, its return on equity (ROE) was 17.5 per cent, up from 9.4 per cent in the third quarter of 2020.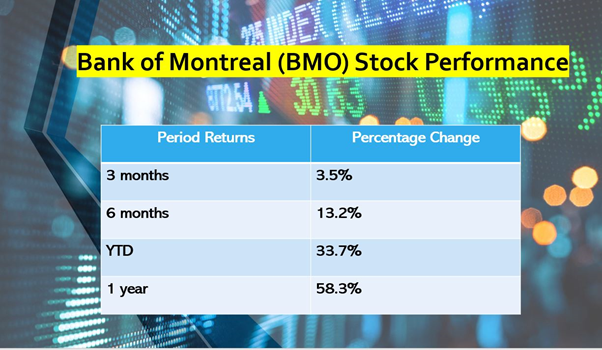 © 2021 Kalkine Media Inc.


Bank of Montreal pays a quarterly dividend of C$ 1.06 per unit to its shareholders and holds a dividend yield of 3.3 per cent.
Apart from the financial performance, BMO stock also witnessed significant growth this year as it surged by 33.7 per cent year-to-date (YTD).
Also Read: Royal Bank (TSX:RY) & CIBC (TSX:CM): 2 bank stocks to buy
Bottom line

Bank stocks in Canada seem to be on an upward trajectory. At market open on Thursday, October 7, bank stocks were trading in green, with BMO stock up by about one per cent at C$ 129.66 apiece.
Canadian investors often explore bank stocks as they have a track record of providing higher returns and passive income through dividends. However, all stock should be thoroughly scrutinized before investing.