Highlights

An REIT company mentioned here posted a dividend yield of 7.899 per cent.
A banking firm listed below held a return on equity of 18.68 per cent.
An energy stock in Canada rose by approximately 47 per cent in the past year.
Amid the rising inflation and supply chain crunch, many investors are looking to invest in stocks that could offer healthy returns over time and fetch them passive income.
Some analysts believe that the Canadian equity market is doing quite well despite the market setbacks. Moreover, the last quarter has traditionally been fruitful for the stock market and may still offer some notable investment opportunities.
That said, let us dive into some of the Toronto Stock Exchange (TSX)-listed stocks that are likely to perform better as well as offers regular dividend income to their shareholders.
Image source: © 2021 Kalkine Media Inc
1. Pembina Pipeline Corporation (TSX: PPL)
Calgary-headquartered energy firm Pembina Pipeline Corporation provides transportation and midstream services across North America, particularly Bakken markets.
The pipeline stock hit a day high of C$ 42.23 before slipping by 0.669 per cent to C$ 41.60 apiece at market close on Tuesday, October 26. It had dropped by more than three per cent from the one-year high of C$ 42.96 achieved on October 15, 2021.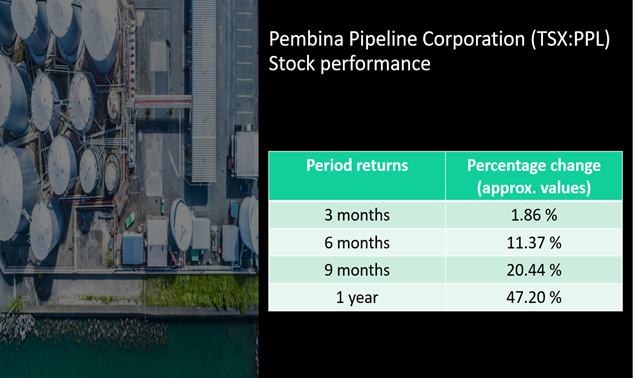 Image source: © 2021 Kalkine Media Inc
Its stock increased by approximately 47 per cent in the past year and jumped by more than 38 per cent year-to-date (YTD). It also expanded by more than 11 per cent in the last six months.
The owner of the integrated pipeline system held a dividend yield of 6.058 per cent. Its average dividend growth rate for the last five years stood at 6.38 per cent.
Pembina is expected to doll out a monthly dividend of C$ 0.21 per share on November 15 against an ex-dividend date of October 22.
Also read: 3 Canadian cannabis stocks to buy under $20
2. Royal Bank of Canada (TSX: RY)
Royal Bank of Canada, aka RBC, noted its stock close at C$ 132.70 apiece, up by 0.189 per cent, on October 26. At this price, it had slipped by just about a per cent from the 52-week high of C$ 134.23 reached on August 25, 2021.
The bank stock touched a day high of C$ 133.25 during Tuesday'strading session. It experienced a year-over-year (YoY) surge of more than 40 per cent and climbed by almost 27 per cent YTD.
RBC is ranked among the top actively traded stocks on the TSX, with a day trading volume of 11.4 million as of October 26. In addition, it posted a return on equity (ROE) of 18.68 per cent and a dividend yield of 3.255 per cent.
Royal Bank of Canada announced a dividend of C$ 1.08 per share for this quarter, which is payable on November 24 (ex-dividend October 25).
3. True North Commercial Real Estate Investment Trust (TSX: TNT.UN)
On October 26, the scrip of real estate investment company True North Commercial fell by 0.265 per cent to C$ 7.52 at market close. It plummeted by about two per cent from the 52-week high of C$ 7.68 (June 28, 2021).
The REIT stock grew by almost 34 per cent YoY and mounted by more than 19 per cent YTD. It also scaled up by nearly four per cent on a quarter-to-date basis.
With the acquisition of C$ 22.0 million government tenanted property in Victoria, British Columbia, the company continue to focus on expanding its urban footprints and enhancing its presence in downtown Victoria, as per an announcement on October 13.
The Toronto-based REIT held an ROE of 6.45 per cent and yielded a dividend of 7.899 per cent. The company is engaged in monthly dividend payments. It is expected to doll out C$ 0.05 per share payable on November 15 (ex-dividend October 28).
Also read: Rogers (RCI) stock plummets amid family drama: What investors must know
Bottom line
It is crucial to go through a company's financials, fundamentals, macroeconomic and microeconomic factors that are likely to impact the stock performance before investing in it. This helps an investor to evaluate whether the company is stable enough to tackle the market setbacks and continue the regular dividend payouts.
Furthermore, investors are advised to consider their investment objective and risk capability before diving into any trade.