3 Canadian stocks to buy before Halloween comes a-knocking!
Image description: 3 Canadian stocks to explore before Halloween 2021
Highlights
Amid the supply chain bottlenecks, many businesses are likely to source alternative suppliers to meet the much-expected high demand due to the holiday season.
An apparel stock mentioned here rocketed by roughly 126 per cent in the past year.
A stock listed below posted a return on equity of 28.97 per cent.
The Canadian stock market is setting fresh records, reflecting a bullish trend among investors despite the biggest inflation hit since February 2003.
As the holiday season begins with Halloween this Sunday, some market experts believe that it could see strong consumption considering post-pandemic demands and positive sentiments amid relaxed lockdown rules.
Halloween is known to be a good time to enjoy candies, scary movies, spooky decorations and costumes. However, many investors view it as a good time to load up stocks as the stock markets have historically delivered better returns around this time.
Also read: 3 Canadian fintech stocks to diversify your portfolio
Let us explore some TSX-listed stocks likely to do well this Halloween.
1. Transat A.T. Inc (TSX: TRZ)
Canadian holiday travel leader Transat A.T. Inc noted its stock pack up the session at C$ 4.58 apiece, up by 0.439 per cent, on Monday, October 25. At this closing price, its stock was almost 12 per cent above the 52-week low of C$ 4.10 (September 20, 2021).
TRZ stock plunged by more than seven per cent on a year-over-year (YoY) basis and slid by more than three per cent in the past nine months.
However, it grew by more than three per cent quarter-to-date (QTD) and jumped up by roughly two per cent in the last month.
Also read: 3 Canadian metal stocks to buy in Q4 2021
The Montreal-based integrated tourism company reported net revenues of C$ 12.5 million and a net loss of C$ 115.6 million in the third quarter of 2021.
Canadian grocer Metro Inc saw its stock wrap up trade at C$ 63.03 apiece, up by 0.526 per cent, on October 25.
The retail stock experienced a YoY growth of nearly one per cent and a year-to-date (YTD) gain of almost 11 per cent. It climbed up by more than ten per cent in the previous six months and scaled up by nearly two per cent in the last three months. Moreover, it increased by almost five per cent in the previous month.
The Montreal headquartered retailer recorded a YoY decrease in its sales to C$ 5.71 billion and net earnings of C$ 252.4 million in the third quarter of 2021.
Metro held a price-to-book (P/B) ratio of 2.421 and a return on equity (ROE) of 13.39 per cent.
3. Aritzia Inc (TSX: ATZ)
Vancouver-based fashion house Aritzia Inc witnessed its stock closing at C$ 49.29 apiece, down by 0.605 per cent on October 25. Its stock had declined by nearly three per cent from the one-year high of C$ 50.68 reached on October 18, 2021.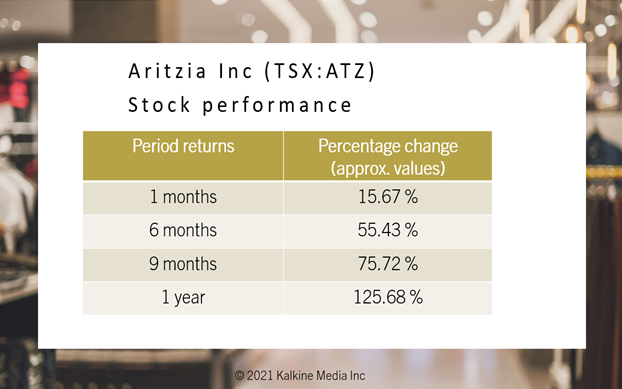 ATZ stock rocketed by roughly 126 per cent YoY and soared by more than 91 per cent YTD. It rose by almost 76 per cent in the last nine months.
In addition, it gained more than 34 per cent in the past three months and jumped up by nearly 16 per cent.
The integrated designer saw a YoY surge of 74.9 per cent to C$ 350.1 million in its net revenue in the second quarter of fiscal 2022. It recorded a YoY increase of 95.3 per cent from the retail segment to C$ 219.6 million, while its eCommerce revenue marked a YoY rise of 48.7 per cent to C$ 130.4 million in the latest quarter.
On October 26, the apparel and accessories designer posted earnings per share (EPS) of 0.95 and an ROE of 28.97 per cent.
Bottom line
As many countries have removed travel restrictions and lockdown rules, businesses are tackling the supply chain bottlenecks worldwide. Plus, the demand surrounding the upcoming holidays season might flood the companies with logistics and supply chains issues.
Many analysts said that businesses tend to alternative suppliers to overcome these disruptions and suffice the increased consumer demand. At such times, the above-mentioned Canadian companies could perform well and may deliver mind blowing returns to seasonal investors as well.
However, investors should consider fundamentally strong and financially sound companies with a proven track record of good stock performance as these companies are likely to withstand the economic shocks and market setbacks.
Also read: Sharethrough IPO: How to buy this TSX-bound ad tech company's stock?