Summary

Real estate sector is undergoing a severe crisis with housing prices falling, giving harsh market conditions for companies to survive. Despite the scenario, there are few market players that are continuing to perform well.
Goodman Group reported a robust FY20 performance with operating profit up by 12.5 per cent. For FY21, it expects an increase of 10% in operating profit on FY20.
Dexus reported FY20 AFFO and distribution of 50.3 cents per security, consistent with FY19, and strong rent collections at 98 per cent.
Vicinity Centres reported a strong balance sheet with portfolio occupancy of 98.6 per cent for FY20. VCX achieved solid financial and operating performance in 1H, while majority of 2H was significantly impacted by COVID.
Real estate remained one of the hard-hit sectors during the COVID 19 pandemic. Lockdown and social restrictions prohibited buyers from either participating in auctions or evaluating properties. While the property market is trying hard to survive the crisis, experts are of the opinion that actual damage is yet to be seen in the future. As the banks are offering a low-interest rate on housing loans and property prices are also declining, market situation seems ideal for getting the best deal.
Amid this scenario, let us skim through the annual performance of three real estate ASX-listed companies.
Goodman Group (ASX: GMG)
Integrated property group, GMG has operations across countries including Australia, New Zealand, Brazil and the UK, in addition to regions like Continental Europe, Asia and North America. It is also amongst the largest-listed specialist investment management firms operating in the industrial property and business space, globally.
On 13 August 2020, Goodman Group released its full-year report for the period ended 30 June 2020, during which GMG remained resilient and continued to execute its long-term strategy.
Good Read: S&P/ASX 200 A- REIT Attempts Volatility Breakout – GMG, CHC, and DXS
FY20 Performance Highlights:
Operating profit of AUD 1,060.2 million, up 12.5 per cent year-on-year. The company registered growth across all segments with foreign currency effects neutralised in borrowing costs.
Operating earnings per share (EPS) of 57.5 cents, up by 11.4 per cent on the same period a year ago.
Statutory profit of AUD 1,504.1 million.
Distribution of 30.0 cents per stapled security (DPS) in line with the Group's capital management strategy.
Gearing at 7.5 per cent, down from 9.7 per cent in FY19.
Net tangible assets (NTA) of AUD 5.84 per security, increased by 9.4 per cent from FY19.
Available liquidity of AUD 2.8 billion, including cash of AUD 1.8 billion.
In the operational update, Goodman Group declared total assets under management (AUM) of AUD 51.6 billion and external AUM of AUD 48.0 billion, both up by 12 per cent year-on-year.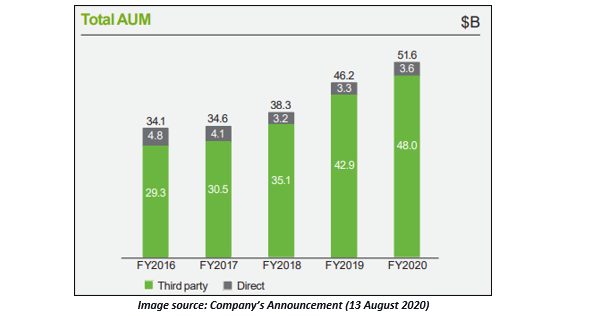 Furthermore, revaluation gains across the Group and partnerships stood at AUD 2.9 billion with quality portfolio maintaining high occupancy of 97.5 per cent and like-for-like net property income (NPI) growth of 3.0 per cent.
GMG reported development work in progress of AUD 6.5 billion across 46 projects, with a proposed yield on cost of 6.5 per cent, and average partnership total returns of 16.6 per cent in FY20.
Outlook: The Group expects to deliver FY21 operating profit of AUD 1,165 million, an increase of approximately 10 per cent on FY20, and operating EPS of 62.7 cents per security.
On 28 August 2020, GMG stock traded at AUD 18.390, down by 0.109 per cent. The company has a market capitalisation of AUD 33.66 billion and its stock has delivered a return of more than 24 per cent in the last one-year period.
Dexus Property Group (ASX:DXS)
Australian real estate group managing a high-quality property portfolio, Dexus released its annual report for FY20 on 19 August 2020, unveiling high-quality portfolio, growing funds business and strong capital position.
FY20 Highlights:
Net profit after tax of AUD 983.0 million, down by 23.3 per cent, primarily driven by net revaluation gains of investment properties of AUD 612.4 million being lower than in FY19.
AFFO and distribution of 50.3 cents per security, in line with the prior year despite COVID-19 impacts.
Robust rent collections for the Dexus portfolio at 98 per cent in FY20.
Return on Contributed Equity (ROCE) of 9.0 per cent.
Strong and conservative balance sheet with gearing at 24.3 per cent and cash and undrawn debt facilities at AUD 1.6 billion.
A high occupancy of 96.5 per cent for the Dexus office portfolio and 95.6 per cent for the Dexus industrial portfolio. The outperformance of both the Dexus office and industrial portfolios relative to their relevant MSCI/PCA benchmarks was noted over one, three and five years to 31 March 2020.
Further increased employee Net Promoter Score to +61 and customer Net Promoter Score to +50.
Must Read: 'D' for Disruptive or Defensive: Dexus and Downer Stocks under Spotlight
DXS reported increased group industrial exposure to AUD 5 billion. The group continued to extend the current relationship with GIC via the acquisition of an additional 24 per cent interest in the Dexus Australian Logistics Trust and the establishment of a new JV to acquire a 50 per cent interest in Rialto Towers.
The real estate company has advanced planning for city-shaping projects in its AUD 10.6 billion development pipeline and realised AUD 35.3 million of trading profits in FY20.
On 28 August 2020, DXS settled at AUD 8.710, up by 0.81 per cent. The company has a market cap of AUD 9.43 billion.
Vicinity Centres (ASX: VCX)
Retail property group, VCX released its FY20 annual results on 19 August 2020. The company reported a robust first half operational and financial performance while the second half performance was materially impacted by COVID-19.
FY20 statutory net loss after tax of AUD 1,801.0 million, compared with AUD 346.1 million in FY19.
FY20 funds from operations (FFO) of AUD 520.3 million, down from AUD 689.3 million over the same period a year ago.
Portfolio occupancy stood at 98.6 per cent.
Total MAT growth was down by 7.0 per cent.
Portfolio quality has been enhanced with 50 per cent interest acquired in Uni Hill Factory Outlets for AUD 68 million and three non-core asset divestment for AUD 227 million at a 0.4 per cent discount. VCX completed Hotel Chadstone, The Glen and Roselands developments.
The development applications (DAs) advanced with five projects at Chadstone approved and first DAs submitted for Box Hill and Bankstown projects.
Balance Sheet: Fortified balance sheet with a AUD 1.2 billion institutional placement in June 2020 and securities purchase plan raising AUD 32.6 million in July 2020. The available liquidity stood at AUD 2.1 billion and low gearing of 25.5 per cent.
Current Situation: Financial and operational performance is expected to be impacted by the second wave in Victoria, delays in return of tourism and workers turning to CBD offices, and other economic and social effects of the pandemic.
On 28 August 2020, VCX went up by 4.151 per cent to AUD 1.380. The company has a market cap of AUD 6.03 billion and annual dividend yield of 11.81 per cent.
Good Read: Inevitable Gains: ASX 200 Property listing stocks and Bounce in Property Space