Highlights

ASX-listed IOUpay has released Q2 FY23 report, which reflects continued growth in terms of customer acquisition and strategic partnerships
Record transaction volumes for the Mobile Banking Division (Up 35% QoQ)
Letter of Offer accepted for inaugural Debt Facility to fund new Bridging Loan product developed with investment partner IDSB
Technology upgrades remain a key focus area for the company, with the December quarter bringing new updates to the myIOU app and platform
New partnerships with senangPay and MobilityOne during the quarter, and release of myIOU Business+ are other key developments
IOUpay Limited (ASX:IOU), a major participant in South East Asia's financial technology landscape, has delivered yet-another quarter of continued growth in Q2 FY23. The recently released December 2022 quarter report and business activity update highlights boost in merchant and customer base for myIOU BNPL offering.
Moreover, the report shines spotlight on record transaction volumes by the mobile banking division during November and December months. Volumes grew 35% from the September quarter to nearly 100 million transaction events in the December quarter.
The report also talks about product development, with the launch of myIOU Business+, and strategic partnerships including new agreements with Simplepay Gateway and MobilityOne.
Besides, there is a mention of how the Phase 3 technology update of the flagship myIOU platform strategically added foreign currency capability to the BNPL vertical.
The period marked positive adjusted net operating cashflow for the fifth consecutive quarter. The underlying BNPL business generated a positive net cash inflow of AU$3,507,000 for the quarter. At the end of the quarter, the company held AU$4,390,000 in cash and call deposits.
Below are the major highlights of IOUpay's December quarter report.
myIOU BNPL transactions
The total transaction value (TTV) figure, which signifies aggregate value of purchases by myIOU's customers, stood at over AU$4.7 million for the quarter ended 31 December 2022. The net transaction revenue (NTR), which represents TTV less the amount paid to partner merchants, came at over AU$308,000. The income margin of myIOU was 6.5% during Q2 FY23.
IOUpay has also cited the full year ended December 2022 TTV figure of over AU$31.5 million and NTR value of over AU$1.8 million in the report. The company mentioned that July 2022 was a very strong month in terms of transaction volumes on myIOU.
During the December quarter, 189 new merchants, who operate 385 outlets across Malaysia, were added to myIOU. IOUpay has also reported continued growth in active user engagement during Q2 FY23, with customer downloads up 30% vis-à-vis the preceding quarter.

Data source: IOU update
Mobile Banking Division
Recognising opportunities for growth in the company's foundational business division, IOUpay completed an infrastructure upgrade in December 2021 to provide increased capacity for larger transaction volumes. The decision to upgrade is bearing fruit with record transaction events for November and December, exceeding the previous highs from early FY22 and delivering a 35% 'quarter-on-quarter' increase against the September quarter.
IOUpay is looking to further utilise the added infrastructure capacity, seeking additional growth through opportunities for new client acquisition during 2023.
Partnerships
IOUpay has effectively built on its previous partnerships with Pine Labs (June 2022), PayHalal (July 2022), and SOGO Departmental Stores (June 2022) during the December quarter. Besides, a new partnership in the form of a Master Merchant Agreement with senangPay was entered into in October 2022. Here, senangPay, a payment gateway service provider, would provide IOUpay access to merchants that want to extend BNPL services to their customers. IOUpay Asia has now approved 73 merchants which have been onboarded by senangPay.
Another major highlight of the December quarter was IOUpay's Master Merchant Agreement with MobilityOne Limited, a London Stock Exchange listed electronic payments service provider. Integration of MobilityOne's payment platform with IOUpay is projected to be completed by the end of Q3 FY23.
myIOU Business+
In December 2022, IOUpay Asia added a new service, in the form of myIOU Business+, which focuses on short-term business-to-business (B2B) financing. This online portal intends to particularly meet the financing needs of small- and medium-scale enterprises.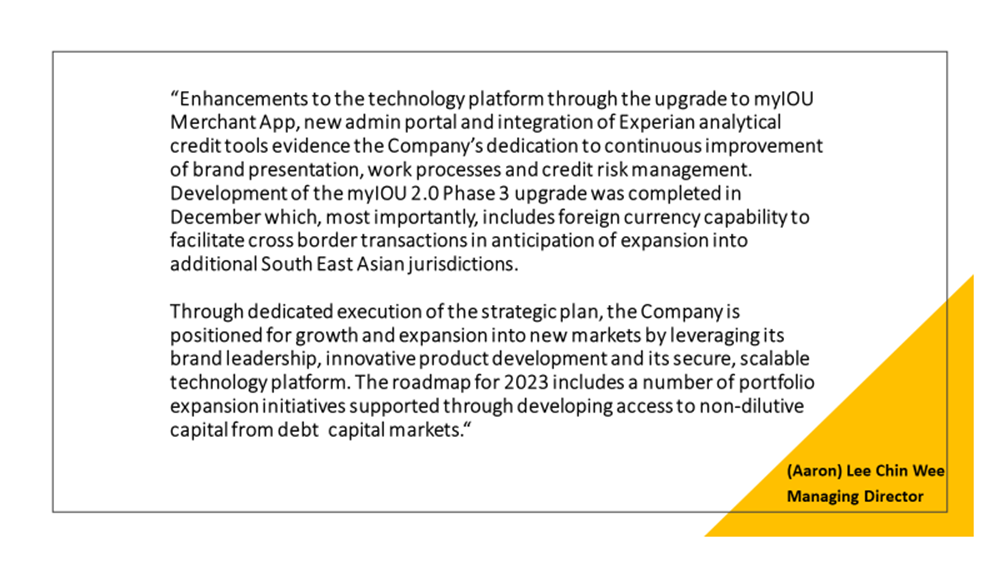 Source: IOUpay December Quarter 2023 update
Debt Facility for new Bridging Loan
An important milestone for IOUpay is the establishment of debt facilities to fund ongoing growth in the lending portfolios. The report highlights that during December, the company announced that it had received and accepted a Letter of Offer for a one-year AU$1.7 million Debt Facility from a leading Malaysian non-bank financial institution. The purpose of the facility is to fund the new, short-term Bridging Loan product being developed with IOUpay's investment partner, IDSB.
The lender has expressed interest in providing a revolving facility at a limit sufficient to fund the expected Bridging Loan originations once performance has been proven during an initial trial period.
The company says that the value of establishing this first debt facility extends well beyond the initial IDSB strategic objectives, with potential for larger scale, lower cost capital to meet growth objectives across the business. This inaugural debt facility enables IOUpay to develop debt servicing credibility in the debt capital markets, facilitating greater access to non-dilutive capital.
Tech update
IOUpay focuses on secure and scalable technology solutions in order to position the myIOU brand as "best-in-class" in terms of innovation.
During the December quarter, myIOU 2.0 Phase 3 (with foreign currency support) was launched, and development work on Experian credit analysis tools was completed with rollout expected in March quarter. A new admin portal, which can improve myIOU's efficiency and data analysis, was also developed during the quarter.
Importantly, the enhancement to support transactions in foreign currencies prepares the technology platform to accommodate business expansion into additional South East Asian jurisdictions.
Outlook
The December quarter update, which also talks about the development in terms of previously announced IDSB investment by IOUpay, ended with a positive outlook for the business over the coming quarters. The report mentions how upward business momentum is expected to continue in Q3 FY23. Moreover, the company's focus on new strategic partnerships with payment gateways, and other reputable partners who manage large communities of merchants and consumers, is likely to drive future growth.
IOU shares were trading at AU$0.066 midday on 2 February 2023.