Gooroo Ventures Limited (ASX: GOO), established in 2016 and based in Prahran, Australia, is engaged in the development of unique technology and human thinking science, to transform the decision making by people, organizations, and communities, thereby empowering them to reach their true potential.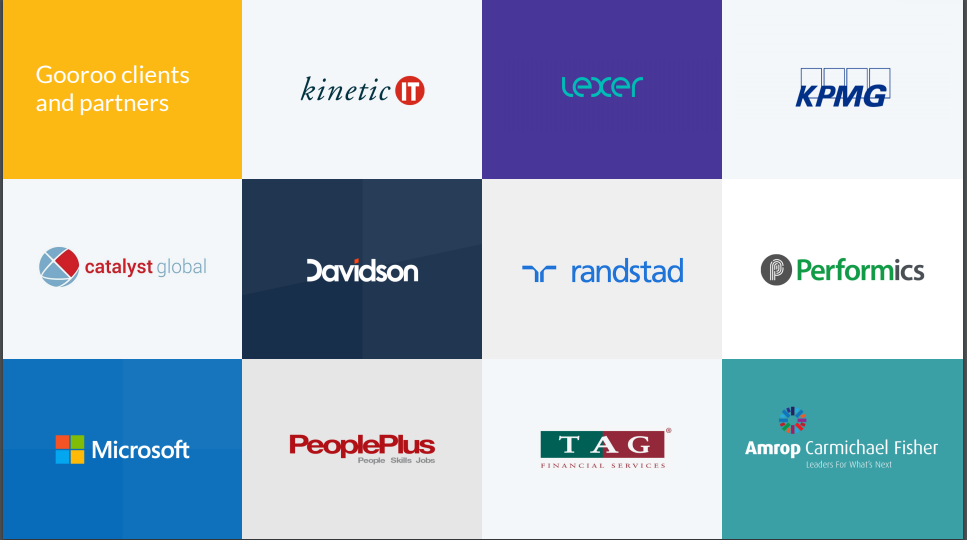 Source: Company's Investor Presentation
The company's key business segments in focus include-
Human Capital: offering a Software as a Service (SaaS) based platform and human capital ecosystem that delivers an integrated and seamless experience for leaders, teams, recruiters, staff and job seekers, ensuring that the right people and teams are in place to take advantage of the future.
Marketing: offering an analytical engine that utilises large consumer datasets and delivers real human insight about how people think to achieve meaningful communication and better outcomes. It is being used by marketers and communication agencies in areas like communication strategy, creative development and targeting, product and portfolio building, customer retention and networking.
Careers: another SaaS-based solution offering which caters to learning institutions, career advisors as well as students.
Advisory & Training, which provides professional training and certification courses that support the sale, application and implementation of Gooroo technology.
Commercial Model
Gooroo's commercial model helps clients in the following ways-
Stimulate adaption, engagement and action taking capacity of leaders and teams, so they may derive benefits out of the volatilities, changes and disruptions.
Enhance the confidence and speed of decision making at all levels of a company.
Construct teams and cultures that are better aligned and growth-oriented.
Clearly align the employees and brand to the mindsets of the customers.
Source: Investor Presentation
Leadership
Gooroo Ventures is led by an experienced Board, together with a senior management team with expertise in neuroscience, management consulting , technology, HR and marketing.
The Non-Executive Chairman, Mr. Tom Brown is a renowned leader in the sphere of People and Culture and holds extensive international experience having worked across Resource, FMCG, Logistics and Power sectors. The founder, Managing Director & CEO, Mr. Greg Muller holds a vast experience of 20 years in technology, marketing and management consulting companies and start-up ventures.
Other Non-Executive Directors include Mr. Emmanuel Foundas, Mr. Jason Tonelli and Mr. Donald Stephens. Dr Colin Benjamin, recognised worldwide as a leading polymath and futurist, is the Scientific Advisor to Gooroo.
Recent Partnerships
On a quest to expand its distribution, implementation and technology partnerships, Gooroo Ventures announced two updates in this regard in the last few months.
High profile Middle East Partnership: The company informed on 11 June 2019, that it had reached a commercial licence agreement with Biz Group, one of the most highly regarded Dubai-based companies which offers professional services, learning solutions and teambuilding assistance across United Arab Emirates. The partnership marks a key achievement and opens an entirely new market for Gooroo, gaining reach and exposure in one of the most dynamic business environments in the world.
The agreement has a term of at least 12 months and covers regions including Saudi Arabia, Kuwait, United Arab Emirates, Bahrain, Oman, as well as Iraq, Lebanon, Jordan and Egypt.
Through Gooroo's solutions, Biz Group will be able to enhance its existing programs and offer new innovative solutions to high value customers in the region. The representatives from Gooroo are expected to visit Dubai and train the Biz Group team to assist with product design and client meetings. As per company, two commercial opportunities are already in discussion.
Lexer Agreement: On 15 April 2019, Gooroo Ventures reached a partnership agreement with Lexer, an Australian-based Customer Data Platform with offices in both Australia and the United States.
Lexer's powerful Customer Data Platform maintains a persistently enriched single customer view that is activated for analysis, marketing and customer service via beautiful SaaS platforms.
Pursuant to the agreement, Lexer would integrate Gooroo ColourGrid™ segments within its platform, and commercialise the same to its Australian and US blue-chip clients.
March 2019 Quarter Results
For the quarter ended 31 March 2019 (Q3 FY2019), Gooroo Ventures recorded a 39% increase in revenues and a stellar growth of 292% in customer receipts as compared to Q3 FY2018. The Year-to-date revenue has also touched $ 583k, up 178% compared to YTD FY18 and continue to diversify.
The operating expenses also reduced to $ 126k as compared to Q3 FY2018 which attributed to an increase of $ 75k in net profit. Another significant achievement for the period was 91% customer retention between Q2 and Q3 FY19. The operating cash outflows for the quarter was $23k less than forecasted as a result of management's focuses on containing costs. The Board expects accelerated revenue growth in Q4 FY2019 and hopes to deliver a strong finish to the financial year.
A partnership was executed with Performics, a division of the world's third largest communication agency, Publicis Groupe.
Microsoft Deal: On 28 March 2019, the Board announced a significant commercial agreement inked with Microsoft Corporation, USA. Under the agreement, Phase 1 of a global program is being planned that would facilitate the deployment of Gooroo technology to universities, colleges and schools worldwide in the future.
Phase 1 is underway and within its scope, Gooroo would be financed by Microsoft for testing and refinement of company's career planner application across selected local and international partner universities of Microsoft.
Phase 1 is expected to be finalised by 30 June 2019 as the company diligently works to have an agreed approach for commercial release and model for large-scale delivery by July 2019.
The company's three major highlights to date include-
Source: Company's Investor Presentation
Placement & rights issue- On 12 February, the company announced to have completed a non-renounceable rights issue raising $ 197,683 with a total of 6,882,375 of shortfall shares to be placed with sophisticated investors. The placement of the shortfall shares closed well oversubscribed in April 2019, raising ~$ 373,531 before transaction costs. Strong support was received from existing shareholders, demonstrating a firm endorsement of the company's ongoing strategy.
Outlook
The company's key priorities over the next 12 months are summarised below.

Source: Company's Investor Presentation
With a market capitalisation of around AUD 4.95 million and approximately 110.02 million outstanding shares, the GOO stock price closed high at AUD 0.051, climbing up 13.33% today (26 June 2019).
---
Disclaimer
This website is a service of Kalkine Media Pty. Ltd. A.C.N. 629 651 672. The website has been prepared for informational purposes only and is not intended to be used as a complete source of information on any particular company. Kalkine Media does not in any way endorse or recommend individuals, products or services that may be discussed on this site. Our publications are NOT a solicitation or recommendation to buy, sell or hold. We are neither licensed nor qualified to provide investment advice.