Summary

As per the latest record for COVID-19 vaccines provided by the WHO, there are 131 vaccine candidates under preclinical evaluation, and 17 candidates are in clinical assessment.
Healthcare companies are accelerating the timeline to develop a vaccine to combat COVID-19.
AstraZeneca signed an agreement with Daiichi Sankyo to supply COVID-19 vaccine in Japan.
Moderna collaborated with Catalent to for Fill-Finish production of its mRNA-1273 vaccine candidate.
BioNTech signed a debt financing agreement of ~€100 million with the European Investment Bank, and Sanofi speeded up its timeline for its COVID-19 vaccine development.
Scientist across the globe are in the race against time to develop a safe and effective vaccine to protect people from deadly novel coronavirus that causes COVID-19. The COVID-19 pandemic has infected more than 9.9 million people and taken 498,723 lives, as of 8:17 PM CEST, 29 June 2020 according to WHO.
While several developments are ongoing on at an international level, public health officials, as well as healthcare companies, are saying that it would possibly take around a year or more before the first vaccine is accessible.
Now the healthcare companies are focusing on accelerating their timeline to manufacture a vaccine to combat COVID-19. According to the latest record for COVID-19 vaccines provided by the World Health Organization (WHO) on 28 June 2020, there are 131 vaccine candidates under preclinical assessment and 17 candidate vaccines in clinical evaluation.
Let us discuss how close we are to develop a safe and effective vaccine against novel coronavirus-
AstraZeneca, Oxford, and Brazil sign a deal worth US$127 million for COVID-19 vaccine
Science-led biopharmaceutical leader AstraZeneca Plc (NASDAQ:AZN) is a multinational drug developer focused on the development as well as commercialisation of prescription medicines, mainly for the treatment of diseases in the therapy areas - Cardiovascular, Cancer therapy, Respiratory & Immunology, and Renal & Metabolism.
On 27 June, Brazil announced that it had signed a deal worth US$127 million to manufacture Oxford/AZN's COVID-19 experimental vaccine domestically. Brazil's Fundacao Osvaldo Cruz would produce the vaccine (~30 million doses initially).
AstraZeneca to Supply COVID-19 Vaccine in Japan
On 26 June 2020, Daiichi Sankyo disclosed that it had signed an agreement with AstraZeneca for providing potential Oxford's vaccine against COVID-19 in Japan, and the deal is currently under discussion with AstraZeneca.
Moreover, AstraZeneca has decided to advance discussions with the government of Japanese toward the launch of the COVID-19 vaccine across the country. Based on the agreement, Daiichi Sankyo has decided to advance discussions with AstraZeneca for formulating the COVID-19 vaccine, including packaging, vial filling, along with storage in Japan.
To restore peace of mind as well as safety of people by helping to combat COVID-19 pandemic as rapidly as possible, Daiichi Sankyo shall endorse the ongoing R&D of the Nafamostat Inhalation Formulation along with mRNA vaccine and at the same time advance the necessary preparations for the stable supply of COVID-19 vaccine in Japan.
AZD1222 in Phase 2/3 clinical trials
In late-May 2020, Oxford University disclosed that it has commenced recruiting for Phase 2/3 trial of AZD1222 in about 10,000 adult volunteers in the United Kingdom. AZD1222 was formerly known as ChAdOx1 nCoV-19. In this trial, the new vaccine will be tested against COVID-19 in healthy volunteers.
The results of this trial depend on how quickly the numbers required are reached, which will depend on the levels of virus transmission in the community. The University stated that if transmission remains high, enough data could be achieved in a couple of months to see if the vaccine works or not, but if the level of transmission drops, this could take up to six months.
On 26 June 2020, AZN stock closed at US$52.70 dwindled by 0.58%, with a market cap of US$138.3 billion.
Moderna and Catalent to Collaborated for Fill-Finish production of mRNA-1273 COVID-19 Vaccine Candidate
Moderna Inc (NASDAQ:MRNA) is one of the companies at the forefront of attempts to uncover vaccine for deadly coronavirus infection.
On 25 June 2020, Moderna disclosed its collaboration with Catalent Inc for large-scale, commercial fill-finish manufacturing of COVID-19 vaccine candidate (mRNA-1273) at Indiana based biologics facility of Catalent.
With this agreement, Catalent will provide vial filling and packaging capacity, as well as the additional employee required for round the clock (24x7) production at the site for providing support to manufacture initially 100 million vaccine dosages aimed to supply in the United States market from the 3rd quarter of 2020.
Moreover, Catalent shall also offer clinical supply services from its capacities in Pennsylvania, Philadelphia, plus packaging and labelling, along with storage and distribution to support Phase 3 clinical study for Moderna's vaccine candidate.
Both the companies are in discussions for obtaining fill-finish capacity for continuous manufacturing of hundreds of millions of additional vaccines.
Major Acceleration of Moderna's SARS-CoV-2 vaccine (mRNA-1273) development: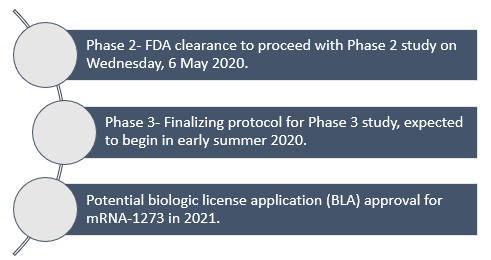 On 26 June 2020, MRNA stock last quoted at US$61.28 up by 1.16% from its previous close.
BioNTech Obtains €100 Million for BNT162 Vaccine Production
Pioneer in developing innovative cancer therapies and treatments for other severe disorders, BioNTech SE (NASDAQ:BNTX) is developing BNT162 vaccine candidate, which is an mRNA-based vaccine to combat COVID-19, in collaboration with Pfizer.
On 11 June 2020, BioNTech revealed that the Company had signed a debt financing agreement worth ~€100 million with the European investment bank for development and manufacturing of its BNT162 COVID-19 vaccine program.
With this deal, BioNTech will increase the production capacity to manufacture and supply vaccine swiftly worldwide in response to the ongoing COVID-19 pandemic.
On 26 June 2020, BNTX ADS closed the day's trade at US$62.13 up by 4.05% from its previous close. The market cap of BNTX stood at US$14.1 billion.
Sanofi Accelerates Its Timeline for COVID-19 Vaccine Development
Since the starting of the COVID-19 pandemic, Sanofi is playing a lead role to combat the virus. On 23 June 2020, Sanofi disclosed that it had accelerated development timeline for COVID-19 recombinant protein-based vaccine with potential approval in the first half of 2021.
In partnership with global health authorities as well as prominent partners, Sanofi is one of the only players worldwide to work on the search for COVID-19 vaccine by investigating two complementary technological programs.
A Recombinant protein-based vaccine with GSK: The recombinant protein vaccine candidate pertains the same technology and established manufacturing capacity based on the baculovirus expression platform used for the influenza vaccine Flublok® of Sanofi while GSK is contributing its adjuvant AS03.
For developing vaccine collaboratively with GSK Sanofi anticipates Phase 1/2 clinical trial to commence in September and at the earliest, full approval by the 1H 2021. Notably, Sanofi has the capacity to manufacture up to 1 billion doses annually.
Another is messenger RNA (mRNA) vaccine candidate in partnership with Translate Bio: With numerous experimental vaccine platforms currently investigated by many healthcare companies, mRNA vaccine is deemed among the most hopeful.
Sanofi anticipates Phase 1 clinical trial to commence by the end of 2020, if data is positive, approval at the earliest in the 2H 2021?. Translate Bio has established its mRNA manufacturing facility and Sanofi assumes that it would be able to provide 90 to 360 million doses on an annual capacity.
On 26 June 2020, SNYNF stock last quoted at US$101.39 down by 0.79% from its previous close.