Benchmark US indices closed higher on Thursday, June 2, lifted by gains in mega-cap stocks after Fed Vice Chair Lael Brainard outlined the central bank's short-term rate strategy.
The S&P 500 rose 1.84% to 4,176.82. The Dow Jones was up 1.33% to 33,248.28. The NASDAQ Composite increased by 2.69% to 12,316.90, and the small-cap Russell 2000 rose 2.31% to 1,897.67.
Fed Vice Chair Lael Brainard on Thursday said that the bank might briefly pause its interest rate drive after two sequential increases of 50-basis points in June and July. She added that it might consider another installment of rate increases in September, depending on the inflation situation.
Investors are now eagerly waiting for the private payroll data from the Labor Department due on Friday. It is expected to shed light on the latest trends in the labor market.
On Tuesday, the consumer discretionary and communication services sectors led gains in the S&P 500 index. Nine of the 11 sectors of the index stayed in the positive territory. The energy and utility segments were the bottom movers.
Shares of Microsoft Corporation (MSFT) rose 0.79% after trimming fourth-quarter profit and revenue guidance. The company has warned that a stronger US dollar might affect its earnings.
It now expects revenue to be between US$51.94 billion and US$52.74 billion, down from its previous forecast range of US$52.40 billion to US$53.20 billion.
Chewy, Inc. (CHWY) stock soared over 24% a day after the pet-focused e-commerce company reported better-than-expected quarterly earnings.
Ford Motor Company (F) stock jumped 2.51% after the automobile manufacturer unveiled plans to spend US$3.7 billion on its assembly plants in Michigan, Ohio, and Missouri.
In the consumer discretionary sector, Amazon.com, Inc. (AMZN) increased by 3.15%, Tesla, Inc. (TSLA) rose 4.68%, and The Home Depot, Inc. (HD) surged 2.92%. Alibaba Group Holding Limited (BABA) and Nike, Inc. (NKE) advanced 4.41% and 3.99%, respectively.
In communication services stocks, Alphabet Inc. (GOOGL) gained 3.16%, Meta Platforms, Inc. (FB) soared 5.42%, and The Walt Disney Company (DIS) added 1.54%. Netflix, Inc. (NFLX) and Activision Blizzard, Inc. (ATVI) ticked up 6.31% and 1.06%, respectively.
In the energy sector, Shell plc (SHEL) decreased by 0.82%, ConocoPhillips (COP) fell 0.68%, and China Petroleum & Chemical Corporation (SNP) declined by 1.14%. Occidental Petroleum Corporation (OXY) and Baker Hughes Company (BKR) tumbled 1.59% and 1.34%, respectively.
In the crypto space, Bitcoin (BTC) and Ethereum (ETH) rose 2.54% and 2.64%, respectively. The global crypto market cap increased by 1.08% to US$1.25 trillion at 4:41 pm ET on June 2.
Also Read: COP to EOG: Five oil & gas stocks to explore amid Russian import ban
Also Read: Zhong Yang (TOP) stock zoomed 300% on Nasdaq debut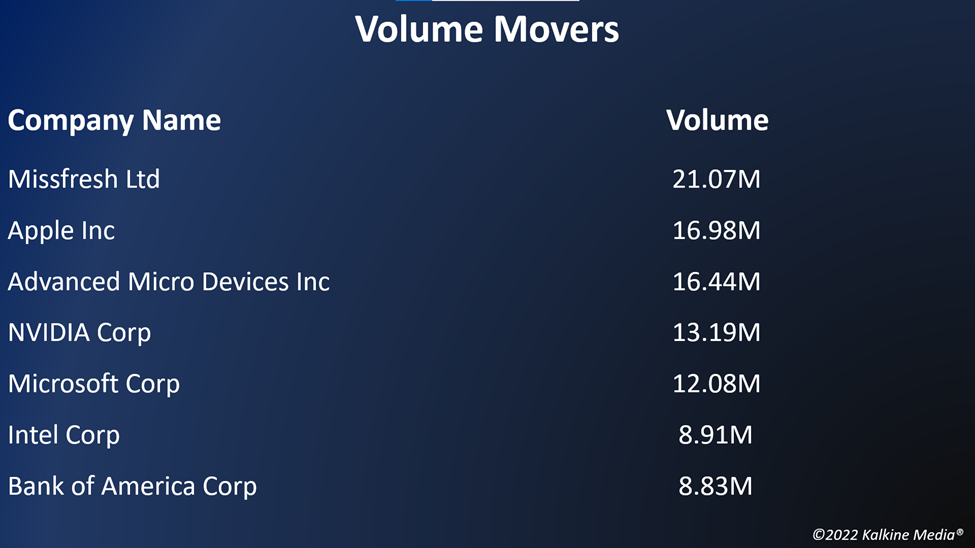 Also Read: Palantir (PLTR) stock soars after bagging US$53-mn govt contract
Futures & Commodities
Gold futures were up 1.27% to US$1,872.20 per ounce. Silver increased by 1.96% to US$22.345 per ounce, while copper rose 5.27% to US$4.5565.
Brent oil futures increased by 1.66% to US$118.22 per barrel and WTI crude was up 1.94% to US$117.50.
Also Read: Hormel (HRL) delivers record Q2 sales; stock slips on weak forecast
Bond Market
The 30-year Treasury bond yields were down 0.05% to 3.076, while the 10-year bond yields fell 0.67% to 2.911.
US Dollar Futures Index decreased by 0.75% to US$101.760.