Highlights

Hong Kong-based Zhong Yang Financial Group Limited is an online brokerage firm.
Zhong Yang shares were listed on Nasdaq on June 1, 2022.
On the first day of trading, the stock rose soared 312% to US$20.60 at 1:13 pm ET.
Shares of Zhong Yang Financial Group Limited (NASDAQ: TOP) soared 312% to US$20.60 on Wednesday afternoon on the first day of trading on the Nasdaq stock exchange.
Its shares were listed on the exchange on the same day. Wednesday's debut rally on Nasdaq brought its market capitalization to US$692 million.
The Hong Kong-based Zhong Yang Financial Group Limited is an online brokerage firm. It offers financial services through its subsidiaries, such as local and foreign equity trading and option and futures trading.
On Wednesday, it priced its initial public offering (IPO) of 5,000,000 ordinary shares at US$5.00 per share, totaling gross proceeds of US$25 million before deducting underwriting discounts and other expenses. Zhong Yang offered underwriters an option to buy additional 750,000 ordinary shares at the IPO price within 45 days from the offer's closing.
Also Read: BABA, PDD among top 5 Chinese stocks to watch as lockdowns ease
The offering is expected to close on June 3, subject to fulfilling the customary closing conditions.
The company plans to use the proceeds to develop products and services, acquire and apply licenses in regulated securities, optimize sales network and geographical coverage, conduct more internet related services, and purchase IT equipment & software.
The proceeds could also be used toward working capital and general corporate purposes.
Also Read: Top 5 mid-cap stocks to explore: UTHR, SWX, ACHC, WWE & Y
Its trading platform enables trading on stock exchanges around the world, including the New York Mercantile Exchange (NYMEX), Chicago Mercantile Exchange (CME), Hong Kong Futures Exchange (HKFE), the Commodity Exchange (COMEX), ICE Clear Europe Limited (ICEU), Eurex Exchange (EUREX), Singapore Exchange (SGX), Australia Securities Exchange (ASX), The Chicago Board of Trade (CBOT), Bursa Malaysia Derivatives Berhad (BMD), and Osaka Exchange (OSE).
Also Read: Top 5 paper stocks to watch in Q2: ITP, MERC, PKG, GPK & WRK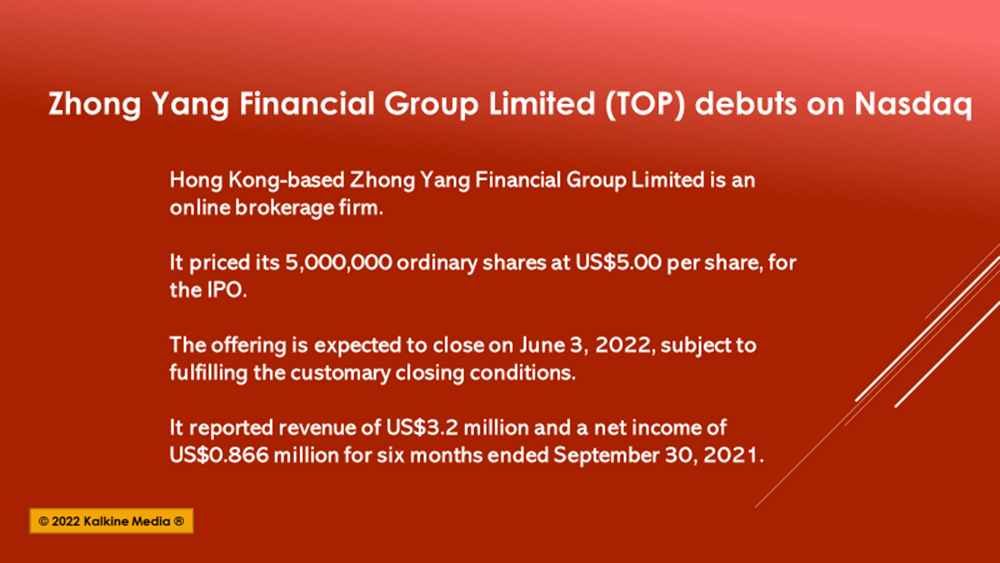 Also Read: ZIM to EGLA: Top five shipping stocks to explore in June
Financials:
Its revenues were US$16.9 million for the fiscal year ended March 31, 2021, compared to US$16.5 million in 2020. Its filing shows that its revenue was US$3.2 million for the six months ended September 30, 2021, and US$8.7 million for the same period in 2020.
It booked a net income of US$0.866 million for six months ended September 30, 2021, versus US$2.44 million for the corresponding months in 2020.
Also Read: Five travel stocks to watch in June: TH, ARCO, BDL, BOWL & PLYA
Bottom line:
The US IPO market has slowed down this year after its robust run in 2021. The market has been volatile this year amid various adverse macroeconomic factors. Some of the successful IPOs in 2022 include Nuvectis Pharma Inc. (NVCT) in February and JE Cleantech Holdings Ltd (JCSE) in April. NVCT shares rose 213% and the JCSE stocks climbed more than 274% since their IPO.
However, investors should exercise due diligence before investing in the stock market.