Wall Street indices reversed course on Wednesday, September 28, after a massive sell-off in recent sessions, as the falling treasury yields padded support to the growth stocks.
On September 27, the S&P 500 marked its lowest closing level since November 2020, as investors traded cautiously with a flurry of hovering concerns dampening the sentiment.
The S&P 500 rose 1.97 per cent to 3,719.04. The Dow Jones was up 1.88 per cent to 29,683.74. The NASDAQ Composite added 2.05 per cent to 11,051.64, and the small-cap Russell 2000 rose 3.17 per cent to 1,715.24.
The lack of a clear economic picture and positive catalysts had left the investors in cold, while the increasing interest rates have spurred fears of a potential recession. On the other hand, the central bank remains strict with its aggressive monetary plans, even if it pushes the economy into a recession.
The market participants are now keeping close track of the policymakers' comments for cues on the future move of the Federal Reserve. Meanwhile, Atlanta Federal Reserve President Raphael Bostic said that he would back another similar rate jump of 0.75 points in November, while Fed Chair Jerome Powell gave no comments on the policy rates or the US economy during his opening remarks on Wednesday.
On Wednesday, September 28, all 11 segments of the S&P 500 index closed in positive territory. The healthcare and consumer discretionary sectors were the top movers of the index.
Shares of Biogen Inc. (NASDAQ: BIIB) jumped more than 37 per cent in intraday trading on Wednesday, September 28, a day after the biotechnology company showed positive results from its Alzheimer's drug study.
The HR and payroll services firm, Paychex, Inc. (NASDAQ: PAYX) increased by more than three per cent after the firm released its first-quarter earnings results. The company noted double-digit growth in its latest quarter revenue while raising its annual earnings guidance.
Shares of Apple Inc. (NASDAQ: AAPL) lost more than two per cent on Wednesday on reports that the technology behemoth is dropping plans to boost the production rate of the new iPhone.
In the healthcare sector, UnitedHealth Group Incorporated (UNH) rose 1.10 per cent, Eli Lilly and Company (LLY) soared 7.48 per cent, and AbbVie Inc. (ABBV) jumped 2.03 per cent. Merck & Co., Inc. (MRK) and Danaher Corporation (DHR) shot up 1.10 per cent and 2.36 per cent, respectively.
In consumer discretionary stocks, Amazon.com, Inc. (AMZN) increased by 3.15 per cent, Tesla, Inc. (TSLA) ticked up 1.72 per cent, and The Home Depot, Inc. (HD) climbed up 5.02 per cent. Nike, Inc. (NKE) and Starbucks Corporation (SBUX) advanced 2.50 per cent and 3.36 per cent, respectively.
In the energy stocks, Exxon Mobil Corporation (XOM) surged 3.64 per cent, Chevron Corporation (CVX) added 3.38 per cent, and Shell plc (SHEL) ticked up 3.20 per cent. ConocoPhillips (COP) and TotalEnergies SE (TTE) were up 5.79 per cent and 1.56 per cent, respectively.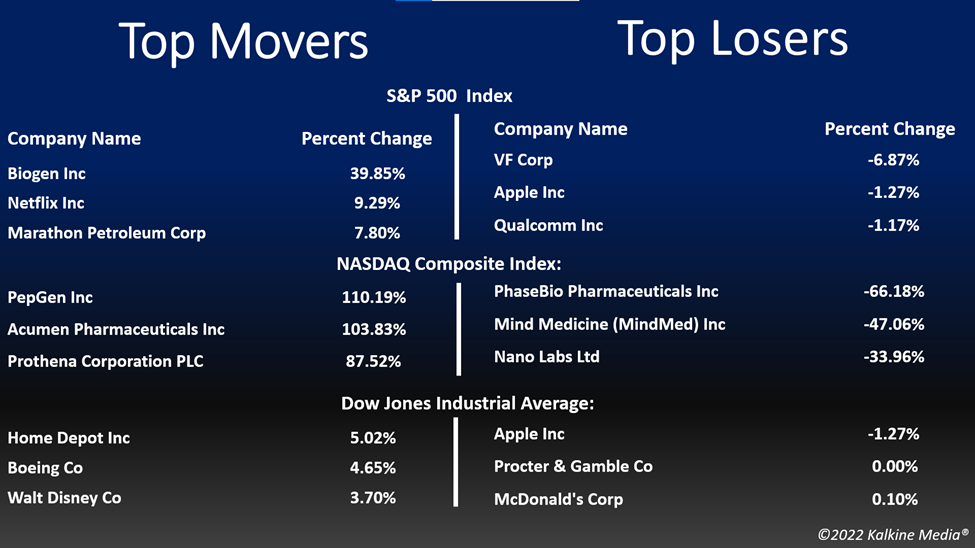 Futures & Commodities
Gold futures were up 1.93 per cent to US$1,667.85 per ounce. Silver increased by 3.06 per cent to US$18.898 per ounce, while copper rose 3.04 per cent to US$3.3833.
Brent oil futures increased by 3.57 per cent to US$87.90 per barrel and WTI crude was up 4.48 per cent to US$82.02.
Bond Market
The 30-year Treasury bond yields were down 3.45 per cent to 3.696, while the 10-year bond yields fell 5.75 per cent to 3.735.
US Dollar Futures Index decreased by 1.26 per cent to US$112.612.