The U.S. stock market benchmark indexes Dow Jones Industrial Average and S&P 500 ended higher on Wednesday, May 5, following a strong rally in energy stocks. However, tech-savvy NASDAQ Composite Index continued its decline and closed lower.
The blue chip index gained 97 points on Wednesday. S&P 500 added 3 points, while NASDAQ lost 51 points.
The Dow Jones rose 0.29 percent to 34,230.34. S&P 500 was slightly up by 0.07 percent to 4,167.59. NASDAQ Composite Index declined 0.37 percent to 13,582.42. The small-cap Russell 2000 decreased 0.31 percent to 2,241.37.
The U.S. Department of Labor on May 5 withdrew from the previous administration's Independent Contractor Rule, which would have reportedly made it easier for the companies like Uber, Lyft and DoorDash to classify gig workers and others as independent contractors rather than employees.
General Motors' stock were trading higher on Wednesday after the automaker reaffirmed its full-year guidance and posted an adjusted EBIT of US$4.4 billion for the first quarter, up from US$1.2 billion in the year-ago period despite the semiconductor shortage.
Shares of Under Armour and Caesars Entertainment also rose as both the companies showed upbeat forecast for the year after reporting their first-quarter results.
Peloton Interactive's stock plunged after the company issued a recall for its 125,000 Tread+ treadmills following reports on injuries and a child's death linked to the device.
Ride-hailing service major Uber is scheduled to report its first quarter earnings today.
Image Source: Copyright © 2021 Kalkine Media LLC
Top Gainers
Top performers on S&P 500 were Caesars Entertainment Inc. (7.80%), Devon Energy Corp (7.59% ), Under Armour Inc (7.15%) and Under Armour Inc (6.91%).
Nemaura Medical Inc (135.32%), Chiasma Inc (40.14%), Big 5 Sporting Goods Corp (31.15%) and Ever-Glory International Group Inc (29.24%) were top performers on NASDAQ.
On Dow Jones, Dow Inc (2.79%), Chevron Corp (2.69%), Merck & Co Inc (2.25%) and Goldman Sachs Group Inc (2.22%) and gained the most.
Top Losers
Top laggards on S&P 500 were Verisk Analytics Inc (8.43%), Amerisourcebergen Corp (5.59%), Hilton Worldwide Holdings Inc (4.39%) and HollyFrontier Corp (4.25%).
Cocrystal Pharma Inc (31.31%), Intrusion Inc (28.82%), Sequential Brands Group Inc (27.14%) and Reed's Inc (24.31%) were among the top losers on NASDAQ.
On Dow Jones, Boeing Co (2.33%), Walt Disney Co (1.49%), Visa Inc (1.22%) and Salesforce.Com Inc (0.82%) were laggards.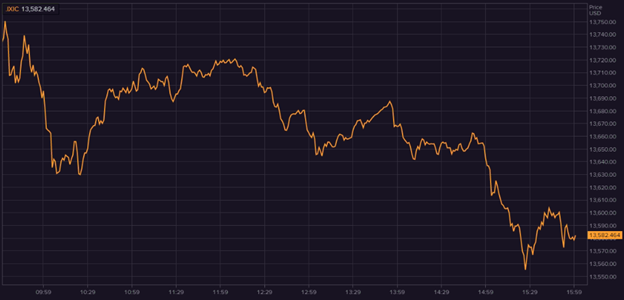 Image Source: Refinitiv, NASDAQ Composite Index May 5
Volume Movers
Top volume movers were Athenex Inc (26.81M), Sundial Growers Inc (18.12M), Apple Inc (17.32M), Peloton Interactive Inc (16.80M), Chiasma Inc (14.87M), Ocugen Inc (12.48M) and Farmmi Inc (12.36M).
Futures & Commodities
Gold futures were up 0.60 percent to US$ 1,786.60 per ounce on Wednesday. Silver grew 0.05 percent to US$26.570 per ounce, while copper was down 0.07 percent to US$ 4.5183.
Brent oil futures decreased by 0.17 percent to US$ 68.53 per barrel and WTI crude was down 0.06 percent to US$ 65.25.
Bond Market
The 30-year Treasury bond yields were down 0.58 percent on Wednesday to 2.245 while the 10-year bond yields declined 0.80 percent to 1.571.
US Dollar Futures Index was up 0.34 percent to US$ 91.240.