Highlights

The Avalanche blockchain claims to be the fastest smart contract platform.
AVAX is the native token of the blockchain used for paying fees, staking, etc.
The Avalanche token fell nearly 79% year-to-date.
The Avalanche (AVAX) crypto is catching attention on Thursday ahead of the launch of a role-playing game (RPG) on the platform. Pixion, a game development studio, is slated to launch the Fableborne Game on Avalanche at 1:00 pm ET on Thursday.
Fableborne is a play-to-own multiplayer game. The "mobile-first, built-accessible game" allows players to embark on a journey to explore the Shatterland, a kingdom in the game.
Players fortify their island and raid other players' bases for gold and other things. According to Pixion, the game is a perfect blend of Action RPG and Base Building.
It allows players to collect resources, compete in Pixion League, and claim well-earned rewards to own their favorite Fableborne heroes.
Another reason for Avalanche grabbing attention is its recent proposal to ApeCoin DAO to migrate their metaverse 'Otherside' on Avalanche blockchain.
However, it is unclear whether DAO has control over the metaverse. But if it has, will it go through a formal governance voting?
Yuga Labs, the company behind ApeCoin, has not commented on the proposal yet.
ApeCoin (APE) universe includes the Otherside metaverse and the Bored Ape Yacht Club (BAYC). Its utility token is ApeCoin. Avalanche has offered Otherside faster transaction processing speed, high throughput, and better scalability at lower fees.
These developments may have drawn people's attention to the AVAX token. Its trading volume increased by 10.68% to US$777.8 million, but the token price declined 15.27% to US$24.28 at 5:00 am ET on Thursday. It could be due to the fall in the broader market, down more than 3%.
Also Read: Astar (ASTR) crypto firm joins Microsoft's (MSFT) startup program
What is Avalanche?
The Avalanche blockchain claims to be low cost, eco-friendly, and the fastest smart contract platform in the industry, surpassing Bitcoin, Ethereum, Polkadot, etc.
Launched in 2020, Avalanche has since secured more than 450 projects and over 1.5 million community members.
Also Read: Global cryptocurrency regulatory body on the anvil, says top official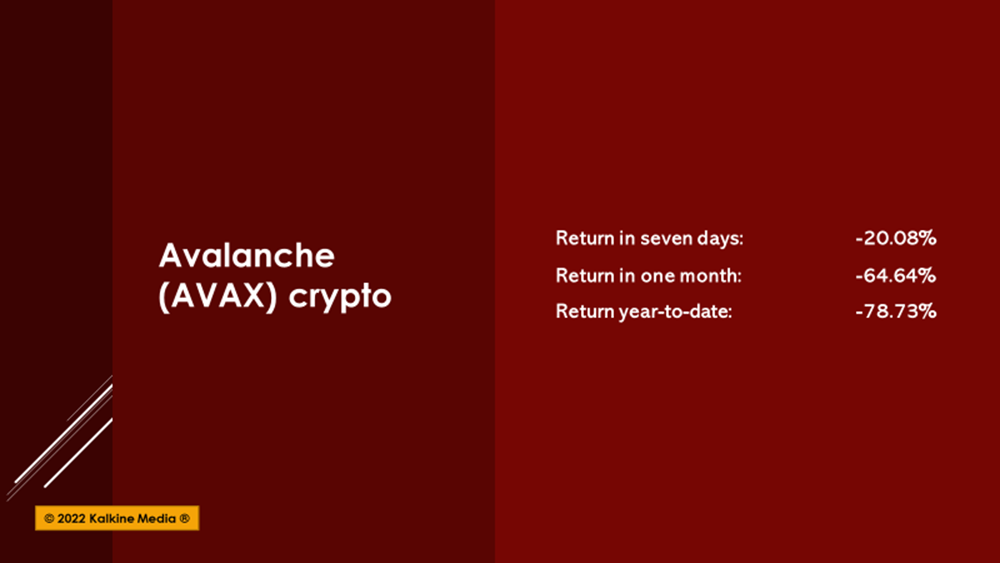 Data Source: coinmarketcap.com
Also Read: Why Elongate (ELONGATE) crypto volume surged 40,000%?
AVAX token:
AVAX is the native token of Avalanche blockchain used for paying fees, staking, etc. The AVAX token provides a basic unit for transactions between multiple subnets on Avalanche.
Also Read: Is DFI.Money (YFII) crypto price dropping on Binance news?
The token has a circulating supply of 270.79 million, while the total supply is 404 million. Its current market capitalization is US$6.58 billion.
It can be traded on crypto exchanges such as Binance, Bybit, CoinTiger, OKX, etc.
Also Read: Why is MMORPG Outer Ring (GQ) crypto gaining attention?
Bottom line:
The Avalanche (AVAX) token fell nearly 79% year-to-date, while the global crypto market declined approximately 47% in the same period.
Risk Disclosure: Trading in cryptocurrencies involves high risks including the risk of losing some, or all, of your investment amount, and may not be suitable for all investors. Prices of cryptocurrencies are extremely volatile and may be affected by external factors such as financial, regulatory, or political events. The laws that apply to crypto products (and how a particular crypto product is regulated) may change. Before deciding to trade in financial instruments or cryptocurrencies you should be fully informed of the risks and costs associated with trading in the financial markets, carefully consider your investment objectives, level of experience, and risk appetite, and seek professional advice where needed. Kalkine Media cannot and does not represent or guarantee that any of the information/data available here is accurate, reliable, current, complete or appropriate for your needs. Kalkine Media will not accept liability for any loss or damage as a result of your trading or your reliance on the information shared on this website.