Highlights

Online scams and hacking have increased as the cryptocurrency market grew.
Officials are considering a global crypto regulatory body by next year to boost security.
Last year, IMF issued guidelines for setting up a crypto market governing authority.
Market regulators plan to set up a global cryptocurrency regulatory body to address threats from scammers and hackers that steal billions of dollars from unsuspecting victims each year.
Ashley Alder, the chairperson of the International Organization of Securities Commissions (IOSCO), said the new international body could be launched by next year.
His organization also focuses on cryptocurrencies besides covid and climate change. The senior official said that the new authority would better help coordinate the crypto rules.


The current shortcomings in the market include a lack of transparency and operational resilience. Alder said the regulators would need to work intensively in these areas.
The top global market watchdog made the comments on Thursday at an online conference organized by the think tank Official Monetary and Financial Institutions Forum (OMFIF).
He said there are already setups for climate finance, including the one under the G20 Group, and a global authority to align the crypto rules is "clearly needed".
Also Read: NVDA to AMD: Will these 5 semiconductor stocks ride out supply crunch?
The US Senate Banking Committee chairman has also requested lawmakers to formulate strict laws for the crypto market following the stablecoin TerraUSD's collapse.
The cryptocurrency market has been the focus of global regulators for financial frauds and other risks.
On Thursday, the crypto market fell by 8% to US$1.26 trillion at 11:20 am ET. It recovered from a 14% drop at around 8:00 am ET. Bitcoin (BTC) fell 5.95% to US$29,322.28 at around 12 pm ET.
Also Read: WM to CWST: 5 recycling stocks to watch as climate takes center stage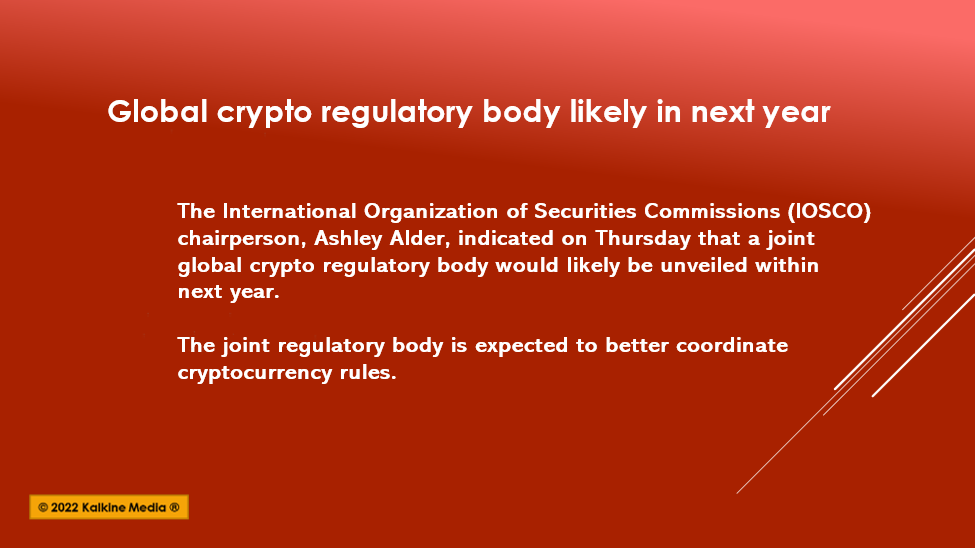 Also Read: Why is Project Galaxy (GAL) crypto's campaign drawing attention?
IMF support for regulation
The IMF said that inter-linkages of cryptocurrencies and associated products with the regulated financial system pose difficulties for the regulators. It observed that the unregulated market could cause systemic financial stability in some countries.
In December last year, it issued guidelines for the global cryptocurrency regulations. Both IOSCO and IMF have been pushing for crypto regulations internationally.
Also Read: Why Ampleforth Governance Token's (FORTH) trading volume surged 2000%?
Finally, effectively addressing the threats in the market requires a global organization that can regulate the cryptocurrency rules. Although there have been country-specific attempts to address the issues, the need for an international authority has been felt to bolster the efforts.