Source: ESB Professional, Shutterstock
Summary

Tech stocks have multiplied investors' wealth by 2.5 times in past one year.
Investment in tech stocks is imperative to build a good portfolio.
In today's world, exposure to technology stocks is one of the keys to successful investing. The world is evolving rapidly from the lows of pandemic and the fast-developing world largely depends on the latest technology. There is no sector or field that can operate without any direct or indirect technology.
The reliance of mankind on technology will inevitably grow in the times to come. For instance, each generation uses more gadgets than the previous one. Technology provides convenience, cost efficiencies, and is, therefore, desired by all.
The technology sector could provide investors with higher returns in the long term. In this article, we shall put our lens through 5 stocks that investors might consider in their portfolio.
Also read: Are Investors Exiting Tech Stocks For Other Growth Sectors?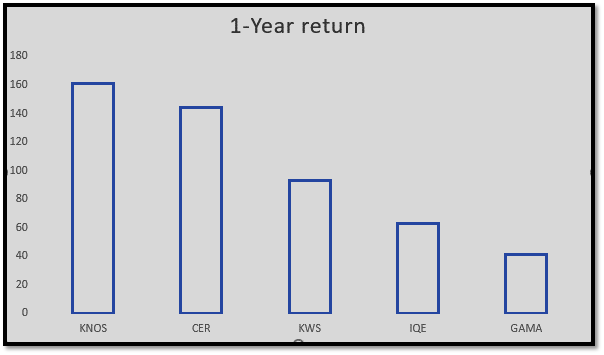 (Data Source: LSE) Copyright © 2021 Kalkine Media Pty Ltd.
1-Year Return: 161%
FTSE 250 listed IT services provider Kainos expects to deliver FY21 results ahead of market expectations on the backdrop of a solid trading performance throughout the year. Under the digital services, it carried out the long-term engagements of the government's transformational programme, including NHS ventures. It also continued to win new contracts under the Workday Practice division. Also, the group has a substantial contracts backlog, robust pipeline, and strong balance sheet to pursue market opportunities. Kainos Group's market capitalisation hovered over £2,050 million.
1-Year Return: 144%
AIM-listed technology company Cerillion is a leading provider of customer management and cloud-based (SaaS) billing systems having a market capitalisation of over £150 million. Last month, the company reported its largest new contract win to date with a national network operator in Latin America worth a total of $18.4 million. Prior to this, the company has also won new customers in Europe and the Middle East. In the Middle East, the company got its maiden contract worth £5 million with a state-owned network provider.
During the FY2020, Cerillion recorded excellent performance in terms of Revenue, pre-tax profits, and the back-order book. During the period, the company witnessed a growth of 11 per cent year on year in its revenue to £20.8 million (2019: £18.8 million). The company's adjusted EBITDA was up by 27 per cent year on year to £5.8 million (2019: £4.6 million) during the year 2020. The company also declared a total dividend of 5.5 pence per share in 2020, an increase of 12 per cent over the previous year. The management believes that Cerillion is well-positioned for further growth and has a strong pipeline of new business opportunities.
Keywords Studios Plc (LON: KWS)
1-Year Return: 93.02%
AIM-listed creative services provider Keywords Studios recorded strong growth of 11 per cent in its organic revenue despite the Covid-19 disruptions during 2020. During the pandemic-led lockdowns, the video game industry witnessed a significant increase in players and gameplay. The company worked hard to cater to the unprecedented rise in demand. Also, Keyword's adjusted EBITDA was up by 28.8 per cent year-on-year to €74.2 million during 2020.
During the period, the company announced seven highly complementary acquisitions for a total consideration of up to €97.2 million. Despite the ongoing Covid-19 related constraints, the company has carried the momentum of 2020 into the first quarter of 2021. The company shall derive growth by leveraging upon a healthy pipeline of opportunities. Keywords Studios has a market capitalisation of over £2,100 million.
1-Year Return: 62.84%
AIM-listed leading supplier to the semiconductor industry IQE recorded revenue growth of 27 per cent year-on-year to £178 million in 2020 driven by the start of the 5G mega-cycle. Driven by strong trading performance, the company's net cash flow from operations soared to £35.5 million in 2020 (FY 2019: £8.9 million). As a result of solid revenue growth and the benefits of high operational gearing, the company witnessed improved profitability of £5.4 million during this period. Despite the challenges due to the Covid-19 pandemic, no interruptions were reported, and business continuity was maintained at all its global sites.
Despite the challenges in the trading environment, the company has successfully executed its strategy and has recorded strong growth across its wireless and photonics divisions. IQE has a market capitalisation of over £485 million.
Gamma Communications Plc (LON: GAMA)
1-Year Return: 41%
AIM-listed leading provider of communication technology Gamma Communications having a market capitalisation of over £1,700 million witnessed revenue growth of 20 per cent year on year to £393.8 million in 2020. The company's recurring revenue grew by over 17 per cent year-on-year to £359.3 million in 2020. Also, the gross profit of the company soared by 11 per cent year on year to £132.2 million in 2020.
During the period, the company was on an acquisition spree as it bought four companies for £52.8 million. Notably, each acquisition was funded from internally generated cash flow which demonstrates the strength of the company's business model. These acquisitions were aimed at bolstering its presence in Europe. The acquisitions might continue in the near term as the company has rapid expansion plans in place.