Wizz Air Holdings Plc (WIZZ) Released Results for FY2019
Wizz Air Holdings Plc (WIZZ) is a low-cost airline and top the charts in the CEE (Central and Eastern Europe) region for the year 2018. With 113 aircraft and 25 bases, it is one of the newest fleets with a mean age of around 4 years, which makes the journey much more pleasurable. The airbuses A320 and A321s guarantee more reliability and efficiency. The new A321neo aircraft comes with a seating capacity of 239, equipped with Pratt & Whitney GTF engines and has a wider single-aisle cabin. This aircraft offers great flexibility, fuel economy and lower operating cost. The CEE passengers recently awarded Wizz Air with the "Best Cabin Crew". The 26th base in Krakow, Poland is now operational with three new A321s being deployed in 2019.
Financial Highlights – Financial Year 2019 (€, million)
(Source: Annual Report, Company Website)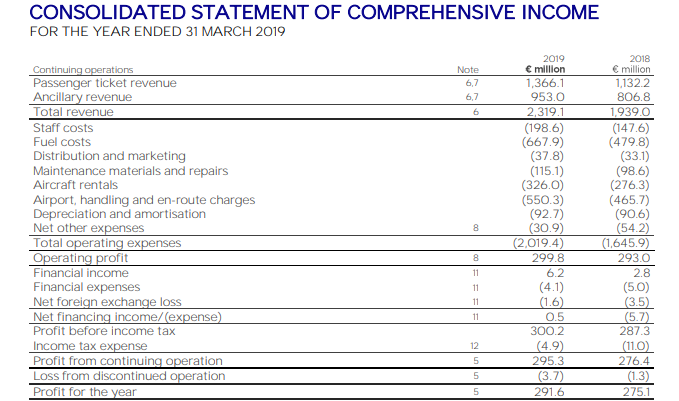 In the financial year 2019 ending 31st March, the company's reported revenue surged to €2,319.1 million from €1,939 million in the Financial Year 2018. This increase of 19.6% can be attributed to the growth in both the passenger ticket revenue and ancillary revenue segments. The core revenue from the ticket revenue surged by 20.7 per cent to €1,366.1 million due to 16.7 per cent higher passenger numbers. The non-ticket revenue also posted a growth of 18.1% to €953 million. This year the company saw a rise of 6% in the net profit to €291.6 million from €275.1 million in 2018.
The company's cash and cash equivalents rose to €1,316 million in FY2019 from €979.6 million in FY2018. Also, the convertible debt and other borrowings (including both current and non-current asset and liability balances respectively) went down from €32.2 million in FY2018 to €29 million in FY 2019, which is a positive indication. The Earnings per share (Euro/share) increased to €4.01 in FY 2019 from €4.00 in the previous year. The Diluted earnings per share (Euro/share) also increased to €2.31 in FY 2019 from €2.18 in the previous year. Notably, the total flight hours and seating capacity have seen a percentage increase of 15.2% and 14.9% respectively from the previous year. The passengers increased to 34.6 million in FY 2019 from 29.6 million in the previous year with a percentage increase of 16.7%. The fleet at the year-end also saw a percentage rise of 20.4% from 93 in FY2018 to 112 in FY2019. The average number of employees also grew from 3,686 in FY2018 to 4,550 in FY2019.
Share Price Performance

Daily Chart as at June-03-19, before the market close (Source: Thomson Reuters)
On June 3, 2019, at the time of writing (before the market closed, at 01:25 PM GMT), Wizz Air Holdings PLC shares were trading at GBX 3,189, up by 1.75 per cent against the previous day closing price. Stock's 52 weeks High and Low is GBX 3,814.00/GBX 2,300.00. At the time of writing, the share was trading 16.38 per cent lower than the 52w High and 38.65 per cent higher than the 52w low. Stock's average traded volume for 5 days was 240,787.60; 30 days – 151,507.40 and 90 days – 187,504.83. The average traded volume for 5 days was up by 58.93 per cent as compared to the 30 days average traded volume. The company's stock beta was 0.33, reflecting lower volatility as compared to the benchmark index. The outstanding market capitalisation was around £2.28 billion.