Highlights

CRH PLC's shares rose by over 2 per cent today, becoming the highest riser on the FTSE 100 index after posting strong H1 2021 results
The firm declared a 4.5 per cent increase in its dividend due to record cash generation
CRH expects record H2 2021 due to firmer seasonal performance in the second half and stronger US economic sentiment expected to boost the sector
Ireland based diversified building material company CRH PLC (LON: CRH) announced its H1 2021 interim results today, reporting increased dividend due to record cash generation.
The company's shares spiked by over 2 per cent, making it the highest riser on the FTSE 100 index.
CRH PLC's (LON: CRH) share price performance
CRH was trading at GBX 3,856.00, up by 2.20 per cent on 26 August at 13:51 PM GMT+1. Meanwhile, the FTSE 100 index was trading at 7,132.35, down by 0.25 per cent.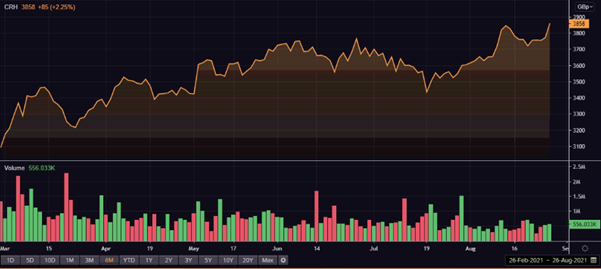 (Image Source: Refinitiv)
The company's market cap is at £ 29,396.25 million, and its one-year return is at 31.47 per cent as of 26 August.
CRH's interim H1 2021 results
CRH reported strong H1 2021 results today, as its H1 2021 sales increased by 15 per cent to US$ 14.0 billion.
Also, its earnings before interest, tax, depreciation and amortisation (EBITDA) rose by 25 per cent to US$ 2 billion from US$ 1.6 billion in H1 2020. The rise in EBITDA was due to an increase in volumes, price improvements and ongoing margin increase across all of CRH's business divisions.
The company also expects its H2 2021 EBITDA to hit a record high due to a seasonally stronger second half and due to an improving macro-economic scenario in the US.
CRH's dividend boost
CRH's interim dividend increased by 4.5 per cent to 23 cents per share due to record cash and as a part of the group's progressive dividend policy.
CRH also announced its ongoing share repurchase programme, with its latest buyback program of US$ 0.3 billion expected to end by 1 October.
Related Article: CRH PLC (LON: CRH) Price Hovers Around Record High, Will it Continue to Shine?
Bottom Line
CRH's hike in dividend, strong profit and optimistic H2 2021 trading outlook indicates strong fundamentals in the company. Moreover, CRH's cash generation can further allow the group to make acquisitions.
Thus, income investors should be looking to hold this stock based on its recent performance, however, investors should consider their individual investment goals before investing or making any material changes to their investment portfolio.