Highlights

International Consolidated Airlines Group's shares surged almost 3 per cent on Friday after one of its airlines, British Airways, reported plans of hiring cabin crew amid early signs of travel demand recovery.
British Airways had earlier fired 4,700 people in the previous year due to the pandemic.
British Airways' parent company International Consolidated Airlines Group S.A's (LON: IAG) shares jumped almost 3 per cent on Friday after British Airways stated that it has started fresh recruitment and is planning to recruit cabin crew.
IAG became the second-highest riser on the FTSE 100 index following this news.
International Consolidated Airlines Group S.A's (LON: IAG) share price performance
IAG's shares were trading at GBX 182.12, up by 2.80 per cent as of 15 October 2021 at 13:45 hrs BST. Meanwhile, the FTSE 100 index was trading at 7,231.17, up by 0.33 per cent.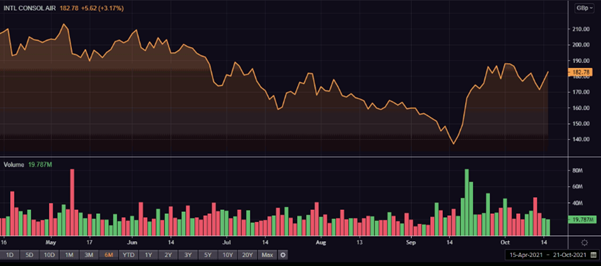 (Image source: Refinitiv)
The group's market cap stands at £8,788.88 million, and it has a one-year return of 85.41 per cent on Friday.
British Airways' staff recruitment plans
IAG owned British Airways (BA) said it plans to hire cabin crew for flights that will be operated during the summer of next year.
BA, however, did not confirm the number of people it plans to hire. The airline also stated that positions were available for former as well as new staff.
BA plans to fast-track its hiring process and hopes to have successful applicants operating flights by March 2022. The airline said that cabin crew could make up to £28,000 per annum, not including benefits.
The airline has also waived off its minimum six month wait period for new joiners prior to availing their staff travel privileges.
The news comes as airlines have witnessed some green shoots in terms of travel demand recovery amid the UK easing travel restrictions. BA had previously let go of 4,700 cabin crew in 2020 due to the pandemic.
The move, however, has faced some criticism from trade union Unite, which said this would instead lower staff pay as well as conditions.
The union also said that the recruitment drive also highlights that there was never any reason for BA to let off thousands of workers during the pandemic. The union called for the company to fix its relationship with employees and customers instead of focusing on being boardroom focused.
International Consolidated Airlines Group hires new CFO
IAG said that it had hired Nicholas Cadbury, the CFO of UK based multinational hotel and restaurant firm Whitbread, as its new chief finance officer.
Nicholas Cadbury will be the successor of IAG's current chief finance officer, Steve Gunning.
Mr. Gunning is expected to step down after the group announces its FY 2021 results by February 2022. He had been appointed as the group's CFO in 2019, after holding the same position at British Airways prior to IAG.