UK Market: The UK stock market remained weak on Wednesday as investors exercised caution over the fears of an imminent recession. The benchmark FTSE 100 index was down 0.28% at about 1 pm GMT+1, while the mid-cap-focused FTSE 250 slipped 0.39%. Investors were also concerned over the Confederation of British Industry (CBI) data, which showed that 69% of UK businesses expect energy bills to rise in the next three months. The body added that several companies face distress unless the government takes urgent steps.
Aveva Group Plc (LON: AVV): Shares of the industrial software developer rallied over 32% after Schneider Electric SE said it is mulling over a bud to purchase majority shares in the company.
HSBC Holdings Plc: (LON: HSBA): Shares of the multinational bank slipped over 1.5% after its Chinese investor defended the call to spin off a separate Asian entity and get it publicly listed to provide better value to shareholders.
Rockhopper Exploration Plc (LON: RKH) Shares of the FTSE AIM All-Share-listed oil and gas exploration firm surged 90% after the company was awarded successful arbitration with the Republic of Italy.
US Markets: The US market is likely to start in red, as indicated by the futures indices. S&P 500 future was down by 9.26 points or 0.22% at 4,128.73, while the Dow Jones 30 future was down by 0.47% or 154.02 points at 32,909.59. The technology-heavy index Nasdaq Composite future was also down by 0.03% or 0.27 points, at 12,381.30. (At the time of writing – 8:50 am8:50 am ET).
US Market News:
Shares of pet products retailer Petco (WOOF) slipped 5.3% in the premarket trading session after it fell short of market expectations on both the top and bottom end for the most recent quarter. The company also slashed its full-year outlook citing higher costs.
Shares of the restaurant chains owner Brinker International (EAT) fell 8.1% in the premarket trading session after it missed market forecasts in its quarterly earnings. The company also cut its outlook for the whole year due to higher costs.
European Indices Performance (at the time of writing):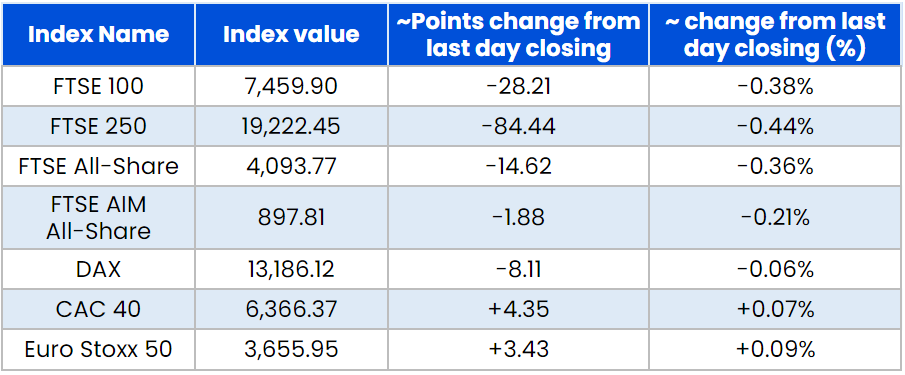 FTSE 100 Index One Year Performance (as on 24 August)
(Source: Refinitiv)
Top 3 Volume Stocks in FTSE 100*: Lloyds Banking Group plc (LLOY), BP Plc (BP.) Barclays Plc (BARC),
Top 3 sectors traded in green*: Technology (1.96%), Industrials (0.40%), Consumer Non-Cyclicals (0.16%)
Top 3 sectors traded in red*: Basic Materials (-1.50%), Financials (-1.26%), Energy (-0.88%)
London Stock Exchange: Stocks Performance (at the time of writing):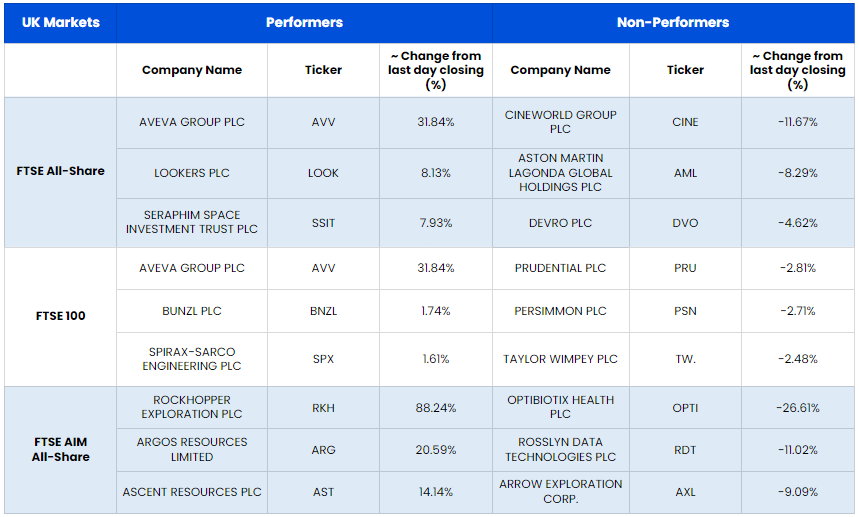 Crude Oil Future Prices*: Brent future crude oil (future) price and WTI crude oil (future) price were hovering at $100.6/barrel and $93.97/barrel, respectively.
Gold Price*: Gold price was quoting at US$1,757.60 per ounce, down 0.2% against the prior day closing.
Currency Rates*: GBP to USD: 1.1769; EUR to USD: 0.9922.
Bond Yields*: US 10-Year Treasury yield: 3.087%; UK 10-Year Government Bond yield: 2.682%.
*At the time of writing