US Markets: Broader indices in the United States traded in red - particularly, the S&P 500 index traded 37.72 points or 1.04 per cent lower at 3,600.63, Dow Jones Industrial Average Index decreased by 401.29 points or 1.34 per cent lower at 29,509.08, and the technology benchmark index Nasdaq Composite traded lower at 12,073.64, down by 132.21 points or 1.08 per cent against the previous day close (at the time of writing, before the US market close at 10:50 AM ET).
US Market News: The key indices of Wall Street opened in red in Monday's trading session. The pending home sales in the US declined by 1.1% month on month in October 2020. Among the gainers, Novavax skyrocketed by nearly 22.5% after the company pushed for its last stage trial for its experimental covid-19 vaccine. Moderna surged around 16.3% after it stated that it will apply for emergency authorization for its covid-19 vaccine in the US and Europe. Tesla rose around 2.0% after it got a go ahead signal to sell its utility vehicle in China. Pfizer moved up by around 1.9% after the reports that the UK will approve its covid-19 vaccine soon. Among the decliners, Nikola was down by around 7.6% amid the worries that its founder will sell his full or part stake in the company.
US Stocks Performance*
European News: The London market traded in the red as the trade talks continue to be in a deadlock. The UK reported 97,530 mortgage approvals in October 2020, and the mortgage lending was reported at £4.29 billion in the same month. Among the gaining stocks, shares of ULS Technology surged by about 31.2% after it announced the disposal of Conveyancing Alliance for £27 million. Ferrexpo was up by around 2.2% after Kyiv Court cancelled Ferrexpo AG share restriction. Among the decliners, Petropavlovsk was down by about 2.3% after it announced Denis Alexandrov as the CEO. G4S declined by close to 1.8% after it announced the extension of a cash offer from GardaWorld. Pets at Home slipped by nearly 0.2% after the company announced the acquisition of The Vet Connection.
European Indices Performance (at the time of writing):
FTSE 100 Index One Year Performance (as on 30 November 2020)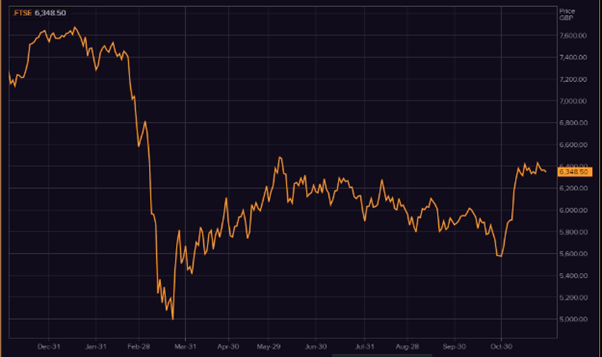 1 Year FTSE 100 Chart (Source: Refinitiv, Thomson Reuters)
Top 3 Volume Stocks in FTSE 100*: Lloyds Banking Group Plc (LLOY); International Consolidated Airlines Group (IAG); BP Plc (BP.).
Top 3 Sectors traded in green*: Industrials (+1.09%), Real Estate (+0.94%) and Healthcare (+0.90%).
Top 3 Sectors traded in red*: Utilities (-1.29%), Energy (-1.14%) and Financials (-1.00%).
London Stock Exchange: Stocks Performance (at the time of writing)
Crude Oil Future Prices*: Brent future crude oil (future) price and WTI crude oil (future) price were hovering at $47.39/barrel and $44.84/barrel, respectively.
Gold Price*: Gold price was quoting at US$1,779.90 per ounce, down by 0.46% against the prior day closing.
Currency Rates*: GBP to USD: 1.3351; EUR to GBP: 0.8952.
Bond Yields*: US 10-Year Treasury yield: 0.844%; UK 10-Year Government Bond yield: 0.313%.
*At the time of writing