UK Market: The UK market was trading in red amid concerns over the government's recent move to slash tax rates. The benchmark FTSE 100 fell to a 17-month-low in the afternoon trade as the International Monetary Fund (IMF) openly criticised the UK's new economic policy, which pushed the pound to an all-time low and sent the markets into turmoil.
Burberry Group PLC (LON: BRBY): Shares of the British luxury fashion group jumped over 4% as the company appointed Daniel Lee as its new chief creative officer after Riccardo Tisci decided to step down from the position.
i3 Energy PLC (LON: I3E): Shares of the oil and gas company slipped over 3% after the company announced that its chief executive Graham Heath will step down from the position to focus on personal health issues.
Royal Mail PLC (LSE: RMG): Shares of the postal and courier services company tumbled over 5% after its workers called for a 19-day strike action in October and November over pay and working conditions.
US Markets: The US market is likely to get a mixed start, as indicated by the futures indices. S&P 500 future was down by 7.75 points or 0.21% at 3,647.29, while the Dow Jones 30 future was down by 0.43% or 125.82 points at 29,134.99. The technology-heavy index Nasdaq Composite future was up by 0.25% or 26.5 8 points, at 10,829.50. (At the time of writing – 8:42 am ET).
European Indices Performance (at the time of writing):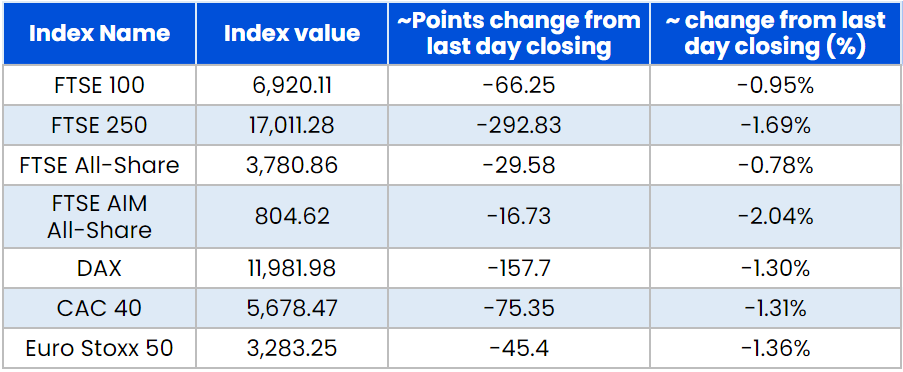 FTSE 100 Index One Year Performance (as on 28 September)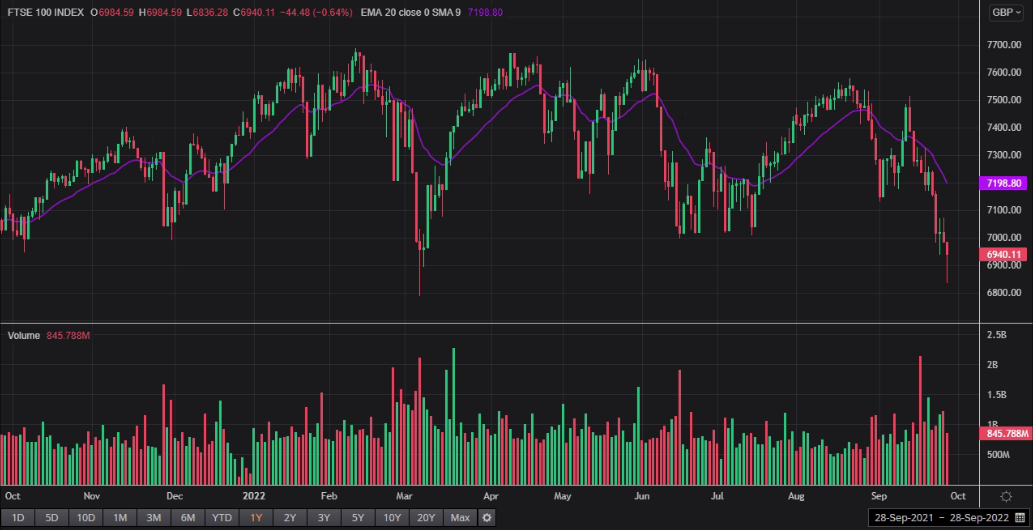 (Source: Refinitiv)
Top 3 Volume Stocks in FTSE 100*: Lloyds Banking Group plc (LLOY), Barclays Plc (BARC), Vodafone Group Plc (VOD)
Top 3 sectors traded in green*: Utilities (1.34%), Basic Materials (1.20%), Healthcare (0.61%)
Top 3 sectors traded in red*: Financials (-3.28%), Technology (-1.87%), Consumer Non-Cyclicals (-1.12%)
London Stock Exchange: Stocks Performance (at the time of writing):
Crude Oil Future Prices*: Brent future crude oil (future) price and WTI crude oil (future) price were hovering at $85.32/barrel and $78.97/barrel, respectively.
Gold Price*: Gold price was quoting at US$1,637.10 per ounce, up 0.06% against the prior day's closing.
Currency Rates*: GBP to USD: 1.0595; EUR to USD: 0.9557.
Bond Yields*: US 10-Year Treasury yield: 3.919%; UK 10-Year Government Bond yield: 4.2865%.
*At the time of writing