US Markets: Broader indices in the United States traded in green - particularly, the S&P 500 index traded 9.86 points or 0.26 per cent higher at 3,809.47, Dow Jones Industrial Average Index expanded by 74.40 points or 0.24 per cent higher at 31,083.09, and the technology benchmark index Nasdaq Composite traded higher at 13,085.85, up by 49.42 points or 0.38 per cent against the previous day close (at the time of writing, before the US market close at 10:30 AM ET).
US Market News: The major indices of Wall Street traded in green territory due to strong investor confidence around the next package of official economic stimulus. The 10-year Treasury note had increased to 1.174%, its highest level since March 2020. Among the gaining stocks, Albertsons grew by about 4.78% after the company raised its full-year guidance. Ford Motor Co gained about 1.15% after the company updated it would close three plants in Brazil this year. Shares of Walmart went up by around 1.12% after the company entered a strategic partnership with Ribbit Capital to create a new fintech start-up. Shares of Zoom Video Communications went up by 0.60% after the company announced an underwriting offering worth USD 1.5 billion. Among the declining stocks, Lemonade shares fell by about 3.85% after the company announced a 3 million share secondary stock offering.
US Stocks Performance*

European News: The London and European markets traded in the red amid ongoing Covid-19 worries and potential of further tightening of Covid-19 restrictions in the UK. As per the latest BRC/KPMG Retail Sales Monitor, the UK retail sales grew by 4.8% on a like-for-like basis in December 2020 from December 2019. Among the gaining stocks, shares of Playtech soared by 4.41% after the company said its FY20 performance to be ahead of consensus expectations. Shares of Kingfisher grew by 2.15% after it reported a fourth-quarter like-for-like sales increased by 16.9%. Shares of International Consolidated Airlines Group had increased the most on FTSE 100. Among the decliners, Shares of Games Workshop fell by 7.31% after the company reported better first-half performance than its expectations. Shares of Alpha FX Group went down by 4.23% after the company released its full-year FY20 trading update. Shares of Vistry Group went down by 0.47% although it would resume dividend payments.
European Indices Performance (at the time of writing):

FTSE 100 Index One Year Performance (as on 12 January 2021)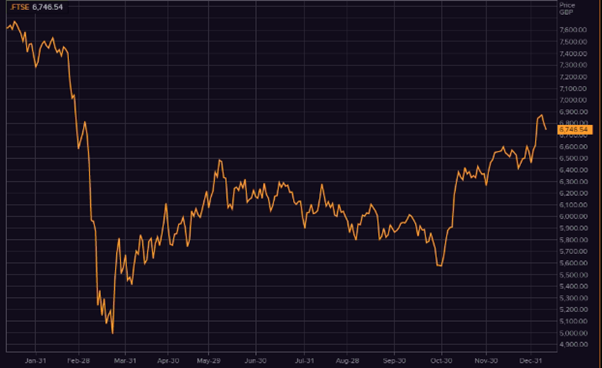 1 Year FTSE 100 Chart (Source: Refinitiv, Thomson Reuters)
Top 3 Volume Stocks in FTSE 100*: Lloyds Banking Group Plc (LLOY); Vodafone Group Plc (VOD); BP Plc (BP.).
Top Sector traded in green*: Energy (+1.43%).
Top 3 Sectors traded in red*: Utilities (-1.71%), Consumer Non-Cyclicals (-1.56%) and Healthcare (-1.43%).
London Stock Exchange: Stocks Performance (at the time of writing)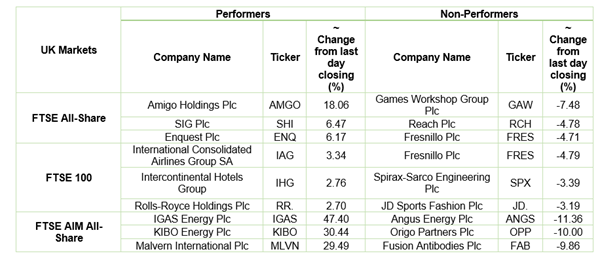 Crude Oil Future Prices*: Brent future crude oil (future) price and WTI crude oil (future) price were hovering at $56.52/barrel and $53.02/barrel, respectively.
Gold Price*: Gold price was quoting at US$1,839.55 per ounce, down by 0.61% against the prior day closing.
Currency Rates*: GBP to USD: 1.3633; EUR to GBP: 0.8931.
Bond Yields*: US 10-Year Treasury yield: 1.168%; UK 10-Year Government Bond yield: 0.351%.
*At the time of writing