Source:Copyright © 2021 Kalkine Media Pty Ltd.
US Markets: Broader indices in the United States traded in red - particularly, the S&P 500 index traded 6.40 points or 0.16 per cent lower at 4,122.40, Dow Jones Industrial Average Index dipped by 69.42 points or 0.21 per cent lower at 33,731.18, and the technology benchmark index Nasdaq Composite traded lower at 13,826.80, down by 73.38 points or 0.53 per cent against the previous day close (at the time of writing - 11:30 AM ET).
US Market News: The major indices of Wall Street traded in a red zone as investors anticipated for the flurry of first-quarter earnings result. Among the gaining stocks, Nuance Communications shares went up by approximately 16.47% after the media reports that Microsoft would purchase the speech-recognition company for USD 16 billion. Luminex Corp shares rose by around 11.11% after the Company agreed to be acquired by DiaSorin for USD 1.8 billion. Uber Technologies shares grew by approximately 4.21% after it revealed that the March total bookings remained its highest in history. Tesla shares rose by about 3.28% after Canaccord Genuity raised its investment stance from "Hold" to "Buy".
US Stocks Performance*
UK Market News: The London markets traded in a red zone as the UK economy began to open. Moreover, the non-essential shops, pubs, and gyms opened after months of lockdown. FTSE 100 traded lower by around 0.39% due to the weaker performance of banking & mining stocks and pressure on exporters because of stronger pounds.
Shopping centre owner Hammerson shares went down by around 2.57% after it confirmed the media speculation regarding the possible sale of the retail parks portfolio to Brookfield.
FTSE 100 listed AstraZeneca had updated that the diabetes drug Farxiga did not produce significant results for the treatment of Covid-19 hospitalised patients. Meanwhile, the shares dropped by around 0.91%.
The Vitec Group had announced the acquisition of two US-based companies worth around 30.4 million pounds. Moreover, the Company had witnessed good trading performance during Q1 FY21. Furthermore, the shares went up by approximately 0.87%.
Mining giant BHP Group shares dropped by about 0.81% after it updated that the Samarco joint venture in Brazil with Vale had filed for bankruptcy protection as it failed on the terms of a debt restructuring.
European Indices Performance (at the time of writing):
FTSE 100 Index One Year Performance (as on 12 April 2021)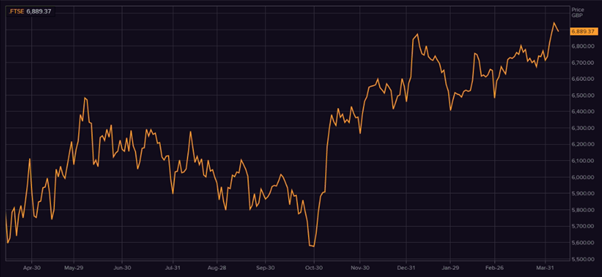 1 Year FTSE 100 Chart (Source: Refinitiv, Thomson Reuters)
Top 3 Volume Stocks in FTSE 100*: Lloyds Banking Group Plc (LLOY); BP Plc (BP.); Barclays Plc (BARC).
Top 3 Sectors traded in green*: Energy (+0.36%), Financials (+0.15%) and Utilities (+0.11%).
Top 3 Sectors traded in red*: Healthcare (-1.22%), Real Estate (-1.05%) and Consumer Cyclicals (-0.98%).
London Stock Exchange: Stocks Performance (at the time of writing)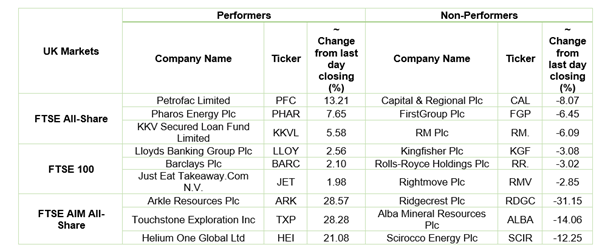 Crude Oil Future Prices*: Brent future crude oil (future) price and WTI crude oil (future) price were hovering at $63.31/barrel and $59.73/barrel, respectively.
Gold Price*: Gold price was quoting at US$1,731.75 per ounce, down by 0.75% against the prior day closing.
Currency Rates*: GBP to USD: 1.3743; EUR to GBP: 0.8670.
Bond Yields*: US 10-Year Treasury yield: 1.678%; UK 10-Year Government Bond yield: 0.788%.
*At the time of writing