Highlights

Australia records a contraction in trade surplus in October this year.
The decline in iron ore prices in October stimulated a fall in exports.
Some attractive stock picks in the iron ore segment demands close attention.
The Australian Bureau of Statistics (ABS) has recently released a new set of international trade data, which reflects a fall in trade surplus in October 2021. The data reveals that the seasonally adjusted balance on goods and services surplus fell by A$604 million to A$11.22 billion in October.
Good Read: Australia sees record current account surplus
In October, exports (goods and services credits) plummeted by A$1,491 million to A$43,053 million, driven by falls in iron ore prices. Meanwhile, imports (goods and services debits) fell by A$887 million to A$31,833 million, driven by a fall in imports of capital goods.
Iron ore prices impacted exports
Iron ore spot prices slid by over 11 per cent in October despite rallying initially during the month. Initially, iron ore prices jumped in October on anticipations that some steelmakers in China would restart operations after attaining deeper-than-projected production cuts. The fall in iron ore prices drove a fall in exports, diminishing trade surplus.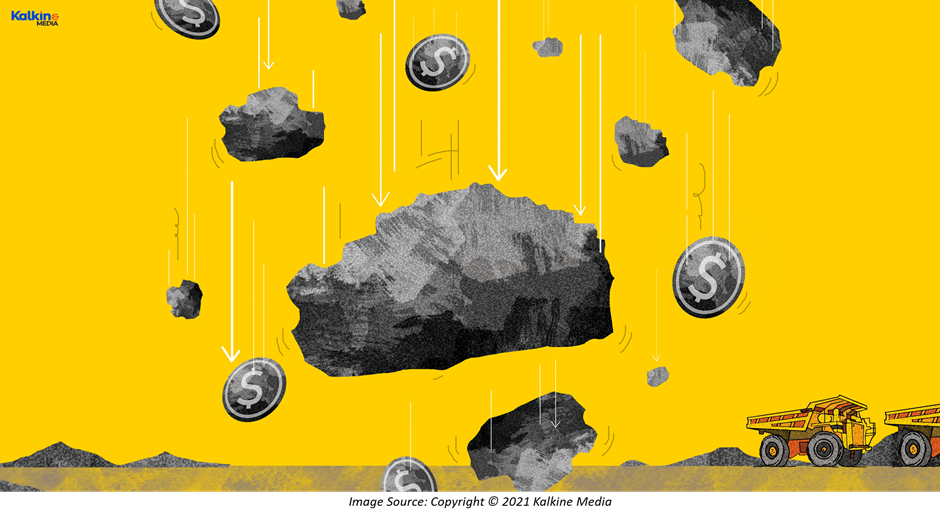 However, the overall metal pack appears to be doing quite well this week, with the iron ore prices gaining by about 9 per cent this week. At the time of writing, the iron ore spot price stood at about US$103 per tonne. The iron ore price recently advanced amid renewed supply concerns.
To lower risks amid a recent resurgence of COVID-19 infections, some border cities in China's Inner Mongolia region as well as Heilongjiang province have halted non-container imports by rail for commodities including iron ore, copper ore, coal, and zinc. These halts have widened supply worries around the steelmaking ingredient, pushing iron ore prices higher.
How did 2021 fare for iron ore prices?
Earlier this year, global economic revival from the COVID-19 pandemic and supply-chain disruptions propelled iron ore prices to record highs. However, iron ore that hit a record above US$230 a ton as recently as May flamed out over recent months. In September this year, iron ore prices dipped below the $US100 a tonne mark for the first time in fourteen months.
Must Watch: What is the mystery behind fall in iron ore prices?
It is worth noting that iron ore prices have plunged by over 30 per cent in 2021 so far. The initial slowdown in iron ore price was spurred by weakening demand for iron ore, which was largely shaped by rising delta variant cases and the resultant economic crisis. Meanwhile, growing expectations that China's steel output will shrink over the remainder of this year also fuelled a price fall in the commodity. The Evergrande crisis also caused iron ore prices to buckle, as investors remain concerned that pressure on China's huge property market will translate into a reduced appetite for steel.
Although iron ore prices have been on a downtrend in 2021 so far, the prices have rebounded in recent days. Looking ahead, it will be interesting to see how Beijing Winter Olympics, due in February 2022, will weigh on steel output and iron ore price over the coming year.
Do Not Miss: Why is iron ore so important to the Australian economy?
Attractive stock picks in iron ore segment
Investors can keep some ASX-listed stocks under their watchlist that may shine during the iron ore price surge.
Rio Tinto (ASX:RIO)– While Rio Tinto's share price is down by over 17 per cent in 2021 so far, one cannot neglect that it is one of the world's largest producers of iron ore. Thus, it is better placed than others to benefit from a potential rebound in iron ore prices.
BHP Group (ASX:BHP) – BHP Group's share price has tumbled by over 7.5 per cent in 2021 till date, but the company remains steadfast about the situation between Australia and China. The company expects China's overarching strategy of growth and development to benefit BHP going forward amid healthy growth in commodity's prices.
Fortescue Metals Group (ASX:FMG) – Fortescue's share price has plunged by over 30 per cent this year so far amid the recent decline in iron ore prices. As the company's share has fallen more than most of the ASX-listed iron ore miners, some analysts expect it to reap the rewards of bargain hunting by investors. Meanwhile, it is hard to neglect that the Company has maintained its solid margins and dividends despite the weakness in iron ore prices.