Highlights

The latest Flash PMI data showed that both output and demand expanded at strong rates in April compared to March.
The sharp improvement in service sector business activity drove private sector output in April.
Manufacturing PMI rose despite rising costs of fuel and raw materials stemming from the Russia-Ukraine war.
After showing an improvement for two consecutive months, Australia's private sector has recorded another month of expansion. IHS Markit Flash PMI® (Purchasing Managers' Index) data showed that output and demand expanded at robust rates in April. Despite existing supply-side constraints and soaring input costs, businesses were on a path of expansion as business confidence eased.
The latest data suggests that the Flash Australia Composite Output Index rose from 55.1 in March to 56.2 in April. This rate of growth was the fastest in two months and marked the third consecutive monthly growth in Australia's private sector.
The direct impact of better working conditions was reflected in improving workforce capacity in April. However, even with increased capacity, businesses faced difficulty in acquiring skilled labour contributing to a slower rise in employment in April compared to March. Both manufacturing and services sectors saw difficulty in acquiring a skilled labour force.
ALSO READ: Why IMF expects Australian economy to grow at 4.2% in 2022
Service sector business activity drove private sector output
The services sector helped drive the private sector growth in April, as new orders for Australian goods and services grew at the fastest rate since May 2021. Additionally, the easing of pandemic-related restrictions helped boost private sector activity. Consequently, firms began demanding labour at a rapid pace in April, especially in the skilled workforce category.
Rising costs observed by the firms were also forwarded to their clients in the form of increased prices of goods and services. Private sector firms saw higher costs in April as input price inflation surged to a new record. Survey respondents reported that they saw increased costs in multiple categories, including fuel, wages, and raw materials.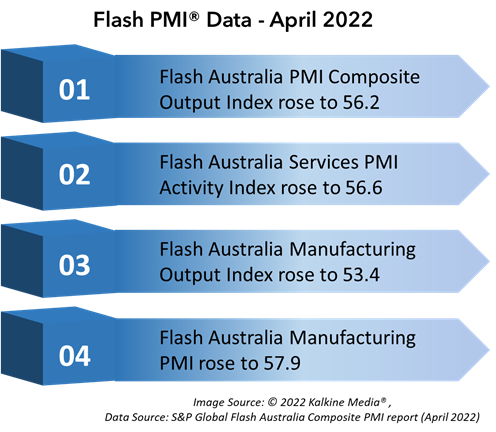 The Russia-Ukraine war has exacerbated the existing supply-side constraints, leading to a record surge in inflation across the globe. Regardless of these hurdles, the Australian private sector recorded positive overall sentiment. However, business confidence took a hit while falling to its lowest level since April 2020 as business costs soared in the background.
The S&P Global Flash Services Business Activity Index rose to 56.6 in April from 55.6 in March. This was the third consecutive month of increase for the Australian services sector. An additional boost was received from the reopening of international borders. New export businesses saw faster growth in April, especially those in the services category. This led to many services providers conducting swift hiring drives in April.
GOOD READ: How is higher cost of living impacting first home buyers in Australia?
Where does the manufacturing PMI stand?
The S&P Global Flash Manufacturing PMI improved from 57.7 in March to 57.9 in April, marking the twenty-third consecutive rise in the index. The latest improvement in manufacturing PMI is the most marked in five months.
The manufacturing sector benefitted mainly from high local and overseas demand. New export orders in the category increased for the first time in four months. Consequently, employment and purchasing activity in the manufacturing sector improved in April.
Many firms reported increasing their buying activity for safety stock building with reviving business activity. The persisting supply constraints compelled businesses to generate a healthy stock of products.
Inflation-Beating Consumer Staple Stocks For Quarter 2
However, vendor performance continued to worsen in the manufacturing sector as supply and shipment issues got aggravated. The rise in input costs was slower in April when compared to March. Consistent business growth was attained as businesses shared the cost burdens with their clients, leading to record-high consumer prices.
Most importantly, business confidence among Australian manufacturers improved from the eight-month low in March. However, business confidence is still considerably below the series average. As supply-side challenges continue at the global level, business confidence might take more time to revive. Till then, Australian businesses can count on domestic policies that aim to curb cost-of-living pressures on consumers. These policies indirectly could help businesses stay afloat even during uncertain times.
DO NOT MISS: Inflation jumps to 30-year high in NZ, what to expect from Australia?